Khrunichev promises surge of Proton launches in 2019
---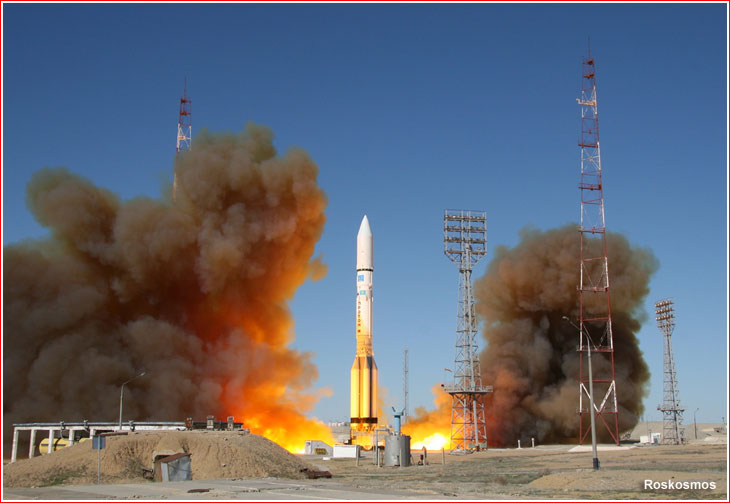 Proton lifts off with Luch-5V and KazSat-3 satellites in April 2014.
Aleksei Varochko, the head of GKNPTs Khrunichev, which builds Proton rocket family, announced that his company "can" launch up to 10 Proton rockets in 2019. "Thanks to the supportive measures from the Roskosmos State Corporation, GKNPTs Khrunichev is gradually entering the planned workload at both (launch vehicle) production sites in Moscow and in Omsk. In 2019, we are expecting an increase of activities in launches of heavy class rockets: (we) can perform up to 10 Proton launches and also conduct one more test flight of the Angara-5 rocket," Varochko was quoted as saying in a press-release published by Roskosmos.
The announcement did not specify any payloads slated for launch on Proton in 2019 and its wording indicated only a potential rather than the solid promise for 10 flights of the rocket. The Proton's publicly known flight manifest in 2019 does have a backlog of at least eight long-delayed federal launches and two potential foreign missions. However given the most recent history of Russian launch activities, it will be an uphill battle for Roskosmos to launch even half of these missions during the same year. Still, it appears that Proton has a reasonable chance to exceed its flight rate of only one or two launches in 2018 and match or even beat its rate of four launches in 2017.
At the beginning of November 2018, GKNPTs Krunichev announced that it would stockpile eight newly manufactured Proton rockets by the end of the year and one vehicle had already been shipped to Baikonur for pre-launch processing.
Planned Proton missions in 2019 (as of October 2018):
1

Russian Ministry of Defense

2

Eutelsat-5 West-B, MEV-1

3

Yamal-601

4

Russian Ministry of Defense

5

Roskosmos / DLR / NPO Lavochkin

End of March - April 11 or Fall 2019

6

Roskosmos / NPO Lavochkin

7

Roskosmos / ESA / RKK Energia

8

Ekspress-80, Ekspress-103

GPKS

Third quarter

9

GLONASS-M trio (?)

Russian Ministry of Defense

?

10
Anik-G2V

Telesat

?
For future Proton missions click here