---

---
Site updates:
To sign up for FREE periodic E-mail notifications about new features on this site, send E-mail with word "update" in the subject line.
---
HELP WANTED!
Contributing editor
Marketer and social media expert
---
Searching photos, artwork, books, blueprints, published and unpublished articles, dissertations, memoirs and other materials and documents on the history of rocketry and space exploration from any country and any time period.
Contact Anatoly Zak

---
PICTURE OF THE DAY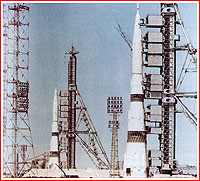 BIGGEST EXPLOSION
45 years ago, the USSR made a secret attempt to fly its giant Moon rocket.
---
NEXT IN SPACE
Sept. 18: A Dnepr rocket to launch the Asnaro-1 satellite and a cluster of secondary payloads from the Dombarovsky launch site.
See more in 2014, 2015, 2016, 2017, 2018, 2019, 2020, 2021, 2022, 2023
... and beyond
---
---
---
---
---
Cheap homecoming dresses on Lilysdress.com
---
Where to buy cheap wedding dress online
---
---
Buy wedding dress at best bridal online store
---
---
Published: July 28
The Russian-European flagship ExoMars mission will likely miss its 2018 launch window to the Red Planet, sources familiar with the program said.
A combination of technical and financial problems will force developers to wait until 2020, when Mars and Earth re-align for a possible traverse between the two planets.
Alternatively, the escalating cost of the ExoMars project could kill the program officials warned.

Other news, updates: