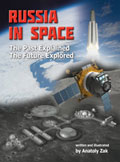 Upcoming book on space exploration
---

---
---

---
Site updates:
To sign up for FREE periodic E-mail notifications about new features on this site, send E-mail with word "update" in the subject line.
---
Searching photos, artwork, books, blueprints, published and unpublished articles, dissertations, memoirs and other materials and documents on the history of rocketry and space exploration from any country and time period.
Contact Anatoly Zak

PICTURE OF THE DAY
Nuclear scientists and rocket engineers in the USSR discussed a possibility of deploying the largest hydrogen bomb of all times on a planned N1 heavy-lifting rocket, recent memoirs of a top Soviet nuclear program veteran say.
---
NEXT IN SPACE
May 29: A Soyuz-FG rocket to launch Soyuz TMA-09M (No. 709) from Baikonur to the ISS.
See more in 2013, 2014, 2015, 2016, 2017, 2018, 2019, 2020, 2021, 2022...
... and beyond
---
First Bion M landed as scheduled
Published: May 18; updated: May 19
After a nearly month-long orbital flight, the descent module of the Russian Bion-M No. 1 satellite carrying animals and biological experiments returned to Earth.
The touchdown took place in southern Russia in the morning local time Sunday and the spacecraft was quickly located by search teams, Russian media reported.
The life-support system onboard Bion-M was designed to function for at least 24 hours to ensure a well-being of all biological objects and experiments onboard. (646)
On May 17, mission control in Korolev announced that the landing of Bion-M No. 1 was scheduled on May 19 at 07:12 Moscow Time near Orenburg (11:12 p.m. EDT on Saturday, May 18).
The landing are was expected to be north-northeast of the city of Orenburg, on the border with the Russian republic of Bashkiria.
Related pages: Bion project home page | Flight of Bion-M No. 1 | Bion's follow-on | Bion M No. 1 science program
---
Learn about history of astronomy by reading leading astronomy books and detailed historical books
---
Latest news, updates: