---

---
Site updates:
To sign up for FREE periodic E-mail notifications about new features on this site, send E-mail with word "update" in the subject line.
---
HELP WANTED!
Contributing editor
Marketer and social media expert
---
Searching photos, artwork, books, blueprints, published and unpublished articles, dissertations, memoirs and other materials and documents on the history of rocketry and space exploration from any country and any time period.
Contact Anatoly Zak

---
PICTURE OF THE DAY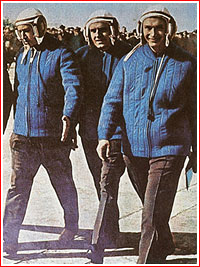 50 years ago, on October 12, 1964, the USSR continued its pioneering conquest of space orbiting the first multi-member crew onboard the Voskhod ("sunrise") spacecraft.
---
NEXT IN SPACE
Oct. 29: A Soyuz-U rocket to launch Progress M-25M from Baikonur to the ISS.
See more in 2014, 2015, 2016, 2017, 2018, 2019, 2020, 2021, 2022, 2023, 2024, 2025
... and beyond
---
cheap curtains from lightinhome.com
---
---
---
Buy Cheap Homecoming Dresses 2014 on JDBRIDAL.com
---
chiffon bridesmaid dresses
---
Where to buy cheap wedding dress online
---
---
Buy wedding dress at best bridal online store
---
buy china wholesale products on DHgate.com
---
Published: October 26
Russia prepares to launch another secret cargo for a foreign client -- this time South Africa.
Kondor-E satellite built by NPO Mashinostroenia in Reutov near Moscow will provide all-weather, day-and-night radar imagery for the South-African military.
The hush-hush Kondor-E mission follows a seemingly successful launch of a Russian-built spy satellite for Egypt and a demo version of the Kondor satellite.
More on the subject: Kondor spacecraft | Strela launch vehicle | Launch facilities for UR-100-based rockets in Baikonur