Insider Content
The Insider Content section on RussianSpaceWeb.com offers exclusive and advertising-free news, unique technical information and unseen visuals on the space program in the former USSR and related international projects. This regularly updated and ever-growing section focuses on the latest engineering developments in space flight not covered by other publications and provides unprecedented level of detail about the ongoing projects.
---
How to subscribe:
Currently, a 1-year subscription to all articles within the Insider Content section can be obtained via PayPal or a credit card payment of $50:
After completion of the transaction, we will send you personalized access information.
TOP STORY
Russia's Spektr-R orbital telescope stops observations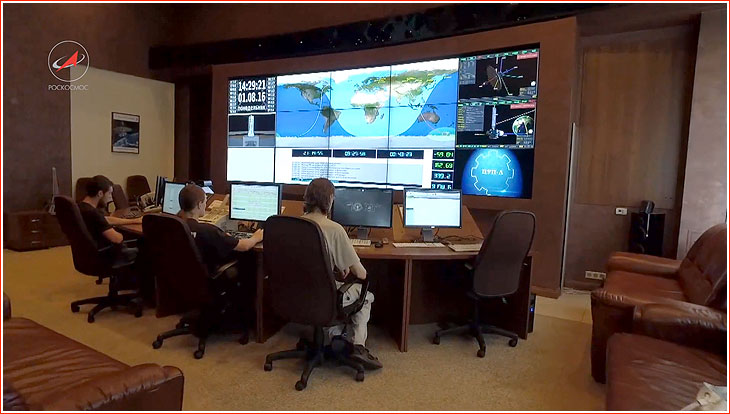 Potentially ending an era in the Russian space science, the Spektr-R-Radioastron orbital observatory experienced a major communications failure, interrupting scientific research with a unique instrument. Russian ground controllers are not giving up hope for the revival of the 7.5-year-old spacecraft.
---
MORE HEADLINES
New page: Russian space leaders to discuss cooperation with US on the Moon
New page: Canada to contribute a new-generation robotic arm for the cis-lunar station
Update: Dilemmas still facing the Russian super-rocket program
Update: First details on descent vehicles for human lunar expeditions emerge
New page: Ukraine helps South Korea to develop indigenous space rocket
Update: New funding program planned for lunar exploration
New page: NASA solicits international proposals on lunar exploration
Update: Moment of truth for the Russian super rocket
New page: Super-heavy rocket: Variant 3
New page: Cis-lunar team works on improved rendezvous systems
New page: Russia's latest super-rocket architecture detailed
Update: Roskosmos favors new architecture for super rocket
Update: Soyuz-5 to be renamed Irtysh
Update: Russian design to be adopted for airlock architecture
New page: Spacewalk to investigate Soyuz hole stirs major controversy
New page: NASA begins work on a lunar lander
New page: NASA drafts new cis-lunar station assembly scenarios
New page: Scheduling cis-lunar station work
New page: How far can the cis-lunar station go?
Update: NASA outlines lunar gateway development milestones
Update: NASA gets virtual model of Russia's cis-lunar lab
Update: NASA sponsors five cis-lunar module prototypes
New page: Russia quietly drafts lunar orbital station of its own!
New page: How much will the cis-lunar station cost?
Update: Cis-lunar station partners meet for crucial project review
New page: How the cis-lunar station will be assembled
New page: Europe ponders architecture of its first cis-lunar module
New page: Russia re-designs PTK Federatsiya spacecraft for multiple docking ports
New page: NASA, partners debate refueling in cis-lunar space
Update: Kremlin to bail out its troubled rocket industry
New page: Super-heavy rocket: Variant 2
New page: Launch facility for the super-heavy rocket in Vostochny
New page: Design and schedule for the first piece of the cis-lunar station detailed
New page: Russian rocketry at cross-roads
New page: Super-heavy rocket: Variant 1
New page: Japan mulls Falcon Heavy-launched cargo ship for cis-lunar station
Update: Russia studies different ways to contribute to cis-lunar station
Update: Federatsiya begins parachute tests, faces new delays
New page: Development of the super-heavy rocket begins
New page: US, Russia cooperate on a near-lunar spacesuit
Update: NASA works on interior of near-lunar habitat
Update: Gateway partners meet in Houston
New page: OneWeb: Proton's last hope?
New page: NASA studies extra habitat for the near-lunar station
New page: NASA drafts Logistics Augmentation Module for the near-lunar station
New page: New landing propulsion system for PTK Federatsiya spacecraft
New page: New BAS escape rocket for the Federatsiya spacecraft
Update: Rogozin's stance: Will US-Russian cooperation continue?
New page: Federatsiya to set sail without its key features
Update: Roskosmos conducts negotiations with China
New page: Emergency Escape System, SAS, for the Federatsiya spacecraft
New page: Landing Solid-propellant Propulsion System, PTDU, for the Federatsiya spacecraft
Update: NASA to consider inflatable structures for LOP-G
Update: Utilization Element evolves quickly
New page: NASA and its partners study cargo deliveries to lunar orbit
New page: Russia considers cooperation with China in human space flight
Update: Development of the near-lunar station in 2018
New page: RD-815: inside story and latest developments
New page: Utilization Element for Lunar Orbital Platform, LOP-G
New page: Development of the Airlock Module for near-lunar station in 2018
New page: Development of the near-lunar station in 2018
New page: Soyuz-5 rocket development in 2018
New page: NEM-2 tourist module
New page: Second stage of the Soyuz-5 rocket
New page: Science airlock for Deep Space Gateway
New page: First stage of the Soyuz-5 rocket
New page: Aggregate Compartment of the PTK NP spacecraft
New page: Transportation of the Soyuz-5 launch vehicle
New page: RD-171MV engine