---

---
Site updates:
To sign up for FREE periodic E-mail notifications about new features on this site, send E-mail with word "update" in the subject line.
---
HELP WANTED!
Contributing editor
Marketer and social media expert
---
Searching photos, artwork, books, blueprints, published and unpublished articles, dissertations, memoirs and other materials and documents on the history of rocketry and space exploration from any country and any time period.
Contact Anatoly Zak

---
PICTURE OF THE DAY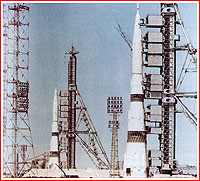 BIGGEST EXPLOSION
45 years ago, the USSR made a secret attempt to fly its giant Moon rocket.
---
NEXT IN SPACE
Sept. 18: A Dnepr rocket to launch the Asnaro-1 satellite and a cluster of secondary payloads from the Dombarovsky launch site.
See more in 2014, 2015, 2016, 2017, 2018, 2019, 2020, 2021, 2022, 2023
... and beyond
---
---
---
---
---
Cheap homecoming dresses on Lilysdress.com
---
Where to buy cheap wedding dress online
---
---
Buy cheap prom dresses 2014 uk at DressFirm
---
Buy wedding dress at best bridal online store
---
---
Published: July 24
The Russian mission control lost its ability to send commands to a newly launched scientific capsule, possibly leaving it stranded in space.
On Thursday (July 24), the Izvestiya daily quoted a source at the Russian space agency, Roskosmos, saying that the Foton-M4 spacecraft had stopped receiving commands from the ground soon after reaching orbit, even though it kept sending back its telemetry. The situation still left hopes for restoring full communications, however the scientific program onboard the spacecraft could be left unfulfilled, the Izvestiya's source said.
Several hours after this publication, Roskosmos issued a statement saying that the Foton-M4 had entered orbit as planned and, according to its flight program, it had conducted turning on and off all systems, had established necessary attitude control and had initiated some of the scientific experiments. All its onboard systems had functioned properly. At the same time, after several orbits, communications between the ground control complex and the spacecraft via the command-issuing channel had been interrupted, the statement read. The telemetry on the functioning of all systems onboard the spacecraft had continued coming and had been processed and analyzed. This analysis showed that all service systems onboard the satellite had functioned exactly according to the logic of the onboard flight control system, Roskosmos said.
Related pages: Foton project | Bion project | Soyuz-2 rocket | Site 31 in Baikonur

Other news, updates: