---

---
Site updates:
To sign up for FREE periodic E-mail notifications about new features on this site, send E-mail with word "update" in the subject line.
---
HELP WANTED!
Contributing editor
Marketer and social media expert
---
Searching photos, artwork, books, blueprints, published and unpublished articles, dissertations, memoirs and other materials and documents on the history of rocketry and space exploration from any country and any time period.
Contact Anatoly Zak

---
PICTURE OF THE DAY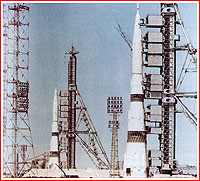 BIGGEST EXPLOSION
45 years ago, the USSR made a secret attempt to fly its giant Moon rocket.
---
NEXT IN SPACE
Sept. 18: A Dnepr rocket to launch the Asnaro-1 satellite and a cluster of secondary payloads from the Dombarovsky launch site.
See more in 2014, 2015, 2016, 2017, 2018, 2019, 2020, 2021, 2022, 2023
... and beyond
---
---
---
---
---
Cheap homecoming dresses on Lilysdress.com
---
Where to buy cheap wedding dress online
---
---
Buy wedding dress at best bridal online store
---
---
Published: July 28
The developer of the hydrogen-burning engine that propelled the Soviet shuttle Buran into orbit says it is preparing to restore the production of the mighty powerplant for a future Russian super-rocket.
In 1976, the KBKhA design bureau in the city of Voronezh began work on a powerful hydrogen engine for the second (core) stage of the giant Energia booster. The RD-0120 engine could develop more than 200 tons of thrust and rivaled NASA's Space Shuttle Main Engine, SSME.
The RD-0120 engine became the most powerful Soviet rocket engine with a single combustion chamber ever flown and it represented the technological pinacle of rocket propulsion in the USSR. The engine was reportedly assembled out of 5,525 components and required 52,000 separate blueprints.

Other news, updates: