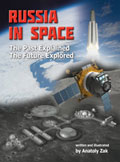 ---
---
---
Previous chapter: A failed launch of the Zenit rocket with Intelsat-27 satellite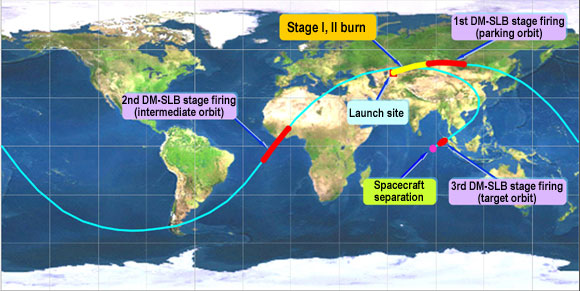 Above: A typical launch trajectory for a Zenit's Land Launch mission. Credit: RKK Energia
Zenit lifts off after a January accident
Seven months after its failed launch from an ocean-based launch pad, Zenit rocket is returning to flight from Kazakhstan.
The liftoff of the Zenit-3SLB launch vehicle with a DM-SLB upper stage took place as scheduled on Sept. 1, 2013, at 00:05 Moscow Summer Time (August 31, EST/GMT) from Pad 1 at Site 45 in Baikonur Cosmodrome. The vehicle was carrying the fourth satellite for the Afro-Mediterranean Orbital System, AMOS, operated by an Israeli satellite communications provider Spacecom.
The separation of the payload section including the Block DM-SLB upper stage and the 4,250-kilogram satellite was scheduled to take place 518 seconds after the liftoff and was confirmed as normal. Block DM was scheduled to perform three engine burns before releasing its payload at 06:50 Moscow Time on September 1. All three burns of Block DM were successful and several hours after the liftoff, RKK Energia, announced that the 4.26-ton AMOS-4 satellite was delivered into its planned geostationary transfer orbit.
Mission background
In 2007, Israel's communications satellite operator announced that it had awarded the nation's leading aerospace developer, Israel Aerospace Industries, IAI, a $365-million contract to build the AMOS-4 satellite, then expected to fly in 2012.
The launch was later planned between July 8 and July 15, 2013, however, a Zenit rocket assigned for the mission had to be returned from the launch site to the manufacturer for inspections in the wake of January 31 accident with a similar rocket. By May, the mission was rescheduled for the beginning of September. After a series of checks, two Zenit rockets intended for the launch of AMOS-4 and Elektro-L No. 2 satellites returned to Baikonur by July 1, 2013. The AMOS-4 spacecraft arrived to Baikonur at the end of July 2013.
According to veterans of the Zenit launch operations, the fueling of the rocket for the mission started with a 17-minute delay.
The spacecraft
Built by Israel Aerospace Industries, IAI, the 3.4-ton AMOS-4 spacecraft carries 8 Ku-band and 4 Ka-band transponders. (According to the Land Launch venture, responsible for commercial missions of the Zenit rocket from Baikonur, a total mass of the AMOS-4 spacecraft at liftoff would be 4.2 tons, marking an increase in payload capabilities of the Zenit-3SLB rocket.)
AMOS-4 was scheduled to be inserted into a geostationary orbit at an orbital position 65 degrees East longitude over the Equator, where it is expected to operate for no less than 12 years. The satellite will provide high-speed Internet and high-definition TV services.
According to Spacecom, Ku-band beams will be covering Russia and India with optional steering to: Southeast Asia, the Middle East, Central Asia, India, South Africa and Central East Europe. In the meantime Ka-band beam will be pointed at the Middle East with optional steering to Russia, India, China, Central Asia, Southeast Asia, and South Africa.
---
This page is maintained by Anatoly Zak;
Last update: October 7, 2013
All rights reserved
PICTURE GALLERY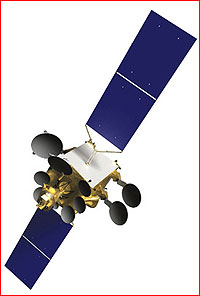 AMOS-4 communications satellite. Credit: IAI
---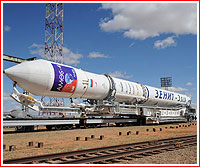 Rollout of the Zenit rocket with AMOS-4 communications satellite to the launch pad in in Baikonur on Aug. 29, 2013. Credit: RKK Energia
---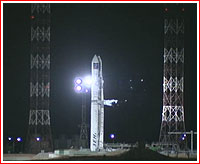 Zenit is being prepared for launch on the night from Aug. 31 to Sept. 1, 2013. Credit: TsENKI
---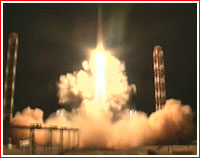 Zenit with AMOS-4 satellite lifts off on Sept. 1, 2013. Credit: TsENKI