---
Soyuz-2-1v launches four classified payloads
Russian military launched a Soyuz-2-1v/Volga rocket from Site 43 in Plesetsk, successfully delivering four military satellites into orbit on July 10, 2019.
---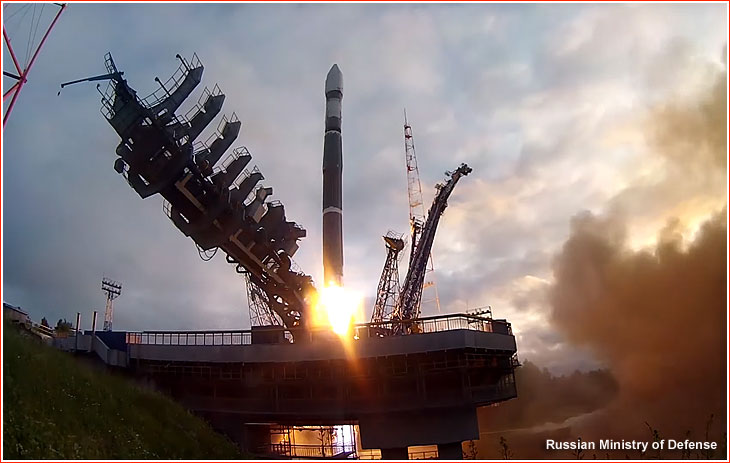 Mission at a glance:
| | |
| --- | --- |
| Launch date and time | 2019 July 10, 20:14 Moscow Time (17:14 UTC) |
| Launch vehicle | |
| Upper stage | |
| Payload fairing | 98KS No. 78021119 |
| Launch site | |
| Payloads | Kosmos-2535, Kosmos-2536, Kosmos-2537, Kosmos-2538 |
On July 10, 2019, Russian military launched a Soyuz-2-1v/Volga rocket from Plesetsk, carrying four classified payloads, the official media reported. According to a representative of the Ministry of Defense, the mission lifted off at 20:14 Moscow Time (1:14 p.m. EDT) from Pad 4 at Site 43 and proceeded as planned. This was the 5th mission for the light-weight launch vehicle. Shortly after the planned launch time, the Russian military also confirmed that the Volga upper stage with its payloads had successfully separated from the (second stage) of the launch vehicle at 20:22 Moscow Time. Around midnight Moscow Time, the official Russian media quoted the Ministry of Defense as saying that the all four satellites had been successfully delivered into their orbits. Newly launched satellites were officially designated Kosmos-2535, -2536, -2537 and -2538.
According to the Ministry of Defense, the satellites were intended for the studies of artificial and natural effects of space on the Russian spacecraft and the calibration of radar systems of the Air and Space Forces. Ground control had established and maintained telemetry communications with the spacecraft and their onboard systems had been functioning well, the Ministry of Defense said.
On July 11, the Ministry of Defense also said that three engine firings had been used to insert the Volga upper stage from the mission into a safe disposal orbit away from the satellites.
In its July 11 press-release about the launch, RKTs Progress, the manufacturer of the Soyuz rocket family, said that the mission completed flight testing of the of the Soyuz-2-1v variant. Peculiarly, the company also said that vehicle had carried spacecraft manufactured in Moscow, which eliminated traditional developers of military payloads, such as ISS Reshetnev in Zheleznogorsk, TsSKB Progress in Samara and KB Arsenal in St. Petersburg. That fact, along with secrecy surrounding the mission, points at a possibility of another launch with maneuverable inspector and anti-satellite vehicles.
After the launch, the Combined Space Operations Center, CSpOC, in the United States listed four objects associated with the mission:
2019-039A

44421

97.88 degrees

97.03 minutes

611 kilometers

622 kilometers

2019-039B

44422

97.88 degrees

97.03 minutes

611 kilometers

622 kilometers

2019-039C

44423

97.89 degrees

97.06 minutes

612 kilometers

624 kilometers

2019-039D

44424

97.10 degrees

97.10 minutes

616 kilometers

623 kilometers
The fifth object, probably representing the Volga upper stage, was then reported to be in a 475 by 511-kilometer orbit with an inclination 97.61 degrees toward the Equator.
As it had been previously the case with the Napryazhenie mission, the newly launched satellites were appeared to be inserted into the co-planar orbit with that of the Kosmos-2486/Persona reconnaissance satellite launched on June 7, 2013, perhaps to enable the rendezvous and inspection.
By July 18, tracking data showed manuevers of Object 2019-039D and -039A, possibly indicating that other satellites delivered during the launch represented calibration targets for ground or in-orbit sensors.
Russian military announces orbital servicing
On August 1, 2019, the official TASS news agency quoted the Russian Ministry of Defense as saying that a Russian military satellite inspector had conducted orbital servicing of a Russian "registrar" satellite. "The inspection of the condition and the orbital servicing of the registrar satellite had been performed with the use of the inspector satellite. The transmission of instrument and telemetry data about the condition of the registrar satellite had also been conducted," TASS quoted the Ministry of Defense.
According to the report, the inspection was performed in the framework of testing of Kosmos-2535 and Kosmos-2536 satellites. During the test on August 1, the military also conducted gathering and processing of orbital parameters of these satellites, checks of operational modes and the assessment of payload parameters, TASS said. "That equipment records influences on the spacecraft-registrar from space junk, electron and proton emissions from external natural radiation belt of the Earth, protons and heavy charged particles, solar and galactic space rays," TASS quoted Ministry of Defense as saying.
Space historian Jonathan McDowell reported that the NORAD tracking data had indicted that on August 1, 2019, at 02:00 UTC, Objects A (Kosmos-2535) and Object D (Kosmos-2536) had been within one kilometer from each other. On August 7, 2019, around 12:00 UTC, Kosmos-2535 and Kosmos-2536 satellites made their brief second encounter in orbit. In the meantime, all available tracking data showed that two other objects delivered into orbit in the same launch had not maneuvered.
Then, between August 3 and September 30, 2019, Kosmos-2535 apparently disintegrated or released some debris in orbit, forming 17 trackable objects. Still, the satellites apparently continued performing multiple maneuvers, and during their rendezvous on January 9, 2020, Kosmos-2535 produced several more detectable fragments, after which all its maneuvering stopped.
Following that incident, the two satellites seemingly drifted apart without additional maneuvers, according to an independent satellite observer Nico Janssen. Instead, in June 2020, Kosmos-2542 was seen approaching Kosmos-2535, Janssen wrote on the SeeSat mail server.
Following its proximity operations near Kosmos-2535, the alleged inspector satellite -- Kosmos-2543 -- was seen drifting away from its former target in September 2020, Janssen wrote. But around the same time, Kosmos-2536 was seen performing its own rendezvous with Kosmos-2535. Because by September 20, 2020, the two spacecraft had remained in very close proximity to each other for around two weeks (which would be hard to do without a considerable propellant usage), Janssen suspected that the pair might have docked. Unfortunately, the two-line elements, published by the US for the two objects, were not accurate enough to confirm the docking, however a ground observation made by Roger Spinner on September 20 also showed what appeared to be a single object.
On October 12, 2020, after 1.5 months in a joint flight or in a very close proximity, Kosmos-2536 was seen departing from Kosmos-2535. Four days later, the maneuverable satellite was around 20 kilometers from its former target, Jonathan McDowell reported. By October 21, 2020, Kosmos-2536 again approached Kosmos-2535 to a distance within one kilometer.
According to Nico Janssen, in early months of 2021, Kosmos-2535 and Kosmos-2536 could be seen drifting apart, but the published two-line elements from the US military indicated that on March 11, 2021, Kosmos-2536 made a sudden maneuver toward Kosmos-2535. Within a day, the two satellites appeared to be docked once again, Janssen wrote.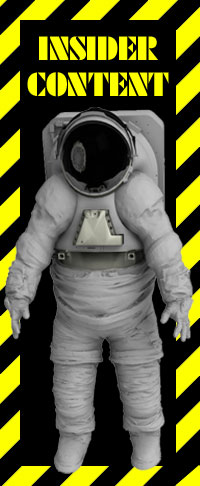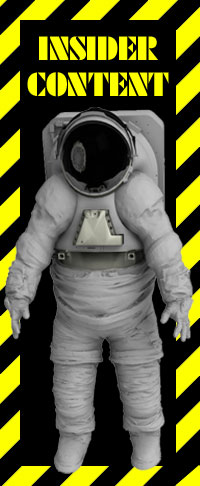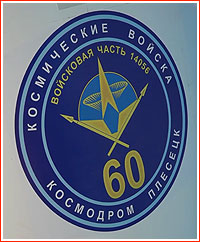 ---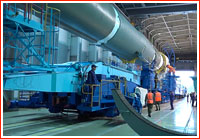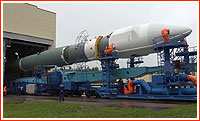 ---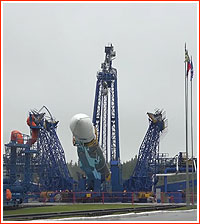 ---