---
---
Related page:

The R-14, became the third Soviet medium-range ballistic missile, which used storable propellant, enabling Soviet missile troops keeping it fueled and ready to fire for extended periods of time.
The R-14 extended range and accuracy of its predecessors -- the R-11 and R-12 -- which both also used storable propellants. The rocket was developed at OKB-586 in Dnepropetrovsk, in present-day Ukraine, under direction of Chief Designer Mikhail Yangel.
The R-14 was under testing in Kapustin Yar from June 1960 to February 1961 and it was officially adopted in armaments on April 24, 1961.
In 1962, the first R-14 missiles, aimed at the Western Europe were deployed in the Soviet republics of Latvia and Ukraine.
On Sept. 5 and 8, 1962, a pair of R-14 missiles with live thermonuclear warheads were fired from the Baikal region to the Novaya Zemlya nuclear test site during the Tyulpan nuclear exercise.
In 1962, as a result of the Soviet decision to deploy missiles on the Island of Cuba, the R-14, along with the R-12 missile, became a source of nuclear standoff between the USSR and the US, known as the Cuban missile crisis. Unlike the R-12, which had been deployed on the island, the R-14 missiles were en-route to Cuba by the time the confrontation was resolved at the very brink of a nuclear war.
The R-14 missile became a base for a two-stage space launcher, known as Kosmos-3.
---
APPENDIX
Technical specifications of the R-14 missile:
| | |
| --- | --- |
| Number of stages | 1 |
| Flight range | 4,500 kilometers |
| Length of the vehicle | 24.4 meters |
| Diameter | 2.4 meters |
| Liftoff mass (fueled) | 86 tons |
| First launch | 1960 June 22 |
| Test site | Kapustin Yar |
| Fuel | |
| Oxidizer | Nitrogen tetroxide |
| Propulsion | 1 (one) RD-216 engine, consisting of 2 two-chamber RD-215 engines |
| Propulsion system thrust | 138 tons |
| Warhead mass | Single 1.5-ton warhead |
| Warhead explosive equivalent | 2 Megatons |
R-14 development team:
| | | |
| --- | --- | --- |
| - | Organization | Chief designer |
| Overall development | OKB-586 | M. Yangel |
| Propulsion system | OKB-456 | V. Glushko |
| Launch facility (surface) | KBTM | V. Soloviev |
| Mass Production | PO Polyot (Plant No. 166) | - |
Page author: Anatoly Zak; Last update: December 9, 2013
All rights reserved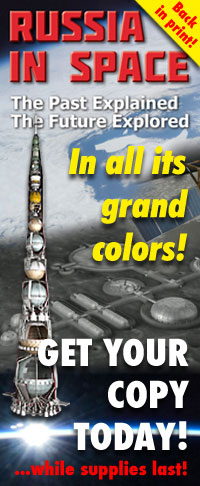 PICTURE GALLERY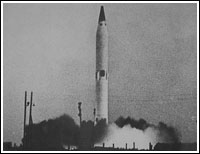 The launch of the R-14 (8K65) ballistic missile. Credit: KB Yuzhnoe
---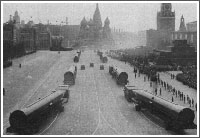 The R-14 missiles (four vehicles in the foreground) during a parade at Moscow's Red Square circa 1965. Credit: KB Yuzhnoe
---