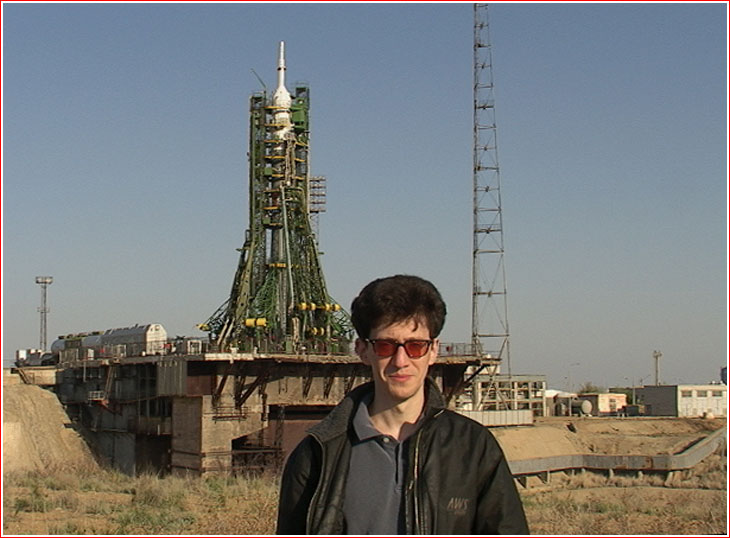 I am a journalist and illustrator specialized in the history of space exploration. Native of Moscow, then Soviet Union, I attended School of Journalism at Moscow State University. Upon moving to the United States in 1993, I earned bachelor's degree from Syracuse University's Newhouse School of Public Communications. Currently, I am working as a contributing writer to the Air & Space Smithsonian, Popular Mechanics and the Aerospace America magazines, in addition to publishing RussianSpaceWeb.com -- a unique collection of news, historical information, photography and interactive graphics on space exploration.
In 2013, I completed writing and illustrating a large-format book on the history of Russian plans for space exploration published by Apogee Prime.
During my years in Moscow, I worked as a contributing editor for the Astronomy and Cosmonautics series of Moscow Polytech Society and later as an aviation and space reporter for Nezavisimaya Gazeta, one of the first independent dailies in Russia. I visited all leading Russian space centers including Baikonur Cosmodrome and interviewed many legendary personalities in the Russian space program, among them Boris Chertok, Yuri Semenov and Alexei Leonov.
My articles, artwork, animations and photography appeared in practically every major space publication around the world and in many general news media outlets including:
Aerospace America, US
Air & Cosmos, France
Air & Space Smithsonian, US
BBC, UK
Bild am Sonntag, Germany
Channel I Ostankino, Russian television
Discover, US
Financial Times, UK
Flieger Revue, Germany
Focus BBC, UK
GEO, Germany
Gong, Germany
IEEE Spectrum, US
Illustreret Videnskab, Denmark
Journal of the British Interplanetary Society, UK
Nonproliferation Review, UK
Popular Mechanics (the US and Russian editions)
Sky at Night, BBC, UK
Science, US
Science and Technology Trends, Quarterly Review, Japan
Space Illustrated, US
Spaceflight, UK
Space Travel Guidebook, Random House, Japan
Süddeutsche Zeitung, Germany
Technology Review, US
Twenty-First Century Bimonthly, The Chinese University of Hong Kong, China
Wired.com, US
X Prize Cup and Google Earth
---
SELECTED WRITINGS:
Autobiographical:

Dear Sputnik: How a simple sphere changed my life

---

Delays Likely For Russian Lunar Lander Program

China Seeks Human Lunar-landing Technology

Russia Is Still Inching Toward The Moon

Russia's New ISS Lab Detoured En Route To Launchpad

Russia Expected To Quickly Wrap Up Soyuz Launch Failure Probe

---
A profile of the Russian super-heavy launcher

NASA: Lunar 'Gateway' Is Still Our Best Bet for Putting Boots on the Moon

NASA's Return to the Moon Could Include a Reusable Lunar Lander

Russia Is Riled Up About Being Left Behind In Space

Russia's New Rocket Project Might Resurrect A Soviet-Era Colossus

Russia's Soyuz Spacecraft Could Find New Life As A Lunar Taxi

The Soviet Laser Space Pistol, Revealed

Ukraine Is Building A Spaceplane For...Saudi Arabia?

Russia's Space Agency Might Break Up With The U.S. To Get With China

Russia Is Now Working on a Super Heavy Rocket of Its Own

This Was a Huge Week for the NASA-Russia Lunar Space Station and the Future of Spaceflight

Russia's Plan To Build a Luxury Hotel on the ISS

Why Does Russia Have a Secret ISS Experiment?

The Rocket That Launched Sputnik and Started the Space Race

Russia Will Team Up With Nasa To Build A Lunar Space Station

Long Abandoned Soviet Tech Might Help China Land on the Moon

This Russian ISS Module Has Been Delayed For a Decade and It's Still Not Ready to Fly

Here Is NASA's Plan for a Space Station That Orbits the Moon

This Is NASA's Plan For Humanity's Return to the Moon, and Beyond

The Model T of Space: Russian Soyuz Spacecraft Turns 50

Why NASA May Ferry the First Cosmonaut to the Moon

A First Peek at Russia's New Space Cargo Ship

U.S. and Russian Scientists Are Making Plans to Go Back to the Moon Together

Russia's Workhorse Soyuz Space Taxi Gets a Makeover

Russia's Plan To Spin Off a New Space Station From the ISS

Declassified Photos Show the Soviet Union's Hero Space Dogs in Color

Russian Launch Inaugurates New Spaceport

Putin's Shiny New Spaceport Is About To Launch Its First Rocket

Astronomers Can't Explain How These Trillion-Degree Quasars Got So Hot

Did the New Russia-Europe Mars Mission Narrowly Escape a Launch Disaster?

Russia Actually Lights Rockets With an Oversized Wooden Match

How Mir Became Humanity's Foothold in Space

The Soviet Union's Secret Moon Base That Never Was

Revealed: Russia's Manned Lunar Lander

Russia's Big Plan To Finally Put Cosmonauts on the Moon

This Is NASA's Very First Idea for a Space Station

Here Is the Soviet Union's Secret Space Cannon

5 Places Russia Will Send Its Space Probes Next

One Russian's Plan to Prove Once And For All That Americans Landed on the Moon

The Russian Ancestors of SpaceX's New Dragon

Another Disaster for Russia's Space Workhorse

Did the Soviets Actually Build a Better Space Shuttle?

The Hidden History of the Soviet Satellite-Killer

Inside Russian Spacesuit Factory

Russia Is Building an Inflatable Space Module of its Own

Photo-essay from Moscow's Air and Space Show, MAKS-2013

Inside Russia's Spectacular Rocket Disintegration

---

What's Going on With Russia's Space Program?

Turns Out Alexei Leonov's First Spacewalk Wasn't Quite as Dramatic as We Thought

Russia Just Selected a New Group of Cosmonauts. What For?

The Day a Soviet Moon Rover Refused to Stop

The Strange Trip of Soyuz T-15

A Rare Look at the Russian Side of the Space Station

Space cooperation: A U.S. bargaining chip in the Ukraine standoff?

Planes, Ships…and Caspian Monsters

Valentina Tereshkova's Journal Sheds New Light on Her Historic Spaceflight

Disaster in Xichang ("The best long-form story on the web!" See Feb. 12, 2013, entry: longreads.com)

Mission Possible (Preview of the Phobos-Grunt mission)

Lunar Clipper (With rich tourists traveling to Earth orbit, can a cruise around the moon be far behind?)

The rest of the rocket scientists (Story of the German rocket team in USSR)

Tsiolkovsky (Biography of the Russian space pioneer)

Fallen Star (How Mir came down)

Copies of published articles are available in PDF format upon request

---

Russia's Proton rocket falls on hard times

Russia pushing to partner with NASA on lunar gateway

Space station partners weigh in on NASA's Deep Space Gateway plans

NASA, ISS partners quietly completing design of possible Moon-orbiting space station

Russia's Proton rocket grounded by poor quality control

Mystery of Russia's doomed Progress spacecraft may delay next ISS crew launch

Spektr-RG sees (x-ray) light at the end of the tunnel

An international outpost near the Moon gets closer to reality

ExoMars rover seeks exit from dire straits

Russia approves its 10-year space strategy

---

Ukraine Vies For Place In Crowded Launch Market

ANALYSIS: Space Collaboration at risk

VIEWPOINT: The case for optimism

Collateral Damage: Impacts of Russian-Ukrainian conflict extend beyond the here and now

---

What would Mars probe failure mean for Russian space?

Russia, India plan return to the Moon

China considers big rocket power

Russian future ship to leave the drawing board

Difficult rebirth for Russian space science

Russia to resume ISS construction

Crunch time for Russia Mars probe

Russia 'to save its ISS modules'

Russia mulls rocket power 'first'

Russia to unveil spaceship plans

Russia to approve new Moon rocket

Why did the USSR build a "copy" of the space shuttle?

Forgotten cradle of the space age

Future Russian-European spacecraft (3D artwork, consulting)

---

Russia's Post-Shuttle Space Plans

---

SELECTED JOURNALISTIC PORTOFLIO

---

Russia Reveals Vision for Manned Spaceflight

Russian Return to a Martian Moon

Russia to Delay Martian Moon Mission

Europe to Join Russia in Building Next Space Shuttle

Highlights of the 2005 Paris Air Show

Russians Propose A New Space Shuttle

U.S.-Russian Space Cooperation in Doubt

Saving the station (The prospects and challenges of the International Space Station)

Can Russia Fill NASA's shoes? (The outlook for the ISS after the Columbia tragedy)

Rockets R' Us (A review of Russia's rocket fleet)

Arianespace Picks Up the Pieces (An interview with Clayton Mowry, President of Arianespace)

Russia gives International Space Station a lift

Taking tourists for a ride (in space) (A look at the Russian suborbital tourist cruiser)

US Rocket with Russian engine gets to work (Inaugural Atlas-V launch)

Russia's Nuclear Submarine Wastes Still Far From Secure

---
Industry Insiders Foresaw Delay of Russia's Phobos-Grunt
---
PRESENTATIONS AND CONFERENCES:
I work to inform general public, as well as policy makers and aerospace industry professionals on developments and trends in the Russian space program and about other space-related issues:
Space Security 2014: Implementation and Compliance

A Conference at the United Nations Insitute for Disarmament Research, UNIDIR, Geneva, Switzerland, March 19-20, 2014.

Secure World Foundation, Washington, D.C., November 2011
---
I also provided commentary and was quoted by numerous publications and leading mass media organizations, including:
The New York Times

The Washington Post, (-)

Daily Beast

Associated Press

...also, see my interview with the Space Safety magazine
SELECTED RADIO AND TV APPEARANCES:
I regularly appear as a guest on various TV and radio programs around the world, including Russia Today, the Voice of Russia, CNN Next, CNN International's Foreign Correspondents, BBC, German Public Radio, Voice of America, France 25, and on various other radio and TV shows.
The Voice of Russia:

The Space Show with Dr. David Livingston:

John Batchelor's HOTEL MARS radio show:

Proton's return to flight, (October 2013)
---
SELECTED INTERACTIVE GRAPHICS:
My graphics adore numerous mass media publications, books, internal space industry documents and they even made it to the International Space Station: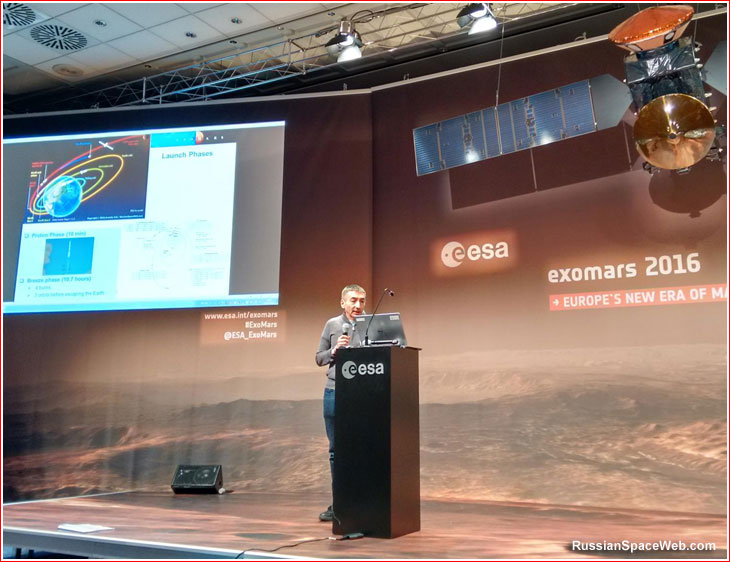 Michel Denis, Flight Operations Director of the European Space Agency's ExoMars project, conducts pre-launch briefing with the help of RussianSpaceWeb.com's unique artwork. The original of this particular graphic can be viewed here.
---
Like other Roskosmos leaders before him, Dmitry Rogozin used artwork from RussianSpaceWeb.com in his most high-profile events. The original used in this particular material can be found here.