Soyuz delivers second Bars-M satellite
In its fourth mission of the year, a Soyuz rocket successfully placed into orbit the Bars-M2 satellite on March 24, 2016. The military payload received an official designation Kosmos-2505.
Previous chapter: Bars-M satellite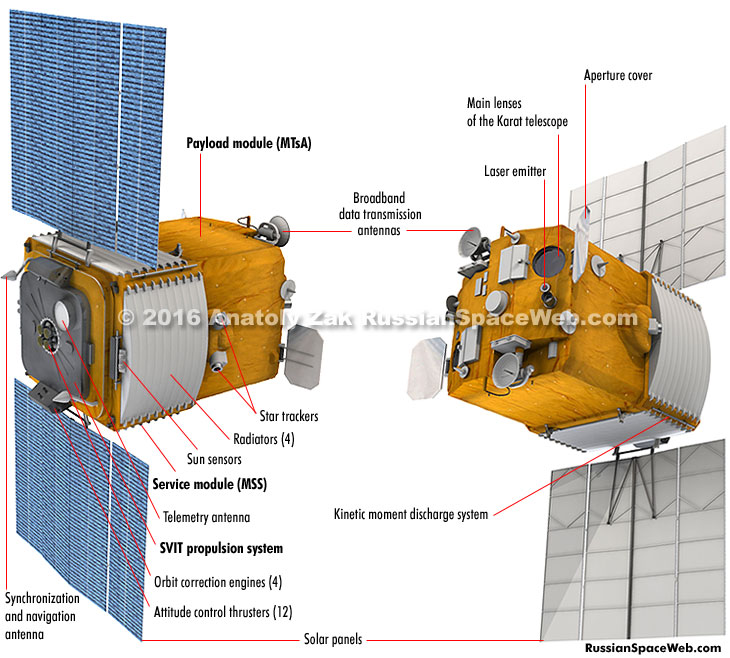 Main modules and key components of the Bars-M satellite
From the publisher: Pace of our development depends primarily on the level of support from our readers!
On March 23, the Russian government issued a warning for an upcoming launch between March 24 and 29. The ascent trajectory matched the flight corridor used by the original Bars-M mission.
According to the official Russian media, a Soyuz-2-1a rocket lifted off on March 24, 2016, at 12:42 Moscow Time (5:42 a.m. EDT) from Pad 4 at Site 43 in Plesetsk.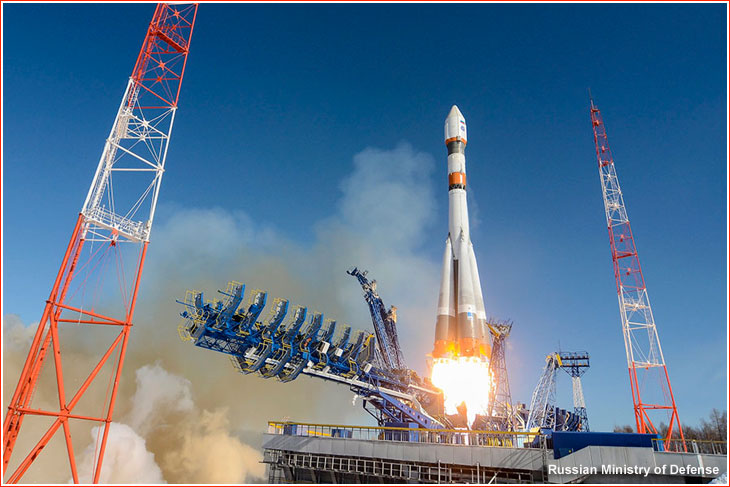 Soyuz-2-1a rocket lifts off with the second Bars-M satellite on March 24, 2016.
---
Russian ground stations of the Titov Chief Test Space Center began tracking the vehicle at 12:45 Moscow Time, and the spacecraft separated from the third stage of the launch vehicle as planned at 12:52 Moscow Time (5:52 a.m. EDT), a spokesman for the Russian Ministry of Defense said. (A standard ascent process for a three-stage Soyuz normally lasts nine minutes and was expected to be completed at 12:50:48 Moscow Time).
Lt. General Aleksandr Golovko, Deputy Commander of the Russian Air and Space Forces, oversaw the countdown and the launch of the mission, the Ministry of Defense said.
Around two hours after the launch, the RIA Novosti news agency quoted a spokesman for the Ministry of Defense as saying that the spacecraft had established communications with ground control and its onboard systems had functioned normally. In the meantime, NORAD radar detected the spacecraft in a 327 by 540-kilometer orbit with an inclination 97.648 degrees toward the Equator, which was similar to initial orbital parameters of the first Bars-M satellite.
According to the TASS news agency, the spacecraft received an official designation Kosmos-2515.
On March 28, Bars-M2 climbed to a 542 by 594-kilometer orbit, similar to that of its predecessor.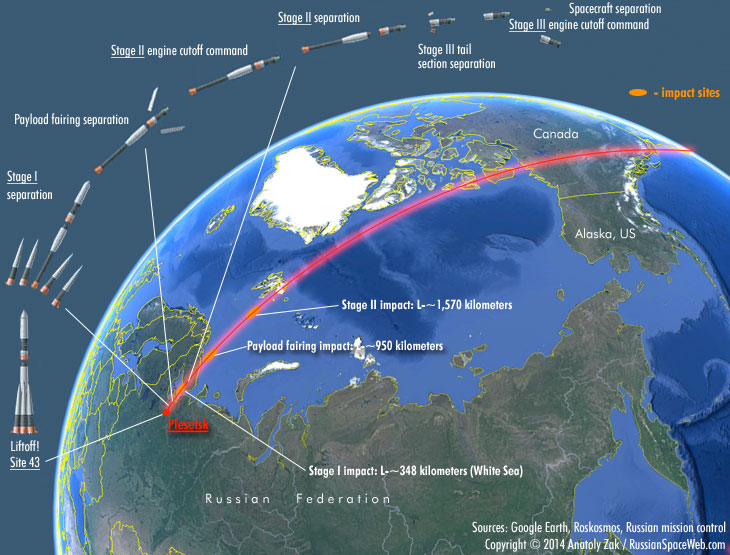 The expected ground track of an ascent trajectory for Soyuz rockets delivering Bars-M satellites from Plesetsk into an orbit with an inclination from 93 degrees to the Equator. After around nine minutes of the powered flight, the satellite is expected to reach orbit over the Arctic Ocean and cross Canadian territory at the beginning of its first revolution around the planet.
---