Read more about inflatable space structures in:

---
---
---
Searching for details:
The author of this page will appreciate comments, corrections and imagery related to the subject. Please contact Anatoly Zak.
Bigelow's inflatable space structures
After the cancellation of the TransHab project, the Nevada-based firm Bigelow Aerospace licensed NASA's engineering heritage in inflatable technology, in the hope of building an orbital hotel for space tourists and commercial researchers.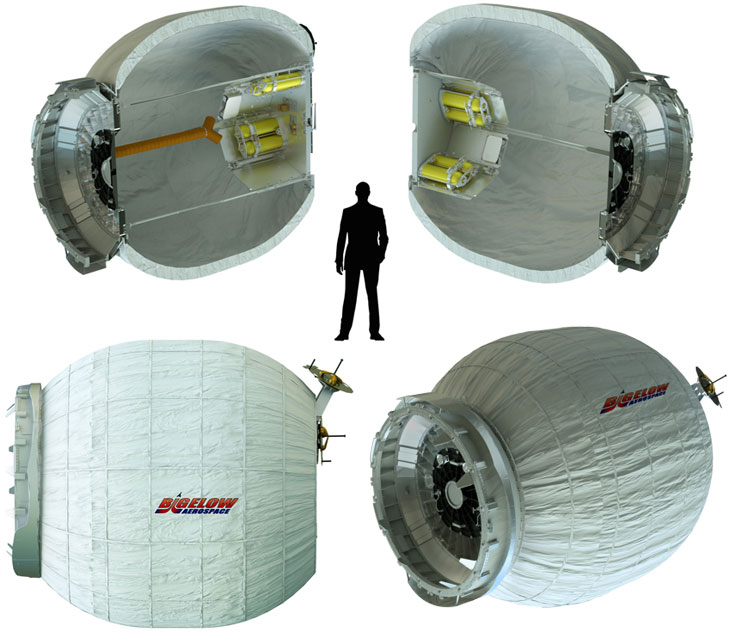 Technical specifications of the BEAM:
Mass

1,360 kilograms

1,360 kilograms

Length

2.16 meters

4.01 meters

Diameter

2.36 meters

3.23 meters

Volume

3.6 meters

16 cubic meters
Bigelow's space station was to be comprised of several inflatable structures docked together in the Earth's orbit.
Scaled prototypes of the modules, Genesis Pathfinder-1 and Genesis Pathfinder-2, were delivered into orbit on July 12, 2006, and June 28, 2007, ironically, aboard converted Russian ballistic missiles. Not designed to be inhabited, they were successfully inflated to a volume of around 12 cubic meters.
Bigelow Aerospace also struck a deal with NASA to add a small inflatable structure to the US segment of the ISS. On January 16, 2013, NASA announced the $17.8 million contract to build a Bigelow Expandable Activity Module, BEAM. In terms of its size, BEMA would be a mere shadow of its ill-fated predecessor, TransHab, and it was designed only as an experiment, not a functional vehicle.
As of middle of 2013, the module was scheduled to ride to the station aboard a SpaceX Dragon spacecraft in the summer of 2015. Following some schedule reshuffles, the 1,360 kilogram BEAM module was launched in the "trunk" (unpressurized cargo section) of the Dragon SpX-8 spacecraft on April 8, 2016. Once the Dragon reached the ISS, the station's robotic arm was used to dock the folded BEAM structure to the aft port of the Node-3/Tranquility module on the US segment.
After a 24-hour delay due to a problem in the deployment process, the BEAM was successfully inflated on May 28, 2016, increasing in length from 2.16 meters to 4.01 meters and growing in diameter from 2.36 to 3.23 meters. Most importantly, its volume ballooned from 3.6 to 16 cubic meters. On June 6, NASA astronaut Jeffrey Williams entered the interior of the module for the first time. On the subsequent visit, Williams said that BEAM was "perfectly clean, quiet and has a "new car smell"."
The module was originally scheduled to remain attached to the ISS for around two years with only once-in-three-months ventures by the crew into its nearly empty interior. During that time, engineers will be monitoring the structure for temperature, pressure and radiation, NASA said.
At the end of the experiment, the BEAM would be released into orbit for a subsequent reentry into the Earth's atmosphere and a fiery demise.
However as of 2018, the module was expected to remain on the ISS indefinitely.
Read (and see) much more about this and many other space projects in Russia
in a richly illustrated, large-format glossy edition: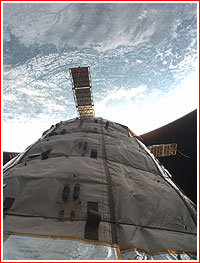 The Genesis Pathfinder module orbits the Earth. Credit: Bigelow Aerospace
---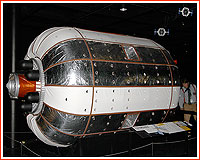 ---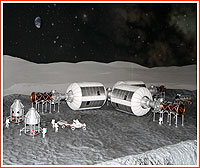 A lunar base concept based on inflatable modules developed at Bigelow Aerospace. Click to enlarge. Copyright © 2012 Anatoly Zak
---