---
---
---
Searching for details:
The author of this page will appreciate comments, corrections and imagery related to the subject. Please contact Anatoly Zak.
---
Related pages:
---

---

---

---
Russia's future Moon rocket
During 2014, the concept of a Moon rocket proposed at RKK Energia around a year earlier continued to evolve. By that time, the project had received the designation Energia-5KV, where "V" stood either for "Vostochny launch site" or "vodorod," a Russian term for hydrogen. In the latter case, the name would emphasize more reliance on hydrogen fuel in the latest incarnation of the vehicle.
Previous chapter: Energia-5K rocket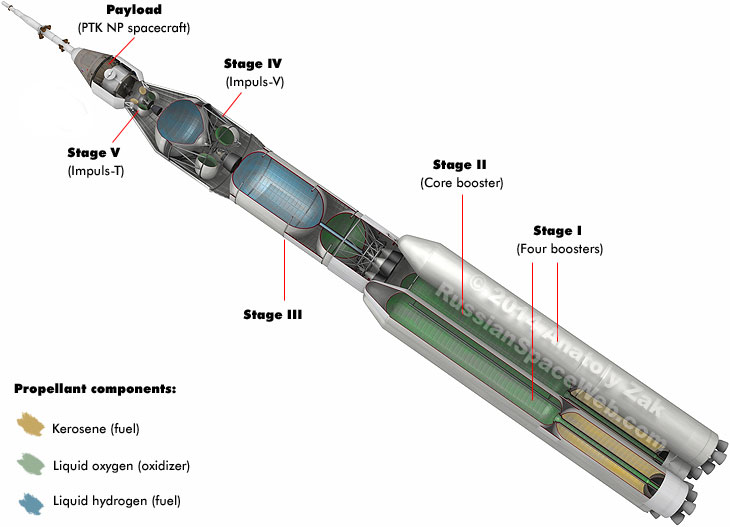 Above: RKK Energia's concept of the Energia-5KV rocket as of 2014.
From the publisher: Please help to keep this site open and current! The pace of our development depends primarily on the level of support from our readers.
In the 2014 configuration, the lower stages of the Energia-5K rocket remained largely unchanged -- four boosters of the first stage with RD-170MV engines and a core booster of the second stage with an RD-171MV engine. All five boosters still shared a diameter of 4.1 meters. (The boosters were now distributed evenly around the core, instead of being attached in pairs as in the 2013 version of the rocket.)
However the rest of the vehicle saw a major revamp. The third stage was enlarged and switched from kerosene to the more potent hydrogen fuel. It would now be powered with four 40-ton-thurst RD-0150 engines, instead of a single one, producing a total thrust of 160 tons.
This upgrade alone increased the vehicle's payload to be delivered into a low Earth orbit from 75 tons in the original concept of the vehicle to 93 tons. Further improvements apparently promised to bump the payload to 95 tons.
The latest configuration of the orbital section of the rocket entering an initial parking orbit now included a two-stage space tug attached to a manned PTK NP spacecraft. The lower (fourth) stage dubbed Impuls-V relied on hydrogen fuel, even though its architecture was clearly inherited from RKK Energia's veteran Block-D upper stages. It would be equipped with a single 40-ton engine.
The Impuls-V stage would have the job of accelerating the PTK NP spacecraft from the low Earth orbit in the direction of the Moon or toward other destinations in deep space.
Following the Earth orbit escape maneuver, the Impuls-V stage would separate. It would leave the PTK NP spacecraft with a smaller fifth stage still attached. Known as Impuls-T, where "T" stands for "tormozhenie," Russian for "braking," the fifth stage would be used for a braking maneuver near a destination, for example, for inserting the PTK spacecraft into its lunar orbit. Unlike the two lower stages, Impuls-T would use storable hypergolic propellant and the S5.92 engine borrowed from the Fregat upper stage. (Possibly, there were also earlier proposals to use a modified Block-DM-03 stage with the 11D58MF engine in place of the Impuls-T stage.)
Known specifications of the Energia-5KV architecture:
-

Energia-5K (circa 2013)

Energia-5KV (circa 2014)

Liftoff mass

2,416 tons

2,425-2,470 tons

Payload mass to the low Earth orbit

approximately 79 tons

93.6-95.2 tons

Payload mass to the low Earth orbit, if Stage I boosters dropped 810 kilometeers downrange

-

100 tons

Payload mass to the low Earth orbit, if Stage I boosters dropped 1,370 kilometeers downrange

-

95.2 tons

Maximum payload mass delivered to 200-kilometer lunar polar orbit

-

24.0 tons

STAGE I (four strap-on boosters)

-

-

Propulsion system

Four boosters with four-chamber

RD-170M

engine each

Four boosters with four-chamber

RD-170MV

engine each

Stage diameter

4.1 meters

4.1 meters

Propellant mass

?

4x398 tons

Oxidizer

Liquid oxygen

Liquid oxygen

Fuel

Kerosene

Kerosene

Estimated burn time

161 seconds

161 seconds

STAGE II (Core stage)

)

-

-

Propulsion system
Stage diameter

4.1 meters

4.1 meters

Propellant mass

?

398 tons

Oxidizer

Liquid oxygen

Liquid oxygen

Fuel

Kerosene

Kerosene

STAGE III

-

-

Propulsion system

Four (4) RD-0150 engines

Stage diameter

4.1 meters

7.0 meters

Propellant mass

?

150 tons

Oxidizer

Liquid oxygen

Liquid oxygen

Fuel

Kerosene

Liquid hydrogen

Estimated burn time

240 seconds

?

STAGE IV

-

Impuls-V

Oxidizer

Liquid oxygen

Liquid oxygen

Fuel

Liquid hydrogen

Liquid hydrogen

Propellant mass

-

49.3 tons

Propulsion system

One 40-ton engine

STAGE V

-

Impuls-T

Propellant mass

-

9.6 tons

Oxidizer

N/A

AT

Fuel

N/A

UDMH

Propulsion system

N/A

S5.92 (?)
Next chapter: Energia-5V/5VR
Read (and see) much more about the history of the Russian space program in a richly illustrated, large-format glossy edition:
---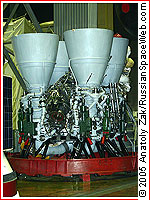 RD-170 engine. Click to enlarge Copyright © 2005 Anatoly Zak
---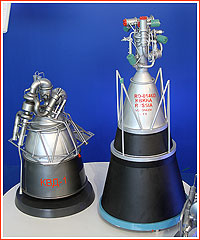 The hydrogen-burning engine derived from RD-0146D model (right) featuring a nozzle extension was to power the fourth stage of the rocket. Copyright © 2011 Anatoly Zak