---
---

---
Searching for details:
The author of this page will appreciate comments, corrections and imagery related to the subject. Please contact Anatoly Zak.
Drop zones for Vostochny Cosmodrome
Very early in the search for the new Russian space port in the early 1990s, experts favored the old Soviet missile base near the town of Svobodny. This remote location in the Amur Region would enable space launchers to reach a wide variety of orbits, while avoiding densely populated areas or foreign territory during the ascent and the separation of rocket stages.
Previous chapter: Angara pad in Vostochny
Orbits reachable from Vostochny
Launch trajectories and impact sites for upper stages of launch vehicles departing from Vostochny. Credit: Roskosmos
By the time, the active construction of Vostochny had began, Roskosmos selected five flight corridors fanning out from the spaceport, which enable to enter orbits with inclinations 51, 63, 72, 83 and 98 degrees toward the Equator. The 51-degree inclination would be used to launch payloads heading to equatorial orbits, such as communications satellites, as well as for launching manned spacecraft. Theoretically, piloted missions could also be launched into orbits with higher inclination such as 63 or even 72 degrees, for example, to access a proposed high-latitude orbital station, VShOS. Finally, various Earth-observation and remote-sensing missions could be launched into Sun-synchronous near-polar orbits with an inclination 98 degrees toward the Equator.
Each ascent trajectory had at least two drop zones along its ground track, where spent stages, payload fairings and other discarded components of launch vehicles would crash to Earth. All impact sites would be either in sparsely populated Russian territory or in international waters. In case the upper stage of the rocket is discarded shortly before reaching the orbital velocity, its burning debris would fall either in the Pacific or into the Atlantic Ocean, away from major shipping lines.
Drop zones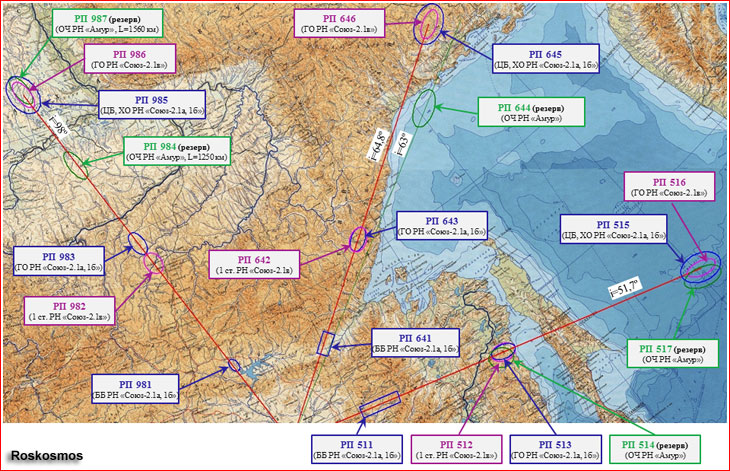 Drop zones for three main launch corridors from Vostochny. Credit: Roskosmos
To minimize the contamination of soil with remnants of propellant, to prevent forest fires and other environmental impact, Roskosmos delegated its main launch infrastructure contractor -- TsENKI -- to conduct cleanup operations at drop zones.
A special division responsible for drop zones was to be formed in Vostochny. Its base would be located 12 kilometers north of Uglegorsk, adjacent to the future airport of the space center. The facility should eventually include warehouses for storage and recycling of rocket components, as well as the landing and parking area for Mi-26 and Mi-8 helicopters. Later yet, the infrastructure would be expanded to include an unloading terminal, a re-fueling station and a facility for cosmonaut rescue. FGUP Spetstroytekhnologiy began active construction of the site in the spring of 2015, however only the initial infrastructure was completed by the time of the first launch from Vostochny on April 28, 2016.
In addition, according to plans drafted in 2012, Roskosmos would create three regional operational bases for drop zone servicing or BERP. They would be located in the city of Yakutsk (Military Unit No. 14129); city of Magadan (Drakon facility at the Nagaevskaya Sopka) and at the BZS Morsvyazsputnik at the port of Nakhodka. The latter facility would be involved with operations over sea, including rockets carrying manned spacecraft. However due to very low rate of launches from Vostochny at least until 2020s, all these plans were put on hold and TsENKI decided to rely on temporary field sites, which would be deployed near each appropriate drop zone for each particular mission.
Along with traditional methods to locate fallen debris from helicopters, new technologies, such as portable radars and drones were employed into the effort. In 2015, TsENKI tested unmanned planes and quadra-copters at a test site near Moscow, before the same hardware was deployed near one of drop zones downrange from Baikonur for the launch of the Progress-MS spacecraft. In April 2016, the same hardware was then used during the first launch from Vostochny.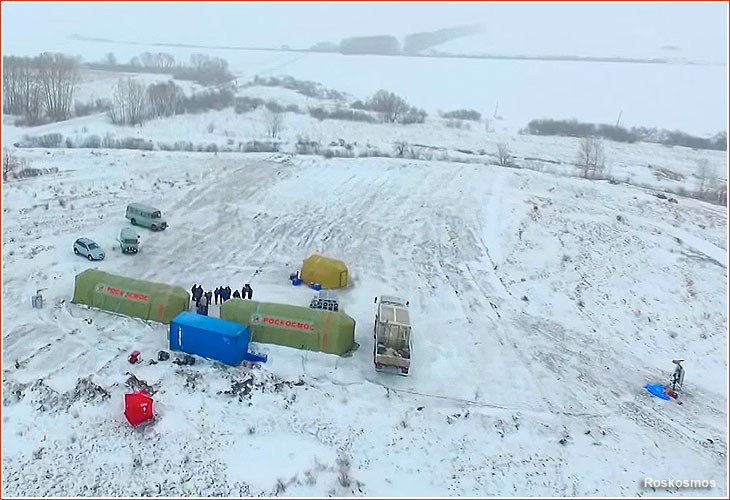 A makeshift field camp deployed downrange from Baikonur in December 2015, to test a portable tracking radar and optical sensors during the launch of the Progress-MS spacecraft.
Solving drop zone problems
The 2011 decision to bring the Soyuz-2 rocket to Vostochny instead of the cancelled Rus-M rocket considerably complicated the drop zone selection downrange from Vostochny. Drop zones for the first stage of the rocket had to be moved much closer to the spaceport. Moreover, four boosters of the first stage would now produce four impact sites instead of a single location needed for the Rus-M rocket. As a result, a danger of forest fires had increased significantly. Adding Angara-5 rockets to the fleet based in Vostochny made the drop zone map even more crowded.
On Dec. 26, 2012, Roskosmos signed an agreement with the administration of the Amur Region for the use of drop zone No. 981 for the first stage of the Soyuz rocket heading to an orbit with an inclination around 98 degrees. The survey of the site was conducted from February 23 to March 1, 2013.
Still, in April 2013, Russian officials admitted that they had faced very serious issues with downrange trajectories overflying off-shore areas of oil exploration and production, sea-faring trade lines and even the vicinity of the Japanese territory. Aleksandr Fadeev, Director General of TsENKI called the problem "solvable" in cooperation with launch vehicle developers. Normally, it would mean that optimal performance of a particular launcher would have to be sacrificed to carry a booster or a payload fairing longer than needed to ensure its fall at an appropriate drop zone.
In September 2014, the head of Roskosmos, Oleg Ostapenko said that there were ongoing efforts to "consolidate" drop zones in the Amur Oblast (region), Khabarovsk Krai, Sakha (Yakut) Republic and in the Magadan Oblast. However even a year later, Roskosmos was still working on a final agreement with the government of the Sakha Republic, whose territory would be used during the first launch from Vostochny. The plans to drop rocket stages in the Sakha Republic were very unpopular among local population and faced the opposition from environmental groups. Ironically, it was the exactly the problem which Roskosmos hoped to resolve by moving from Baikonur in Kazakhstan to the Russian territory.
To address environmental concerns, Roskosmos organized a number of town hall-style events in the affected regions to educate the public and the local press about the real and perceived dangers of rocket launches. Roskosmos also included officials from local environmental protection agencies into search groups tasked to recover debris from drop zones.
In the aftermath of the first launch from Vostochny on April 28, 2016, Roskosmos officials said that chemical analysis of snow and soil samples at drop zones showed no major contamination. Officials also stressed that the radiation measurements taken at the sites showed levels even lower than natural. (Even though space launchers normally do not carry radioactive materials, there is a wide-spread perception in Russia that rockets cause cancer, affect weather and are responsible for many other ailments.)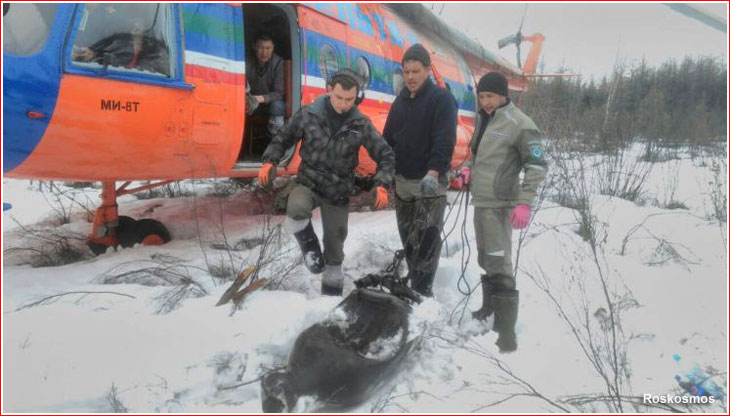 Specialists from TsENKI recover a combustion chamber from the core stage of the Soyuz rocket in the aftermath of the first launch from Vostochny on April 28, 2016. Credit: Roskosmos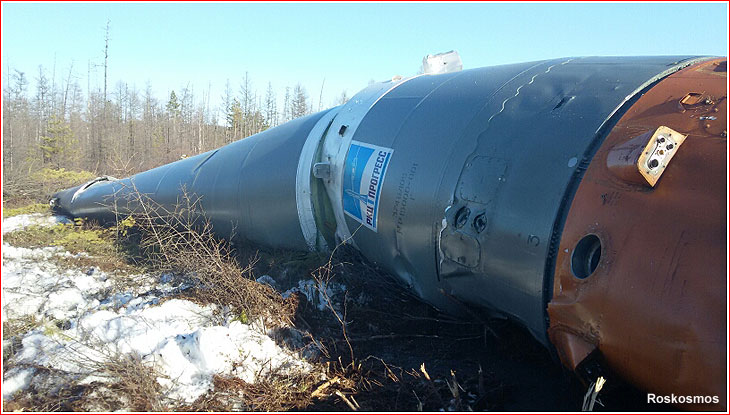 One of four first-stage boosters from the Soyuz-2-1a rocket launched on April 28, 2016.
Vostochny drop zones (used for the first launch in April 2016):
RP-981

97.2

Amurskaya Oblast (Zeisk and Tynda districts)

No. 1, Zeya

RP-983

97.2

Soyuz-2-1a, 2-1b: Payload fairing

Aladansky, Olyumkinsky Ulus

No. 2, Aldan

RP-985

97.2

Vilyisky, Verkhniy Vilyusky Ulus, Sakha (Yakut) Republic

No. 3, Vilyusk; No. 4, Kyulekyan
---
Page author: Anatoly Zak; Last update: May 10, 2016
All rights reserved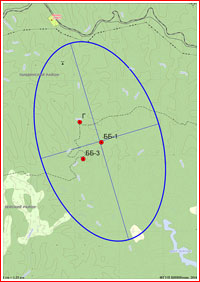 Map of Drop Zone No. 981 for the first stage of the Soyuz rocket heading to a near-polar orbit with an inclination of around 97 or 98 degrees toward the Equator. It was located on the border between Zeisk and Tynda districts, between Zeisky Reservoir to the south and the Baikal-Amur Railway, BAM, to the north. Click to enlarge. Credit: TsNIIMash
---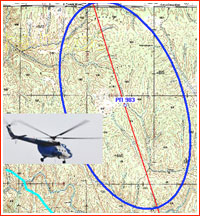 Map of Drop Zone No. 983 for the payload fairing of the Soyuz rocket heading to a near-polar orbit with an inclination of around 97 degrees toward the Equator. It is serviced by Search Group No. 2 Click to enlarge. Credit: TsNIIMash
---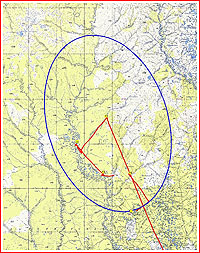 Map of Drop Zone No. 985 for the second stage of the Soyuz rocket heading to a near-polar orbit with an inclination of around 97 degrees toward the Equator. Click to enlarge. Credit: TsNIIMash
---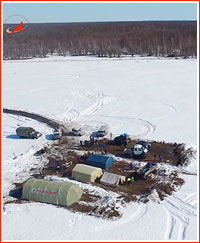 ---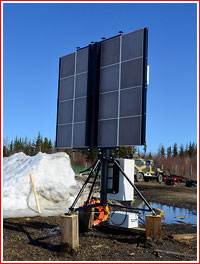 A portable Weibel radar, which was used to track the core stage of the Soyuz-2-1a booster during its first launch from Vostochny on April 28, 2016. Click to enlarge. Credit: Roskosmos
---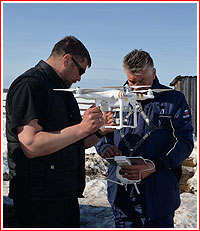 TsENKI specialists prepare an observation drone for launch, apparently near the second-stage drop zone in the aftermath of the first launch from Vostochny on April 28, 2016. Click to enlarge. Credit: Roskosmos
---
Cross-country vehicles preparing for debris search after the launch from Vostochny on April 28, 2016. Click to enlarge. Credit: Roskosmos
---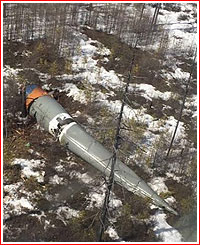 An aerial view of the first-stage booster from the first launch in Vostochny on April 28, 2016. Click to enlarge. Credit: Novosti Kosmonavtiki
---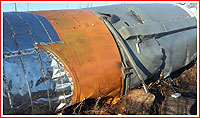 First-stage booster from the Soyuz-2-1b rocket launched on April 28, 2016. Click to enlarge. Credit: Roskosmos
---