GLONASS-K2 satellite
The latest generation of the Russian satellite navigation network would be represented by the GLONASS-K2 satellite currently in active development.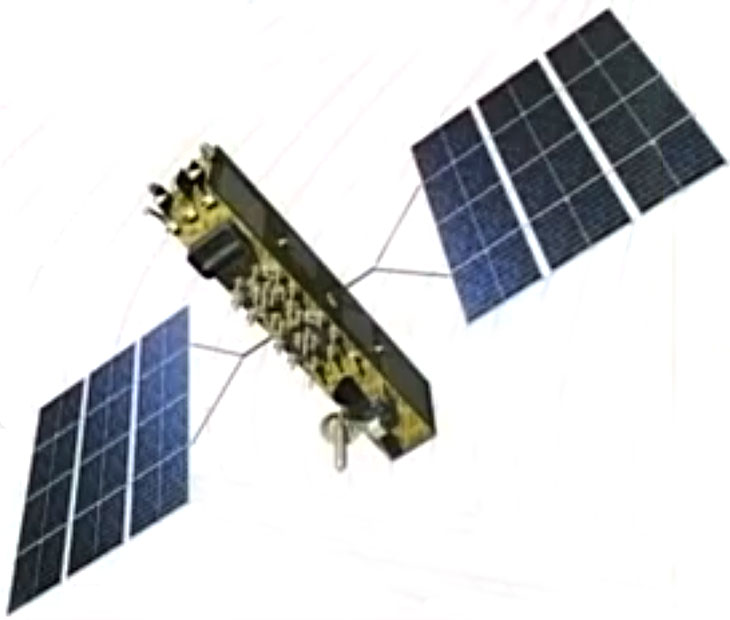 General architecture of the GLONASS-K2 satellite as of 2015. Credit: ISS Reshetnev
From the publisher: Pace of our development depends primarily on the level of support from our readers!
According to early plans, the first two GLONASS-K1 satellites would be followed by GLONASS-K2 satellites. A modified version known as GLONASS-K2, was expected to feature an unpressurized satellite bus and a new type of navigation signal with the so-called code-protected selection. The spacecraft would transmit three types of signals, two of which in L1 and L2 range would be designed for specialized users, such as the military and one channel in L1 range would be available to everyone else.
The spacecraft also uses a new-generation thermal control system based on electrically powered thermal panels complemented with optical thermal coating, which replaced traditional fluid-based systems. The new thermal control method, (first tested on GLONASS-K satellites), enables to maintain temperature of some critical avionics on the spacecraft within 0.1 degrees, ISS Reshetnev said.
Development
As of 2010, the launch of the first GLONASS-K2 spacecraft was expected in 2013. (438) In November 2012, ISS Reshetnev announced that the completion of the preliminary design for a modified GLONASS-K satellite had now been expected in October 2013.
Due to delays with the development of the GLONASS-K2, Roskosmos had to order a total of nine GLONASS-K satellites for a routine replacement of the GLONASS-M spacecraft.
In July 2016, ISS Reshetnev announced that the company had began testing the GLONASS-K2 satellite in the thermal and vacuum chamber, however the planned launch date for the satellite was not confirmed at the time. The development of the satellite was apparently severly delayed by a ban on the supply of western electronics in Russia after the annexation of Crimea in 2014.
Only in July 2018, the head of ISS Reshetnev announced that the first launch of GLONASS-K2 was now expected in 2022. It would be launched either on a Soyuz-2 rocket from Plesetsk or on an Angara vehicle from Vostochny, Head of ISS Reshetnov Nikolai Testoedov said. According to industry sources, the GLONASS-K2 design and processing facilities also allowed its launch on Angara from Plesetsk.
On Sept. 5, 2018, Testoedov said that a total of nine GLONASS-K1 satellites had been in production with delivery of three vehicles scheduled for 2019, 2020 and 2021. He also promised the launch of first GLONASS-K2 satellite during the following year. In November 2018, ISS Reshetnev announced that a pair of GLONASS-K2 satellites had been in production. However, in early 2021, the launch of the first GLONASS-K2 was expected in the fourth quarter of that year. In mid-2022, the mission was promised in the Fall of the beginning of Winter of that year.
---