---
---
Searching for details:
The author of this page will appreciate comments, corrections and imagery related to the subject. Please contact Anatoly Zak.
---
Related pages:
Russia mulls new-generation lunar lander
Half a century after a first fruitless attempt, a new generation of Russian space engineers will embark on the development of a piloted lunar lander, according to the nation's 10-year space plan beginning in 2016. However, unlike the one-seat module of the first Moon Race, the 25-ton future lander would be designed to carry as many as four cosmonauts to the lunar surface and back and eventually serve as a reusable shuttle craft to the lunar orbit!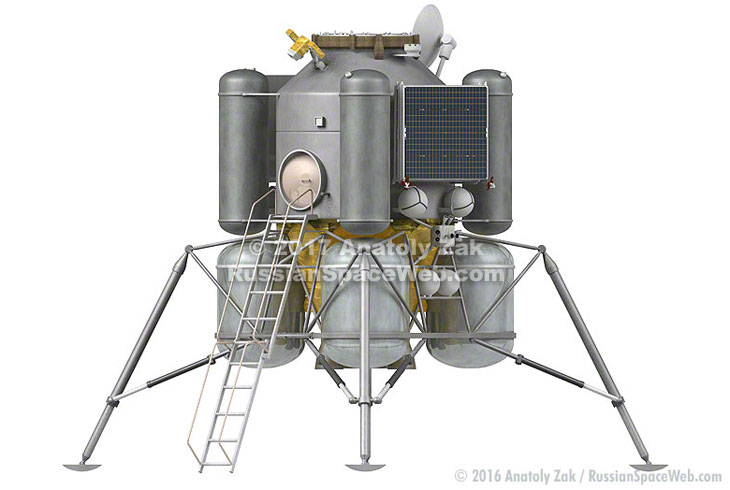 Russian lunar lander concept circa 2015.
Read our introductory article on the subject at:

Please help to keep this site open and current! The pace of our development depends primarily on the level of support from our readers.
In 2015, after several years of preliminary studies within the space industry, the Russian space agency, Roskosmos, prepared to start funding the development of a lunar ascent and descent complex, LVPK, essentially, a lunar lander which would deliver crews from lunar orbit to the surface of the Moon.
According to the current vision of the Russian lunar exploration program, the lander would be delivered to the lunar orbit by a dedicated rocket without a crew. It would then rendezvous and dock with a piloted transport vehicle in the lunar orbit.
One of several concepts of the lunar lander was formulated in 2016. At the time, the spacecraft had the following specifications:
Spacecraft mass in lunar orbit

20 tons

27 tons

Crew size

2 people

4 people

Cargo delivered to the lunar surface

100 kilograms

up to 625 kilograms

Flight duration in unmanned mode

190 days

190 days

Duration on the surface of the Moon with crew

3 days

14 days

Number of supported person/EVAs

4

21

Diameter

5.5 meters

5.5 meters

Length

11 meters

11 meters
Proposed budget for the R&D work in the LVPK vehicle in the Federal Space Program, FKP-2016-2025 (in millions of rubles):
Proposed budget*

5,114

7,260

8,182

7,921

7,734

6,800

5,272

4,317

4,597

3,567

60,764
---
Read (and see) much more about the history of the Russian space program in a richly illustrated, large-format glossy edition: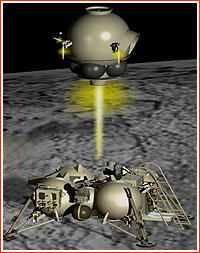 ---
---
This artist rendering depicts one of several concepts of the lunar lander evaluated in 2016. Credit: RKK Energia