---
---
Related links:
Mir operations in 1993
Expeditions 12 and 13.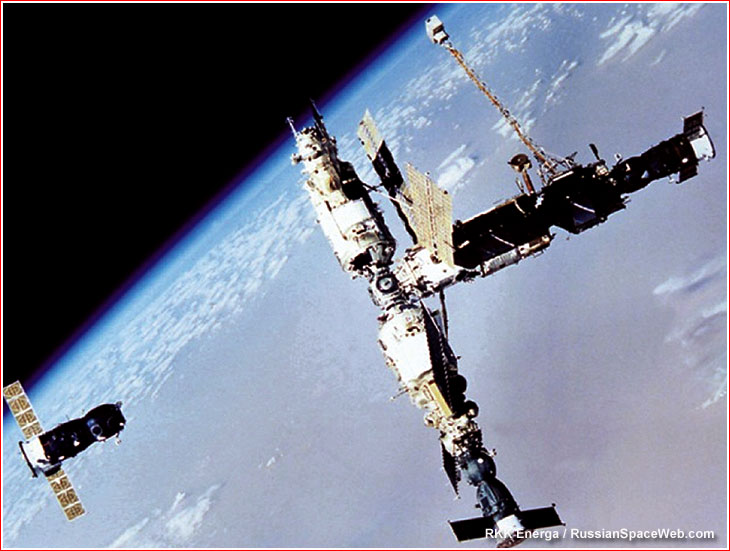 The Progress M-18 cargo ship departs the Mir space station to make room for the approaching Soyuz TM-17.
Missions to Mir in 1993:
Jan. 24

July 22

Soyuz TM-16

Genadiy Manakov, Alexander Poleschuk

Feb. 21

March 27

Progress M-16

unmanned

March 31

Aug. 11

Progress M-17

unmanned

May 22

July 3

Progress M-18

unmanned

July 1

1994 Jan. 14

Soyuz TM-17

Vasily Tsibliev, Alexander Serebrov, Jean-Pierre Haignere (France) (returned on Soyuz TM-16)

Aug. 11

Oct. 12

Progress M-19

unmanned

Oct. 12

Nov. 21

Progress M-20

unmanned
**Members of long-term (EO) expeditions are shown in bold
---
Expedition 12 (EO-12)
The 12th expedition remained onboard Mir until January 1993. The next long-duration crew to go to station included two Russian cosmonauts and no paid passengers. The pair rode a unique Soyuz spacecraft equipped with the so-called androgynous docking port, as oppose to a drogue-and-cone system, normally employed on all but few Soyuz spacecraft.
This particular vehicle was one of the "leftovers" from the canceled Energia-Buran program, which would carry the androgynous docking mechanism. Originally developed for the Soyuz-Apollo program, the androgynous docking system enabled either spacecraft to play a role of the maneuvering vehicle or a passive (target) vehicle during the rendezvous. (In traditional drogue-and-cone systems, the Soyuz always plays a role of the active spacecraft and docks with the passive (target) station.
A flight program for one of the early Buran unmanned test flights called for its automated docking with both Mir and Soyuz spacecraft. The docking between the Soyuz and the Buran would demonstrate the possibility of evacuation and rescue of Buran's crews by unmanned Soyuz "lifeboats."
As many as three initial Buran missions would be accompanied by the launches of the Soyuz "lifeboats," capable of docking with the reusable orbiter. (52)
As funding for the Buran program dried out in 1992, Russian space officials have decided to fly the Soyuz originally intended to dock with Buran, as a transport ship for the upcoming expedition to Mir. For the first time, the Soyuz vehicle was expected to dock to the androgynous docking port onboard Mir's Kristall module. The same port was to be used by the short-lived Buran orbiter, if it ever flew to the station.
Since the Soyuz TM-16 docked to Kristall, there was also a unique opportunity to have two, not one Progress cargo ships docked to the station's at the same time. In July 1993, the crew of the Soyuz TM-17 spacecraft, which approached the station, witnessed how one cargo ship departed Mir's docking port to free it for the incoming ship. Russian officials used the impressive photography generated in process to lobby NASA for a cooperative US-Russian space station. Coincidentally, the agreement on Russian participation in what would become the ISS, was reached only weeks later.
---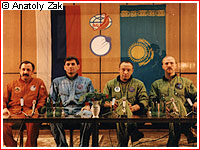 With Russian and Kazakh flags providing a backdrop, the primary crew (in green suits) and backup crew of the Soyuz TM-16 spacecraft chat with reporters in Baikonur in January 1993. Copyright © 1993 Anatoly Zak
---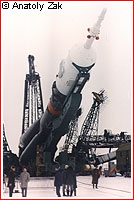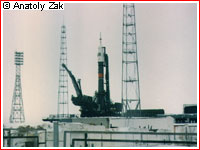 Soyuz TM-16 is erected on the snow-covered launch pad in Baikonur. Copyright © 1993 Anatoly Zak
---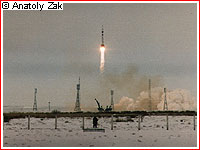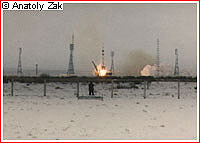 On a bleak and cold day of Jan. 24, 1993, the Soyuz TM-16 blasts off from Baikonur. Copyright © 1993 Anatoly Zak
---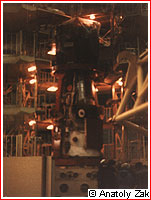 Soyuz TM-17 during pre-launch processing at Site-2 in Baikonur. Copyright © 1993 Anatoly Zak
---