History of the R-7 launch facilies in Plesetsk
At the end of the 1950s, first two battle-ready launch pads for R-7A missiles were founded north of Moscow near the town of Plesetsk to become the first Soviet operational ICBM base aiming nuclear-tipped weapons at the American continent. To maintain secrecy, the site was identified in military documentation as the 3 UAP -- the Russian abbreviation for the 3rd Training Artillery Range.
---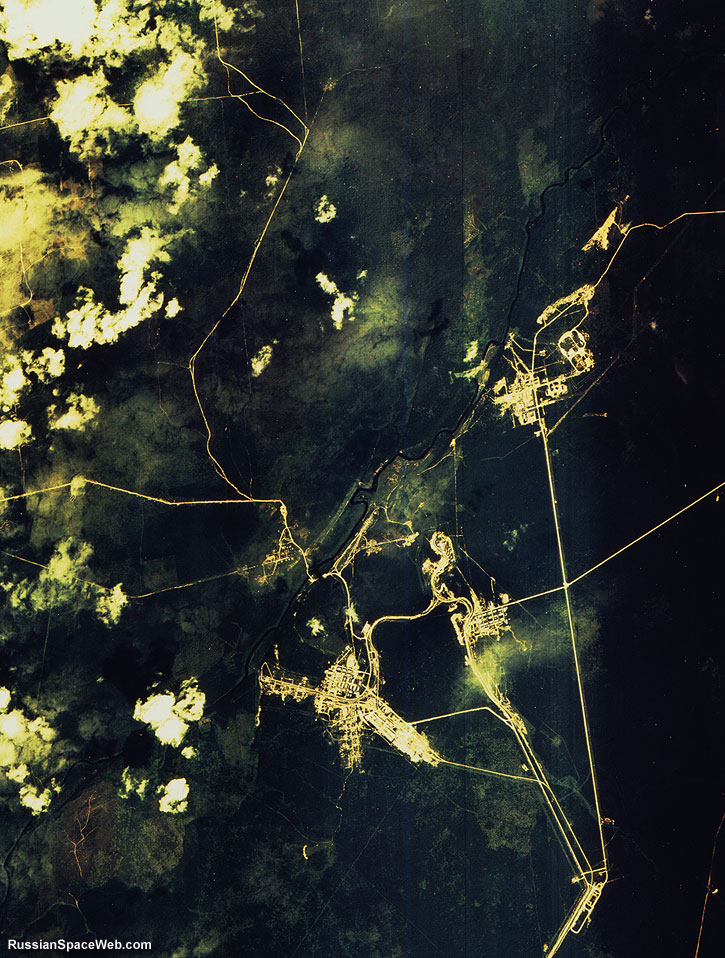 Site 16 in Plesetsk as viewed by a US spy satellite on July 20, 1966.
---
Government decrees and other top-secret paperwork referred to the base as the Angara site, implying that it would be located along the river in the Soviet Far East. Unclassified correspondence would be addressed to Moscow-400 and Leningrad-300. In reality, launch pads were situated along the Yemtsa River, whose steep banks saved a great deal of digging efforts during the construction of the flame trenches. The overall design of the pads was similar to those in Tyuratam (Baikonur) test range. At least three more sites for battle-ready R-7 missiles were planned under code names Neva, Dnepr and Don, but never built. However in 1959, the Soviet military recommended expanding the Angara site from two to four launch pads.
The initial military unit serving R-7A missiles was officially formed on May 19, 1958. Its conscripted soldiers lived in barracks at Site 41, near yet-to-be-built launch complex No. 1 or SK-1. The pre-launch processing of missiles was conducted at Facility No. 142. The complex was declared operational on Dec. 15, 1959.
On Dec. 14 and Dec. 21, 1965, first R-7A missiles were launched from Plesetsk from Pad No. 1 (SK-1), apparently as a test of the new ground control network intended to serve planned space launches and ICBM tests.
During the Cuban missile crisis in 1962, the R-7A missile with a nuclear warhead was rolled out and erected on the launch pad No. 4 (SK-4/PU-4) in Plesetsk in preparation for a possible nuclear confrontation with the US.
In June 1967, Strategic missile forces started winding down alert operations with R-7 missiles in Plesetsk. In 1968, a dual launch facility with pads No. 3 and No. 4 for R-7A missiles was decommissioned to be converted into space launch facilities to deliver Zenit, Meteor and Molniya spacecraft into orbit.
Space launches
In 1964, to prepare for the use of Plesetsk ICBM base for orbital space launches, Chief of Stuff of the Ministry of Defense ordered the formation of the 2nd Test Directorate in Plesetsk. Its officers would be responsible for preparing space launchers and their payloads for a ride to orbit. A veteran of Plesetsk operations and of World War II, Col. Veniamin Eibschiz became the first commander of the 2nd directorate.
In March 1968, a military unit serving launch pads No. 3 and No. 4 discontinued its doomsday watch as a ballistic missile battle station and joined the 2nd Directorate, as a space launch facility. On July 20 of the same year, the battlefield service of R-7A missiles in Plesetsk officially ended. During 1969, both pads were re-certified for launching space boosters.
During the same year, a new processing facility No. 142 was inaugurated, enabling a dramatic expansion of space operations in Plesetsk. Among new satellites coming to Plesetsk were Bion and Molniya-1. A total of 37 spacecraft were launched during 1969. Along with the processing building, additional barracks and support infrastructure had to be built.
On Feb. 19, 1970, the first Molniya-M rocket lifted from Plesetsk with Molniya-1 satellite.
During 1972 and 1973, processing infrastructure for new-generation Yantar reconnaissance satellites had been deployed in Plesetsk. The first Yantar lifted off on Jan. 23, 1974.
Preparations for the first space launch from Plesetsk started on February 14, 1966. It was launched on March 17, 1966, at 13:28 Moscow Time from Pad No. 1 on the Vostok-2 booster. It carried a Zenit-2 reconnaissance satellite publicly identified as Kosmos-112. On April 6, a more powerful Voskhod booster was launched from Plesetsk with the second-generation Zenit-4 spacecraft (Kosmos-114). In 1967, Plesetsk took responsibility for launching Meteor satellites.
Until June 16, 1976, 166 launches of Voskhod booster carrying surveillance satellites originated from Plesetsk, of which 155 were successful.
A total of six Vostok-2 rockets were launched from Plesetsk. They were later replaced by the Vostok-2M launcher specifically designed to deliver Meteor satellites.
Between February 27, 1967, and October 28, 1983, 79 launches of Vostok-2M were conducted with Meteor-1, -2 and Meteor-Priroda spacecraft and one resulted in a failure. The first Meteor spacecraft launched on February 28, 1967 as Kosmos-144. In the following years, the spacecraft of this type was launched by Tsyklon booster. (66)
Russian presidents Boris Yeltsin and Vladimir Putin personally witnessed space launches during their visits to Plesetsk on April 29, 1992, and on February 18, 2004, respectively. (597)
According to the official Russian TV around 400 members of the military personnel were involved in launching of Soyuz rockets from Plesetsk in 2020.
Launch facilities for space vehicles based on the R-7 ballistic missile:
41

SK-1 (17P32-1)

42

13973

1959 December

1965 Dec. 14

1966 March 17

Retired on Sept. 15, 1989, and dismantled after 310 or 319 launches)

16

SK-2 (17P32-2)

48

14003

1960 February

-

1981 Feb. 19

43

SK-3 (17P32-3) (left pad)

70

14056

1961 July

-

1971 Feb. 18

Served to launch

Molniya rockets

. In plans to be rebuild for Soyuz-2. Unused from 2002.

43

SK-4 (17P32-4) (right pad)

70

14056

1961 July

1967 July 25

1969 Dec. 3