Resurs-P Earth-watching satellites
Developed by TsSKB Progress in the city of Samara, the Resurs-P (47KS) remote-sensing satellites were designed to provide high-resolution imagery of the Earth surface revealing details as small as one meter in size. Resurs-P (where "P" stood for "prospective") would complement and ultimately replace in this role the Resurs-DK spacecraft launched in 2006. Both satellites were believed to be civilian cousins of a classified optical reconnaissance spacecraft also developed by TsSKB Progress. The company's Soyuz-2-1b rocket was expected to orbit Resurs-P.
---
General architecture of the Resurs-P satellite. Copyright © 2009 Anatoly Zak
---
Resurs-P: Flagship of Russia's civilian remote-sensing fleet
Resurs-P was designed to carry three types of remote-sensing payloads for high-resolution, wide-angle and multi-spectral observations of the Earth's surface. With its imaging cameras, the spacecraft could photograph individual targets on the Earth surface, as well as long stretches of Earth surface extending as far as 2,000 kilometers. The width of the shot would cover 38 kilometers of land during its pass, comparing to 27 kilometers for its predecessor. (562) Resurs-P could also image areas 100 by 300 kilometers during a single pass and conduct stereo-imaging.
For the first time the Russian satellite would carry so-called hyper-spectral system featuring 96 spectral channels in each of its two optical-electronic converters. (570)
TsSKB Progress also hoped to use the American GPS and Russian GLONASS networks for navigation of Resurs-P.
The Resurs-P's projected life span was extended to five years, even though by the time the satellite reached the launch pad in 2013, its predecessor -- Resurs-DK -- would log seven years of operational life.
Among users of the satellite, TsSKB Progress listed following institutions:
Ministry of Natural Resources, MPR;
Ministry of Emergency Situations, MChS;
Ministry of Transportation, Mintrans;
Ministry of Agriculture, Rosselkhoz;
Ministry of Fishing, Rosrybolovstvo;
Ministry of Meteorology, Rosgidromet;
"Other" domestic customers, which, obviously implies the Ministry of Defense;
Foreign customers.
Payloads
As its main imaging instrument, Resurs-P No. 1 sports the Geoton-L1 telescope developed at OAO Krasnogorsky Zavod with an image storing and conversion system dubbed Sangur-1U developed at NPP Opteks, a branch of TsSKB Progress in Samara. Sangur-1U converts optical images into digital signal and then processes, compresses and transmits this data to the satellite's radio system for a downlink to ground stations.
From an altitude of 475 kilometers, Geoton-L could capture panchromatic images with a resolution of up to one meter. Spectral images could be produced at a resolution ranging from two to three meters. According to Roskosmos, the capability of the telescope to image a 38-kilometer swath of the Earth surface would be a record. In a single exposure, Geoton-L could scan 2,000 kilometers.
OAO Karsnogosrky Zavod and NPP Opteks also developed a GSA hyper-spectral system and a dual ShMSA-VR/KShMSA-MR multi-spectral sensor system for high-resolution and medium-resolution imaging installed on the spacecraft. The pair of KShMSA cameras can shoot in six spectral ranges simultaneously including one panchromatic mode and five modes in narrow ranges of spectrum.
ShMSA-VR camera can produce images with a resolution of 12 meters and cover 97 kilometers in its image. KShMSA-SR camera has a resolution of 60 meters and it can cover 441 kilometers.
GSA payload was designed for simultaneous imaging in multiple narrow ranges of visual light and in near-infrared.
Spacecraft development
As of June 2008, the launch of Resurs-P was promised in December 2010. During 2010, the mission was planned for 2011. As of mid-2011, the launch was officially scheduled in April 2012, however by that time, it slipped to the third quarter of the same year.
In the fall of 2011, Department 1133 at TsSKB Progress conducted aircraft tests of the satellite's unique hyper-spectral payload, which would be used for the first time on the Russian-built spacecraft.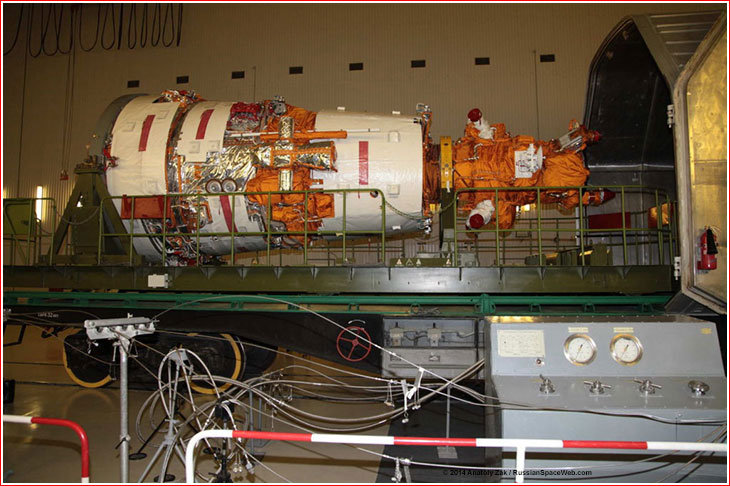 Preparations for launch
As of March 2012, the launch of Resurs-P was promised in August 2012. (562) As late as May 2012, the preparations still maintained the launch date in August or September.
By the end of June, the launch was set for Sept. 30, but by the beginning of August, the mission was postponed again to October 25. By the end of the same month, the launch was rescheduled for November 22 and by the beginning of October the mission was set for November 30, 2012. On Oct. 9, 2012, TsSKB Progress announced that the spacecraft had arrived to Baikonur. However on November 14, Roskosmos and TsSKB Progress announced that in order to confirm the projected lifetime of the spacecraft, light sensors manufactured by NPP Elar with the new technique and intended for the star trackers onboard the satellite had undergone additional tests. Based on the results of these trials, showing unacceptable results, a decision had been made to upgrade the instruments. The same problem reportedly delayed the launch of the second Persona reconnaissance satellite, (which used similar trackers) from 2012 to 2013.
As a result, the launch of Resurs-P was postponed from November 30, 2012, to the first quarter of 2013. By the end of the year there was hope that Resurs-P could fly as soon as February 22, 2013.
At the beginning of 2013, Russian press also quoted officials as saying that disagreements with Kazakhstan over Impact Site No. 120 north of Baikonur, where the first stage of the Soyuz rocket would fall during the flight, also contributed to the delay of the Resurs-P mission, however, its exact effect on the schedule is unclear. According to one poster on the online forum of the Novosti Kosmonavtiki magazine, Kazakhstan did not impose any restrictions on the use of Site No. 120 for 2013. The same source also reported that the problem with star trackers stemmed from the corrosive action on the sensors from fluorine or chlorine. Initially, it was believed that corrosive chemicals originated in a glue used to attach sensor's electronic components. Only after the affected parts were re-attached with a safer glue, it was discovered that a coating material on both sides of the sensor's glass contained fluorine, requiring further fixes.
In February 2013, the launch was set for June 18 and by April, as the problem with sensors was apparently resolved, it was delayed by just few days, until June 21. By the end of May 2013, the launch was re-scheduled from June 23 to June 25, 2013.
Launch of Resurs-P No. 1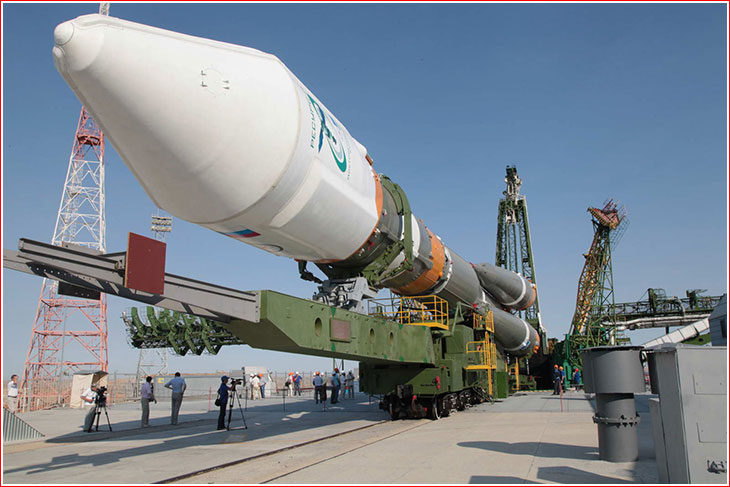 A Soyuz-2-1b launch vehicle (No. 15000-013) with the Resurs-P No. 1 satellite was rolled out to the launch pad No. 6 at Site 31 in Baikonur on June 22, 2013. The launch was scheduled for 21:28:48 Moscow Summer Time on June 25. The launch vehicle would fly northward to enter orbit extending from the North pole to the South pole of the Earth to provide full coverage of the planet's surface. The spacecraft was expected to reach orbit 10 minutes later.
According to the mission control in Korolev, responsible for the spacecraft after its separation from the third stage of the launch vehicle, Resurs-P No. 1 would be released into an initial orbit, where it was expected to make 31 rotations about the Earth, followed by the first orbit correction. The spacecraft would then conduct two additional firings of its propulsion system during the 54th and 62nd orbits of its mission. These maneuvers would place the satellite into a Sun-synchronous and nearly circular orbit with an average altitude of 468 and 487 kilometers.
On October 1, 2013, Roskosmos announced that a meeting of the State Commission overseeing the project that conducted a day earlier declared the spacecraft and its support complex operational.
Known specifications of the Resurs-P No. 1 (47KS) spacecraft:
| | |
| --- | --- |
| Program cost | 2.64 billion rubles |
| Image resolution in panchromatic mode | 1 meter |
| Image resolution in narrow spectral ranges | 3-4 meters |
| Width of imaged area, when the satellite is pointed at nadir | 38 kilometers |
| Number of spectral ranges that can be imaged simultaneously | From 1 to 6 |
| Orbit type | Syn-synchronous |
| Orbital altitude | 475 kilometers |
| Orbital inclination | 97.276 degrees toward the Equator |
| Projected life span | 5 years |
| Dimensions of the spacecraft | - |
| Maximum length | 7,930 millimeters |
| Maximum diameter | 2,720 millimeters |
| Solar panel length | 5,003 millimeters |
| Solar panel width | 4,500 millimeters |
| Imaging system | - |
| Focal length | 4,000 millimeters |
| Aperture diameter | 500 millimeters |
| Field of view | 5 degrees 12 minutes |
| A number of electronic conversion sensors | 3 |
| Hyper-spectral system | - |
| Number of channels | up to 216* |
| Spectral resolution | From 5 to 10 nanometers |
| Swath in nadir | 30 kilometers |
| Spatial resolution in nadir | 30 kilometers |
On Dec. 26, 2014, Russia launched a second copy of its flagship remote-sensing satellite, designated Resurs-P No. 2 or Resurs-P2 for short. Developed by RKTs Progress in the city of Samara, the Resurs-P (47KS) series was designed to provide high-resolution imagery of the Earth surface revealing details as small as one meter in size. Resurs-P (where "P" stood for "prospective") would complement and ultimately replace in this role the Resurs-DK spacecraft launched in 2006. Both Resurs-DK and Resurs-P satellites are believed to be civilian cousins of a classified optical reconnaissance spacecraft also developed at RKTs Progress.
On March 16, 2016, Russian specialists succeeded with their second attempt to orbit the latest "eye in the sky" for the nation's fleet of Earth-watching satellites. The nearly six-ton Resurs-P No. 3 was the fourth spacecraft in the series operating in orbit at the time.
Follow-ons: Resurs-P No. 4 and No. 5
On November 20, 2015, the head of division for the development and application of specialized ground systems at RKTs Progress Anton Yudakov announced that the company had been working on a technical assignment for the development of two additional Resurs-P satellites -- No. 4 and No. 5.
According to Yudakov, the new spacecraft would carry imaging cameras capable of higher resolution than those on previous satellites but no actual specifications were quoted.
At the time, the launches of Resurs-P No. 4 and No. 5 were scheduled for 2017 and 2018 respectively, however by the beginning of 2020, the launch of Resurs-P No. 4 was promised to be launched in the first quarter of 2021.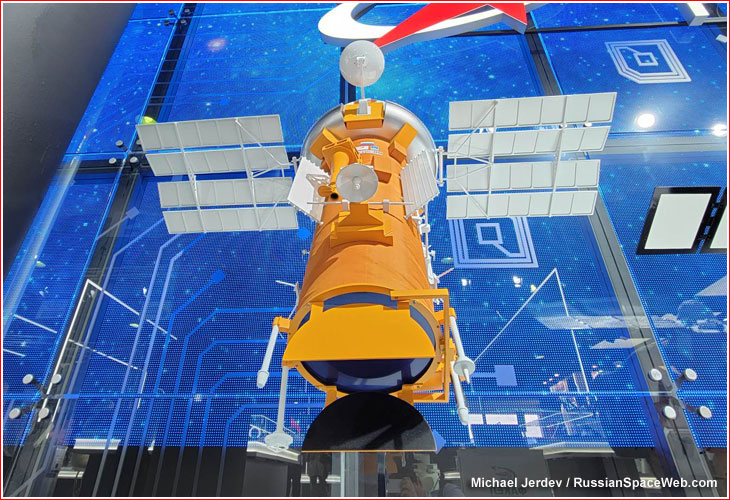 As of 2009, two new-generation Resurs-PM satellites, designed to replace the Resurs-P series, were promised to fly in 2015 and 2016. (388) As of 2016, they slipped to 2020 and 2021.
By 2017, the first launch of Resurs-PM was still expected in 2020 and it was now promised to be followed by three more satellites in the Resurs-PM series in 2021, 2023 and 2024.
However, in the early 2020s, the Resurs-PM project continued falling behind schedule. In 2021, Roskosmos presented a scale mode of the satellite at the MAKS air and space show in Zhukovsky, however, the official leaflet accompanying the exhibit did not list the launch date.
---