Training for the Voskhod-2 mission
Key to the success of the Voskhod-2 mission would be training cosmonauts for all phases of the unprecedented flight and for numerous contingency situations. Officially, the crews were in training for the Voskhod-2 flight from August 14, 1964, until March 7, 1965.
---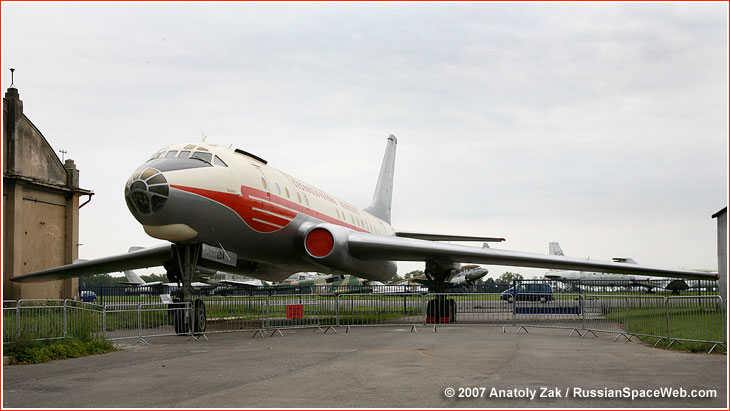 From the publisher: Pace of our development depends primarily on the level of support from our readers!
A Tupolev-104 aircraft was outfitted to practice all phases of the spacewalk under conditions of short-term weightlessness. The plane was equipped with a mockup of the airlock and a segment of the descent module, including chair and an exit hatch.
All airlock and EVA hardware was tested in the thermal and vacuum chamber. (84)
The candidates for the flight practiced a regular spacewalk, as well as emergency procedures to bring an unconscious cosmonaut back into the spacecraft, possibly involving a complete depressurization of the spacecraft for a short period of time. (740) A total of 4,000 tests were conducted by Guy Severin and his team at Tomilino design bureau with spacesuits, airlocks and other life-support systems. (742)
In addition, the cosmonauts trained in the TBK-60 vacuum chamber and on a centrifuge. (899)
On February 9, 1965, the State Commission considered candidacies for the Voskhod-2 mission. Aleksei Leonov and Pavel Belyaev were approved as the primary crew, while Dmitry Zaikin and Yevgeny Khrunov were confirmed to be backups. All four were members of the original cosmonaut selection group. (742)
In parallel with the test launch of an unpiloted Voskhod spacecraft, as many as three Kosmos-series satellites were to be orbited ahead of the piloted space-walking mission to ensure safe levels of radiation, solar activity and other natural factors. (742)
---