Iskander short-range ballistic missile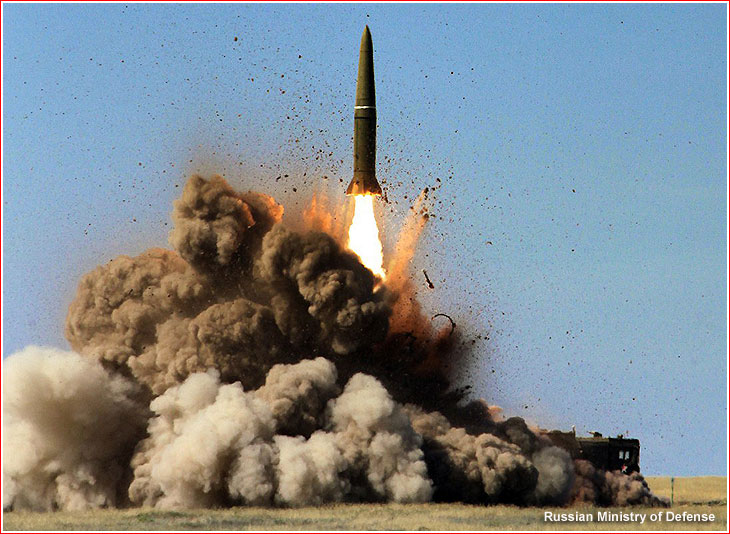 The Iskander system developed by KBM in Kolomna would become a "Scud" of the 21st century for the Russian army.
Known specifications of the Iskander-E system:
| | |
| --- | --- |
| Flight range* | 50-280 kilometers* |
| Launch mass of the missile | 3,800 kilograms |
| Warhead mass | 480 kilograms |
| Operational launcher mass | 40,000 kilograms |
| Launch personnel | 3 people |
| Operational temperature range | +-50C degrees |
---
The one-stage, short-range, solid-propelled Iskander missile was designed for launch from highly mobile four-axis trucks, carrying two rockets each. Army units armed with the Iskander missiles would also include reloading trucks capable of carrying two missiles each, as well as firing control, data-processing and maintenance vehicles.
The Iskander missile is equipped with autonomous inertial flight control system and its warhead features optical self-guidance system, which reportedly allows flight controllers to adjust the trajectory of the missile in flight. The rocket can carry conventional explosives, cluster and shrapnel penetrating charges. The capability to carry a nuclear warhead was also reported.
In comparison to previous-generation systems, Iskander boasts higher accuracy, increased mobility and shorter pre-launch processing time. (29)
*According to Western sources, the export version of the Iskander missile, designated Iskander-E, has a range of 280 kilometers, while the variant developed exclusively for the Russian army, designated Iskander-M, could fly as far as 400 kilometers. In a July 23, 2018, report by the official TASS news agency, describing the firing of an Iskander-M during a training exercise in the Astrakhan Region, the missile was quoted hitting a four-meter target more than 70 kilometers from the launch site.
Deployment
The Iskander system was adopted into the armaments of the Russian army in 2004 and it was to be deployed during 2005. Western sources also reported that Russia marketed Iskander missiles to Syria and Iran.
Ther were reports that during 2006, the production plan in Votkinsk was mass-producing Iskander-M missiles with the goal of delivering 120 vehicles by 2015.
In November 2008, in his first state-of-the nation address, Russian President Dmitry Medvedev said that Russia would deploy Iskander missiles in the Russia's western enclave of Kaliningrad in response to the US plans to deploy its missile defense system in Eastern Europe. At the end of 2013, the Izvestiya daily reported that Iskander missiles had been deployed in Kaliningrad area for more than a year.
Iskander-M was planned to be accepted into the armaments of the Russian ground forces in 2011. (462)
---