Soyuz-2-1v rocket launches military payload
Russian military personnel in Plesetsk performed a successful launch of Soyuz-2-1v vehicle with a classified payload, according to the nation's department of defense.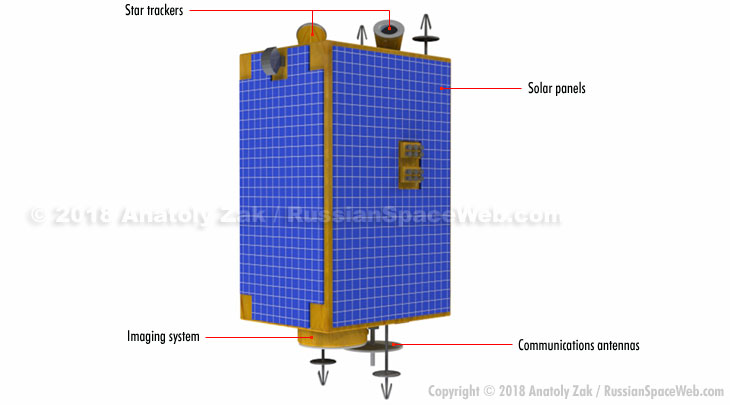 A notional illustration of the EMKA satellite.
Pace of our development depends primarily on the level of support from our readers!
The second EMKA mission at a glance:
| | |
| --- | --- |
| Spacecraft designation | Kosmos-2551, EMKA |
| Spacecraft mass | ~150 kilograms |
| Orbit | 319 by 347 kilometers, inclination 96.64 degrees; period: 90.94 minutes |
| Mission | Optical reconnaissance |
| Launch date and time | 2021 Sept. 9, 22:59:47.491 Moscow Time |
| Launch vehicle | Soyuz-2-1v (14A15) |
| Launch Site | Plesetsk, Launch complex 17P32-S4, Site 43, Pad 4 |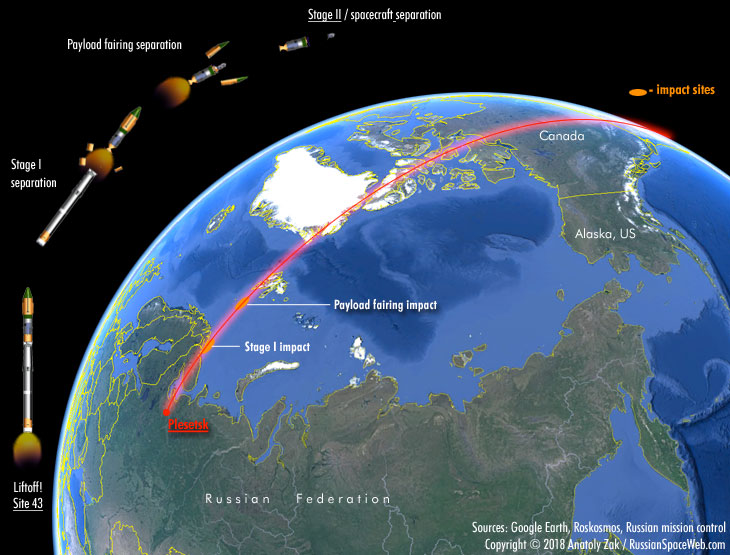 The liftoff of the seventh Soyuz-2-1v rocket was previously expected to take place on July 25, 2021, from Pad 4 at Site 43 in Plesetsk, after the launch was postponed from 22:59:47 Moscow Time on July 23 and July 24.
The mission finally lifted off on Sept. 9, 2021, at 22:59 Moscow Time (3:59 p.m. EDT).
Emulating a similar earlier mission, the rocket headed almost exactly north, under the combined propulsion of a single NK-33 main engine and the four thrusters of the RD-0110 steering engine. Lacking the four strap-on boosters of its predecessors in the Soyuz family of rockets, Soyuz-2-1v relied solely on a modified core booster as its first stage.
Following the first-stage ascent, the second stage took over the powered flight around two minutes into the flight. It fired its four-chamber engine moments before the separation of the first stage, thanks to a lattice structure connecting the two boosters, which allows the free flow of the exhaust from the nozzles above. Right after the separation of the first stage, the tail section of the second stage split into three segments and fell away.
Both, the first stage and the fragments of the tail section were expected to splash down in the Barents Sea, north of Murmansk.
As the second stage continued its burn, the payload fairing protecting the satellite split in two halves and also separated. Its fragments were to fall into the Arctic Ocean, south of the Spitsbergen Archipelago.
Shortly after launch, two objects, were tracked in orbit, likely representing the satellite and the second stage of the launch vehicle. One was orbiting the Earth in a 295 by 307-kilometer orbit with an inclination 96.35 degrees toward the Equator and another was in a 291 by 307-kilometer orbit with the same inclination.
---