Russia works on ExoMars-2020 lander design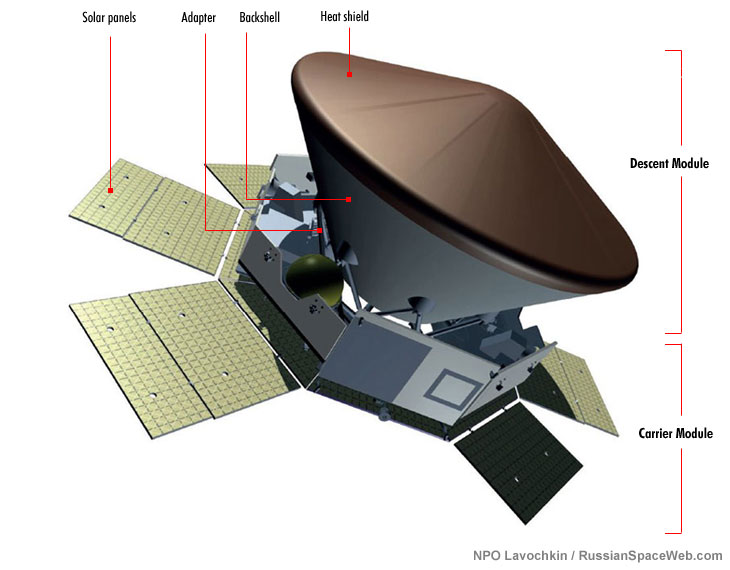 The ExoMars-2020 spacecraft in cruise configuration as envisioned in 2016.
From the publisher: Pace of our development depends primarily on the level of support from our readers!
At the end of January 2017, a structural mockup of the cruise stage (officially known as ExoMars Carrier Module), which will guide the ExoMars-2020 mission between Earth and Mars, arrived at NPO Lavochkin, the project's main contractor in Russia.
The mockup assembled at RUAG Space under a contract with the European Space Agency, ESA, will be integrated with the Russian-built lander (officially called Descent Module) and an adapter for a series of vibration and thermal tests, NPO Lavochkin said.
Deputy Director for Production at NPO Lavochkin A.P. Tyutyunnikov was also quoted as saying that during January and February 2017, the company was upgrading an antenna mockup for the ExoMars-2020 spacecraft based on latest changes to the design documentation.
In April, NPO Lavochkin reported that the Technical Project of the lander for the ExoMars-2020 project had been submitted for review to TsNIIMash (the chief certification center at Roskosmos), as well as to the European Space Agency, ESA, and its main industrial contractor Thales Alenia Space. From March 14 to 17, the Russian-European team held a meeting to critique the Technical Project. The participants formulated a plan of work for closing all the issues that had been raised during the meeting.
On March 24, the joint management group of Roskosmos and ESA met to review the Technical Project of the lander and to plan further actions. The official review of the Technical Project from TsNIIMash was expected in mid-April, NPO Lavochkin said.
Read (and see) much more about the history of the Russian space program in a richly illustrated, large-format glossy edition:
Page author: Anatoly Zak; Last update: April 11, 2017
All rights reserved