How MLM Nauka module's tanks will be repaired
Russian engineers are finishing preparations for fixing the damage to the propellant system of the MLM Nauka module, which postpones its launch to the International Space Station, ISS. The complex work will require a delicate surgery-like dissection of the module's tanks in order to cleanse them of dangerous contaminants while avoiding damage to the irreplaceable hardware.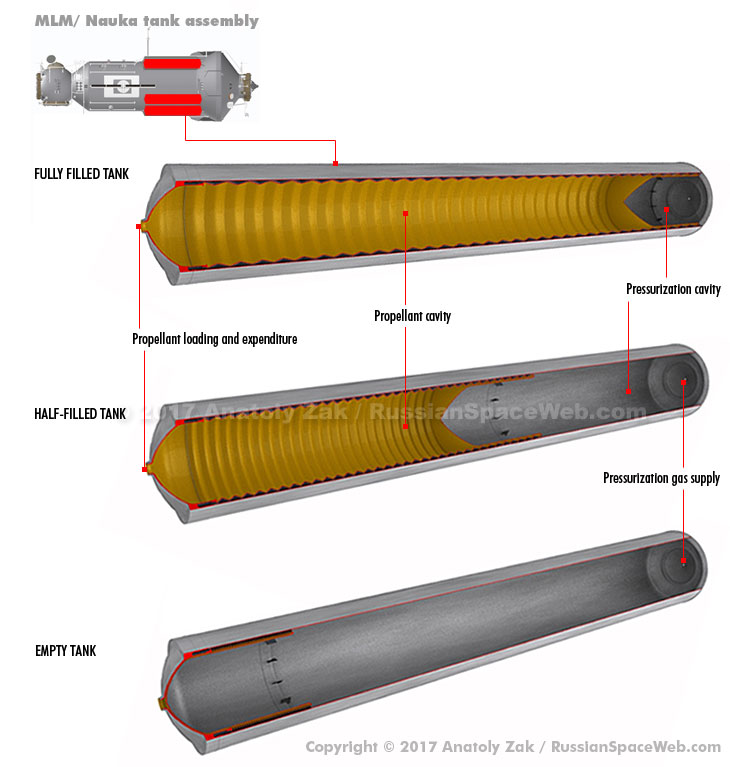 The MLM spacecraft carries a total of six 400-liter cylindrical tanks designated 77KM-6127-0. Two of them are used to store high-pressure gas and four others contain fuel and oxidizer under low pressure with a total mass of 2,432 kilograms. This amount is enough for the MLM to make it to the ISS after separation from the third stage of the Proton launch vehicle in the initial low orbit around the Earth.
At the beginning of 2017, the team preparing the module for launch discovered severe contamination of the tanks, which could not be resolved without cutting their structure.
Read our introductory article on the subject at:

From the publisher: Pace of our development depends primarily on the level of support from our readers!
How MLM Nauka's tanks will be repaired
By mid-April, the MLM project managers at GKNPTs Khrunichev prepared a plan to disassemble the tanks.
The key goal of the operation was to make possible to thoroughly wash of the expanded internal cavity of the flexible metallic bellows, which will contain the propellant. At the same time, engineers wanted to avoid cutting or otherwise disrupting the delicate accordion-like structure. (The metallic tape used to build the bellows is no longer produced in Russia.) To remove the flexible structure of the bellows, a total of four cuts would be made in its holding framework, including two in the bulkhead of the tank and two in the propellant expeller, which is attached to the opposite end of the accordion structure. The first cut would be made in the pressurization cavity of the tank's bulkhead to provide access to the propellant cavity below. After installation of a special fixation ring, the bellows could be removed, expanded and washed. The tank would then be reassembled and seams welded together.
As of mid-June, the actual dissection of the tanks was yet to begin. Because failure is not an option in the repair effort, engineers at GKNPTs Khrunichev planned to practice the tank "surgery" on a prototype before touching the flight-worthy hardware. They also work on the construction of a specialized unit for washing the tanks, industry sources said.
Read (and see) much more about this and many other space developments in Russia
in a richly illustrated, large-format glossy edition:
Russian space plans in unprecedented detail!
Propellant requirements for the MLM mission:
| | |
| --- | --- |
| Orbital insertion maneuver after separation from the launch vehicle | 205.4 kilograms |
| Nominal flight program, including: | 1,255.2 kilograms |
| Entering ISS rendezvous orbit | 701.2 kilograms |
| Rendezvous and docking maneuvers | 554.0 kilograms |
| Backup rendezvous opportunity | 710.0 kilograms |
| Total (all phases of the flight and backup rendezvous opportunity)* | 2,170.6 kilograms |
---
Text, photos and illustrations by Anatoly Zak unless stated otherwise; Last update: June 21, 2017
Page Editor: Alain Chabot; Last edit: June 21, 2017
All rights reserved