The ultimate Proton-M-Plus
The Proton-M-Plus (a.k.a. Proton-M+) will complete Russia's commercial workhorse rocket family, carrying the largest and heaviest payloads assigned to the booster. Its most recognizable feature will be the bulbous payload fairing protecting the payload during the initial ascent.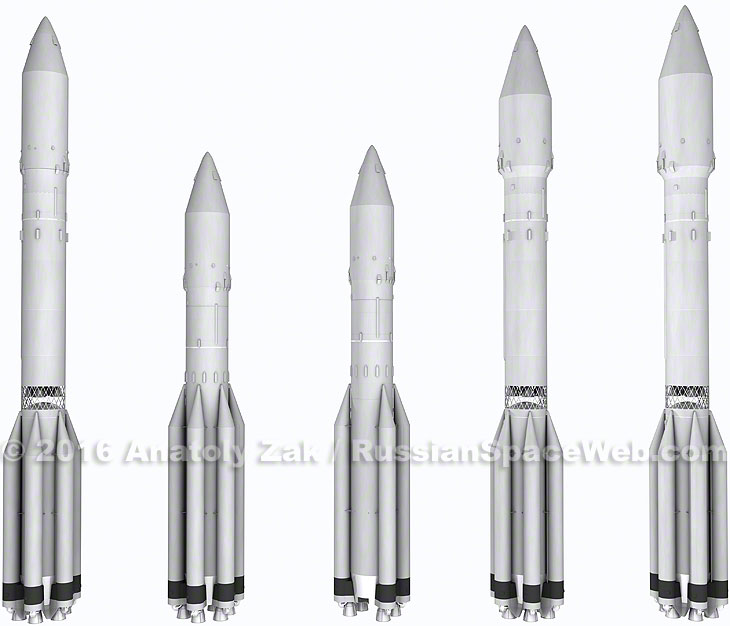 Russian workhorse rocket family (left to right): Proton-M, Proton-Medium, Proton-Light and a pair of Proton-M+ variants with two types of 5-meter payload fairings.
From the publisher: Pace of our development depends primarily on the level of support from our readers!
Proton-M-Plus concept
Plans to develop the Proton-M-Plus variant emerged in 2016, alongside the Proton-Light and Proton-Medium concepts. Proton-M-Plus will be able boost payload mass delivered to the geostationary orbit up to seven tons. The rocket could also feature two types of enlarged payload fairings reaching 5.1 meters in diameter and made out of metal rather than composite materials. They would be used to accommodate the largest payloads, weighing as much as seven tons, won by the Proton fleet or to carry multiple satellites.
In addition, the rocket might feature a few minor design and flight profile changes aimed to reduce operational costs and to marginally improve its lifting capabilities.
Proton-M-Plus is also expected to rely on a domestically built separation system used to eject satellites from the upper stage at the conclusion of the orbital insertion. In addition, avionics of the Baza-RB tracking system, used to measure orbital parameters of the upper stage, could be omitted to save mass.
To win a few hundred kilograms in additional payload, developers could also forfeit the standard paint job on at least some of rocket's components, as it had been tried before on a few mass-demanding missions.
In a more drastic payload-boosting measure, Proton-M-Plus could be programmed to enter an initial parking orbit with an inclination of 46 degrees toward the Equator, rather than the 51.6-degree inclination currently practiced in Proton missions. However, this shift would require an agreement with China to drop the vehicle's first stage on its territory.
Apparently, there are also plans to shorten the rocket's warranty, while certifying it for flight without prior firing tests of its engines. However it is unclear, whether military certification authority, which oversees the manufacturing process within the Russian space industry, would approve such a measure.
In addition, the rocket could be manufactured without a standard kit of spare parts, as has been customary until this day.
As of 2016, the Proton-M-Plus could enter operations in 2020, possibly becoming the most powerful variant of the rocket by the time of the family's expected retirement in the mid-2020s and its replacement with the Angara fleet.
Next chapter: Sunkar rocket
Read much more about the history of the Russian space program in a richly illustrated, large-format glossy edition:
---