---
---
---
In June 1989, the USSR conducted an inaugural launch of a follow-on spacecraft to its long-lasting Raduga family of communications satellites. The spacecraft was eventually identified as Raduga-1.
---
Like its predecessor and a number of other application satellites, the Raduga-1 spacecraft was developed by NPO PM (later ISS Reshetnev) in Zheleznogorsk but built by PO Polyot in Omsk. The satellite was intended primarily for providing military communications from the geostationary orbit. A number of transponders onboard of a follow-on Raduga spacecraft was increased to six and their immunity to interference was reportedly improved. (207) According to an official publication of NPO PM, the first Raduga-1M version of the satellite, introduced in 2007, was "developed and built" by the organization. "The satellite is equipped with the advanced multichannel repeaters operating in centimetric-wave and decimeter-wave bands thus ensuring a stable communication with mobile stations including some hard-to-reach mountain regions," the NPO PM publication said. (373)
---
Known specifications of the Raduga-1 satellite:
| | |
| --- | --- |
| Mass | 2,300 kilograms |
| Number of transponders | 6 |
| Total transpodenr power output | 195 Watt |
| Projected life span | 3 years |
| Orbital correction accuracy | Longitude: 0.5 degrees; Latitude: 2.0 dgrees |
---
A complete list of Raduga-1 launches:*
Launch date
Time of launch**
Hardware name
Launch complex
Launch pad
Launch results
1

6/22/1989

02:35

Raduga-1 (1)
Globus

39

Success

2

12/27/1990

14:08

Raduga-1 (2)
Globus

39

Success

3

2/5/1994

11:46

Raduga-1 (3)
Globus

23

Success

4

2/28/1999

06:59

Raduga-1 (4)
Globus

23

Success

5

8/28/2000

23:07:59

Raduga-1 (5)
Globus

24

Success

6

10/6/2001

19:44:59

Raduga-1 (6)
Globus

24

Success

7

3/27/2004

19:44:59

Raduga-1 (7)
Globus

24

Success

8

12/9/2007

03:16

Kosmos-2434 (Raduga-1M/
Globus-M)

24

Success

9

02/28/2009

07:10

Raduga-1/
Globus (No. 18L)

24

Success

10

01/28/2010

03:18

Raduga-1M (8)/
Globus-1M

-

Success
*Until 2004, all launches from Baikonur onboard Proton-K rocket. The 11S86 version of the Block D upper stage was used.
**Moscow Decree Time
---
Recent missions:
2001 Oct. 6, 20:45 Moscow Time: A Proton launched a military satellite (apparently the Raduga-1 comsat) from Baikonur.
---
2004 March 27: A Proton rocket with a Block DM upper stage blasted off from Pad 23 at Site 81 in Baikonur Cosmodrome on March 27, 2004, at 06:30 Moscow Time, carrying a classified payload for the Soviet military. According to the Russian space forces, the spacecraft separated from its upper stage at 13:06 Moscow Time, after an apparently successful launch.
Following a long tradition for the military spacecraft, the payload was identified as Cosmos-2406, with no details about its mission officially disclosed. However, several weeks later the spacecraft was renamed Raduga-1 -- a series of communications satellites. The spacecraft was later submitted to the UN register under designation Globus-1.
According to the Russian press, Lt. General Oleg Gromov, Deputy Commander of Space Forces attended the launch.
Raduga-1 No. 7 remained in the geostationary orbit at 85 degrees East over the Equator until February 2010. By July 2010, the spacecraft was moved eastward to 128 degrees. Until December 2010, four maneuvers were conducted to maintain the satellite in its position, however another orbit adjustment expected at the end of February 2011, did not take place, apparently indicating a failure of the satellite. As a result, the spacecraft started drifting westward. Around March 7 and 8, 2011, Raduga-1 No. 7 drifted close enough to one South-Korean and two Japanese satellites to prompt evasive maneuvers by all three. According to the Korea Aerospace Research Institute, Raduga passed as close as three kilometers from the COMS-1 Cheollian weather and communications satellite, even though some observers called these numbers exaggerated. Russian authorities did not immediately commented on the situation.
---
2007 Dec. 9: Russia successfully delivered a classified payload for the nation's armed forces, the official media reported. The Proton-M rocket with Briz-M upper stage blasted off from Site 81 in Baikonur Cosmodrome on December 9, 2007, at 03:16 Moscow Time (00:16 UTC). Four minutes later, as the launch vehicle was continuing a powered flight, the control center of the Russian space forces initiated tracking of the mission. The satellite successfully reached its intended orbit at 12:17 Moscow Time, while out of range of ground control stations. The spacecraft was expected to establish contact with the ground at 12:55 Moscow Time. According to the Russian media, the ground control did establish reliable contact with the satellite.
Official reports about the launch traditionally identified the spacecraft as Kosmos-series, providing no details about its mission. However the commander of the Russian space forces, Vladimir Popovkin, who oversaw the launch in Baikonur, told state-controlled TV Channel I that the mission was conducted within flight test program of a new-generation spacecraft. "This vehicle works in a wide range of waves and frequencies. It is designed to provide communications for armed forces, and other enforcement agencies, as well as in the interests of social development of our country," Popovkin said.
In the following day, an official publication of the Russian Ministry of Defense, identified the satellite as Kosmos-2434. It also reported that the spacecraft was equipped with multi-channel relay systems, operating in centimeter- and decimeter-range of radio waves, enabling reliable communications with mobile stations, including those in hard-to-reach mountainous areas. The satellite was based on Gorizont, Raduga-1 and Ekspress-A platform, the publication said. All these payloads were developed by NPO PM in Zheleznogorsk. Several weeks before the launch, the head of NPO PM Nikolai Testoedov told in an interview with the company's publication that during the remaining of 2007, six GLONASS navigation satellites and one spacecraft for the Ministry of Defense would be sent to orbit. Independent observers characterized the payload of the mission as the Globus-M communications satellite. Russian authorities previously disclosed the Globus-1 program, which could be a precursor for the Globus-M program.
An online Russian catalog of R&D contracts listed the development of the centimeter- and decimeter-wavelength range transponder designated 14 R60 for the 17F15M vehicle. The work was conducted by RNII KP design bureau under contract with NPO PM.
The launch profile of the mission did confirm that the satellite was heading to a geostationary orbit typical for Raduga and Globus series. The launch was apparently followed up to five firings of the Briz-M upper stage. Initially, an object, which appeared to be Briz-M with its payload still attached, was detected in the 274 by 4,992-kilometer orbit with the inclination 48.8 degrees toward the Equator. Another object originated during the mission -- likely a jettisoned external tank of the Briz-M upper stage -- was reported in the 416 by 35,534-kilometer elliptical orbit, whose inclination was already reduced to 46.5 degrees toward the Equator.
Three days after the launch, NPO PM design bureau released a statement confirming that it developed the satellite launched on Dec. 9. However, the organization identified the spacecraft as Raduga-1M. NPO PM said that the satellite had reached its intended orbit and all elements onboard the spacecraft had been successfully deployed.
---
2009 Feb. 28: A Proton K rocket with the Block DM-2 upper stage lifted off from Site 81 in Baikonur Cosmodrome on Feb. 28, 2009, at 07:10 Moscow Time, carrying the Raduga-1 (Globus-1) No. 18L communications satellite for the Russian military. The payload was expected to separate from the upper stage of the launch vehicle at 13:46 Moscow Time on February 28. A representative of the Russian space forces confirmed that the spacecraft separated as planned at 13:45 Moscow Time in the correct orbit and within the range of the ground control center.
---
2010 Jan. 28: Russia conducted its first space mission of 2010, launching a military communications satellite. A Proton M rocket with Briz-M upper stage lifted off from Site 81 in Baikonur Cosmodrome, on January 28, 2009, at 03:18 Moscow Time, carrying a Raduga-1M/Globus-1M military communications satellite. Western radar detected an apparent Briz M/Raduga stack in an elliptical transfer orbit with an altitude of 409 by 35,671 kilometers and an inclination of 46.48 degreees toward the Equator. According to the official Russian media, the satellite successfully reached its intended orbit, with the separation from the upper stage occurring at 12:19 Moscow Time on January 28.
The mission was originally expected in July and Aug. 28, 2008, and was later postponed to the Dec. 25-30, 2009, period. According to the Kommersant newspaper in 2009, the production of at least one Globus satellite was delayed by two years, leading to a litigation of the Russian Ministry of Defense with PO Polyot. According to the publication, the Defense Ministry demanded the return of 79.61 million rubles in overpaid charges and 126.4 million rubles in fines. Only with the mitigation of Vladimir Popovkin, Deputy Minister for Armaments, two sides reached a compromise, according to which PO Polyot owed Ministry of Defense 79.6 million and paid a symbolic 10,000 rubles in fines. (370)
---
Page author: Anatoly Zak; Last update: January 21, 2012
All rights reserved.
MEDIA ARCHIVE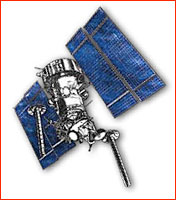 An official depiction of the Raduga-1 satellite. Credit: ISS Reshetnev
---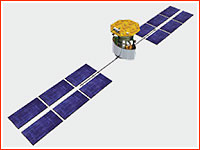 An official depiction of the Raduga-1M satellite was likely posted in error by the manufacturer. Credit: ISS Reshetnev
---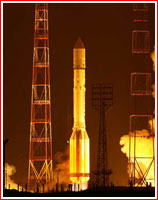 The Proton rocket launches the first Raduga-1M satellite on Dec. 9, 2007. Credit: Roskosmos
---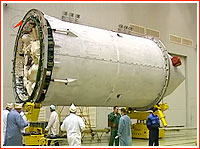 The official footage only showed Raduga/Globus spacecraft encapsulated into their payload fairings, with no imagery revealing the spacecraft itself. Credit: Roskosmos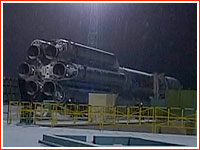 The rollout of the Proton rocket with Raduga-1M satellite in January 2010. Credit: TsENKI
Proton-M with Raduga-1M lifts off on January 28, 2010. Click to enlarge. Credit: Roskosmos