Proton delivers AsiaSat-9
During its fourth mission of 2017, the Proton-M rocket lifted off on Sept. 28 successfully delivering the AsiaSat-9 communications satellite for the Asia Satellite Telecommunications company. It became the largest spacecraft for the Hong Kong-based operator, replacing the company's AsiaSat-4 launched in 2003.
Proton mission with AsiaSat-9 satellite at a glance:
| | |
| --- | --- |
| Spacecraft designation(s) | AsiaSat-9 |
| Spacecraft operator | AsiaSat, Hong Kong, China |
| Spacecraft developer | Space Systems Loral, Palo Alto, California, USA |
| Delivered (separated) mass | 6,141 kilograms |
| Launch vehicle | |
| Payload fairing | PLF-BR-15255 |
| Launch date and time | 2017 Sept. 28, 21:52:16 Moscow Time (2:52 p.m. EDT, 18:52 GMT) |
| Launch site | |
From the publisher: Pace of our development depends primarily on the level of support from our readers!
AsiaSat-9 mission history
On June 22, 2012, the International Launch Services, ILS, which markets the Proton family to commercial customers, announced a contract with Asia Satellite Telecommunications Co. Ltd. to launch one of the company's future satellites, AsiaSat-6, AsiaSat-8 or AsiaSat-9. The contract included an option for AsiaSat to order one additional launch from ILS for any of its upcoming three satellites, ILS said. At the time, the first launch was expected as early as 2014. AsiaSat-6 and AsiaSat-8 were eventually launched on the American Falcon-9 rockets, leaving it to Proton to carry AsiaSat-9. It became the 5th satellite in the AsiaSat family to rely on Proton.
On March 12, 2016, ILS announced that AsiaSat along with Space Systems Loral had completed the Preliminary Design Review, PDR, in Moscow for the Proton-M Phase IV vehicle which would be used in the AsiaSat-9 mission. However around the same time, delays with the manufacturing of the satellite pushed the mission from November 2016 to 2017.
On June 14, 2016, representatives from ILS, GKNPTs Khrunichev and TsSKT certification center held a meeting initiating a quality control audit aimed at increasing confidence in the success of the mission. Then, the Critical Design Review, CDR, for the AsiaSat-9's rocket took place in Moscow on Oct. 13 and Oct. 14, 2016.
On Nov. 3, 2016, AsiaSat announced that after the completion of its assembly, the AsiaSat-9 satellite had entered a thermal vacuum chamber for testing. The dynamics and acoustic testing on the spacecraft was completed next, AsiaSat announced on Jan. 25, 2017. The Satellite Pre-shipment Review, SPSR, was completed on April 7, 2017, clearing the spacecraft for shipment to the launch site.
The AsiaSat-9 launch campaign started in Baikonur with the landing of an Antonov-124 Ruslan transport aircraft at the Krainy airport on Aug. 27, 2017, delivering the satellite and its support equipment. Following its unpacking inside Hall 101 of the processing building 92A-50, the spacecraft was moved to Hall 103A for a series of pre-launch tests.
The Proton rocket for the mission departed Moscow by rail around August 25 and arrived at Baikonur in the first days of September, followed by the air delivery of the Briz-M upper stage and a payload adapter on Sept. 5, 2017.
On September 15, the ILS announced that the fueling of the AsiaSat-9 had been completed, clearing the way for the assembly of the payload section, which commenced on September 17 inside Hall 101. Engineers from GKNPTs Khrunichev installed the satellite on top of the Briz-M upper stage with the help of specialists from a European firm RUAG Space AB, which provided the payload separation system.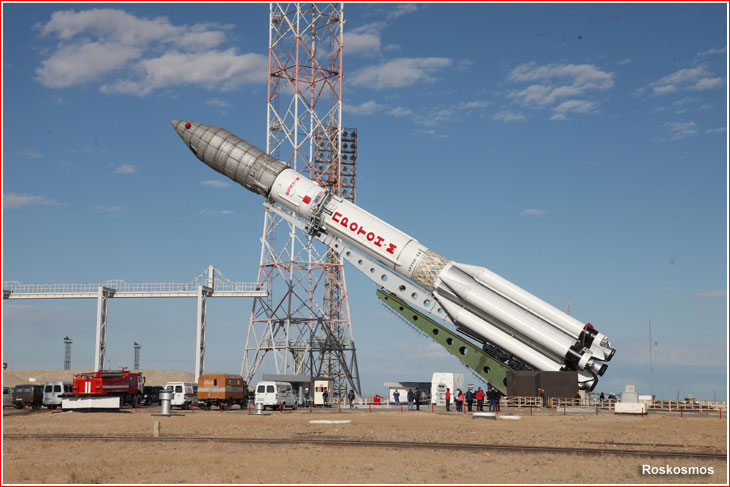 On September 24, the fully assembled rocket was rolled out from the assembly building to a fueling pad, where low-pressure tanks of Proton's Briz-M upper stage were loaded with propellant components. A day later, the vehicle proceeded to Site 200, where it was erected on launch pad No. 39 for final preparations before liftoff.
AsiaSat-9 satellite
The AsiaSat-9 satellite was intended to replace the previous-generation AsiaSat-4 satellite at orbital position 122 degrees East longitude, where it has been operating since 2003.
According to the satellite's operator, the AsiaSat-9 spacecraft will provide additional capacity, enhanced power and coverage for video applications such as DTH, video contribution and distribution, as well as data applications such as VSAT private networks (corporate, mobile backhaul etc.) and broadband services across the Asia-Pacific region.
In the C-band field the satellite will provide greater power, more bandwidth, higher efficiency and wider coverage, including Asia's highest powered 110-watt C-band Traveling Wave Tube Amplifiers or TWTA.
In Ku-band range, three new dedicated high-power beams covering Indonesia (downlink EIRP up to 55dBW), Myanmar (up to 55dBW), Mongolia (up to 52dBW), in addition to enhanced East Asia and Australasia beams; Cross-strap switching capability to allow uplink and downlink across different Ku-band beams.
AsiaSat also listed following unique benefits and new cutting edge features of the satellite:
Introducing three powerful Ku-Band Beam, covering Myanmar, Indonesia and Mongolia, and a new cross-strap beam switching capability for flexible coverage, e.g. uplink from East Asia beam and downlink via Myanmar beam, or vice versa;
Doubling spectral density (bit/Hz) - to support higher mod/cod on areas with 3dB enhancement in the downlink EIRP power;
Improved uplink G/T contour (dB/K) - allowing an optimized usage of customer HPA for remotes sites;
Special filter design on spacecraft - to achieve higher bandwidth for C-band transponders. With combined higher power and wider bandwidth, AsiaSat 9 delivers significantly higher throughput;
Employment of conduction-cooled LTWTA - which improves panel layout to provide more consistent Effective Isotropic Radiated Power, EIRP, across channels, meaning a higher degree of performance stability for multi-transponder customers;
Star Tracker - a robust and reliable way to ensure a higher pointing accuracy, about 20 percent better than traditional earth sensor only spacecraft.
Stationary Plasma Thrusters, SPTs - Equipped with Hall Effect Thrusters that use electrical energy to change the velocity of the spacecraft which is more efficient than chemical thrusters. As a result, higher stability and reliability can be achieved for station-keeping and better performance at edge of coverage.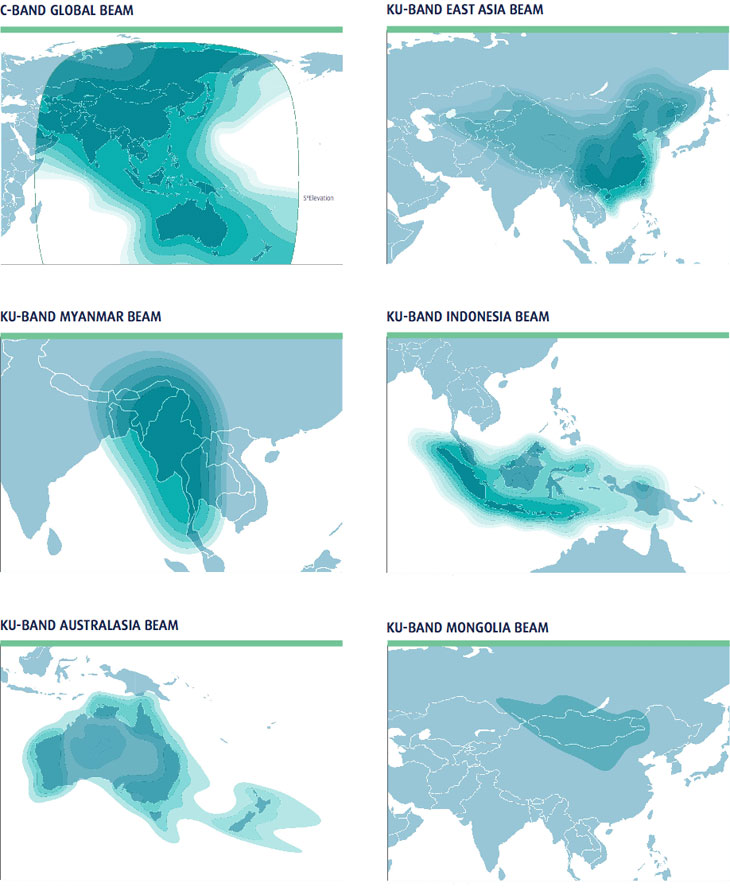 AsiaSat-9 communications coverage. Credit: AsiaSat.
Known specifications of the AsiaSat-9 satellite:
| | |
| --- | --- |
| Spacecraft manufacturer | Space Systems Loral, SSL |
| Spacecraft platform | |
| Spacecraft mass at separation from launch vehicle | 6,141 kilograms |
| Spacecraft transponder payload | 28 C-band, 32 Ku-band and Ka-band regional transponders |
| Spacecraft power supply system capacity | 20,765 watts |
| Projected life span | At least 15 years |
| Spacecraft operational position in the geostationary orbit | 122 degrees East longitude |
| Spacecraft height | 8.065 meters |
| Spacecraft dimensions when stowed | 3.056 by 3.571 meters |
| Spacecraft dimensions when deployed | 31.166 by 9.040 meters |
---
How AsiaSat-9 was launched
The liftoff of the 705-ton Proton-M/Briz-M launch vehicle with the AsiaSat-9 satellite took place as scheduled on Sept. 28, 2017, at 21:52:16 Moscow Time.
The ignition sequence was initiated at T-00:00:02.5 seconds before the physical separation of the 58.2-meter rocket from Pad 39 at Site 200 in Baikonur Cosmodrome, Kazakhstan.
At T-00:00:01.75 seconds, the six main engines of the first stage were to develop 40 percent of their required thrust, followed by 100 percent at T-00:00:00.9 seconds. As the rocket accelerated through the dense atmosphere, it experienced maximum dynamic pressure one minute and two seconds into the flight.
To deliver AsiaSat-9, Proton followed a launch profile typical for most commercial missions. The first, second and third stages of the launch vehicle flew a standard ascent trajectory matching the orbital inclination of 51.6 degrees toward the Equator. The third stage released the payload section, including the Briz-M upper stage and the spacecraft, into a sub-orbital trajectory. That sequence ensured that the third stage falls into the ocean at a pre-determined location rather than reaching orbit and then reentering unpredictably. On Sept. 19, Russian authorities issued a warning to air traffic to avoid a remote area in the Pacific Ocean east of Japan, where any surviving debris of the third stage were expected to splash down after launch.
In the following nine hours, Briz-M was programmed to perform a total of five engine firings to boost the orbital unit first to a circular parking orbit, then to an intermediate orbit, followed by a transfer orbit, and, finally, to a geostationary transfer orbit.
Separation of the AsiaSat-9 satellite from the upper stage into a highly elliptical orbit took place 9 hours 13 minutes after liftoff. The satellite was to use its own propulsion system to enter the geostationary orbit 36,000 kilometers above the Equator.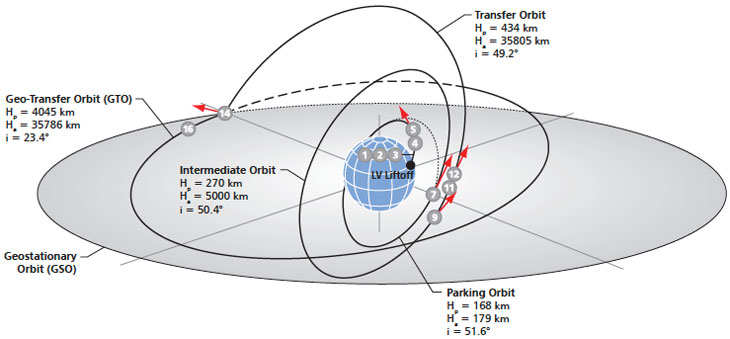 -

Liftoff

0

21:52:16

18:52:16

1

00:02:00

21:54:16

18:54:16

2

00:05:27

21:57:43

18:57:43

3

Payload fairing separation

00:05:47

21:58:03

18:58:03

4

00:09:42

22:01:58

19:01:58

5

Briz-M

firing 1 starts (Duration: 04:24)

00:11:16

22:03:32

19:03:32

6

Briz-M firing 1 ends

00:15:36

22:07:52

19:07:52

7

Briz-M firing 2 starts (Duration: 17:53)

01:07:24

22:59:40

19:59:40

8

Briz-M firing 2 ends

01:25:16

23:17:32

20:17:32

9

Briz-M firing 3 starts (Duration: 11:52)

03:27:59

01:20:15

22:20:15

10

Briz-M firing 3 ends

03:39:32

01:31:48

22:31:48

11

Briz-M jettisons its external tank

03:40:22

01:32:38

22:32:38

12

Briz-M firing 4 starts (Duration: 05:41)

03:41:49

01:34:05

22:34:05

13

Briz-M firing 4 ends

03:47:52

01:40:08

22:40:08

14

Briz-M firing 5 starts (Duration: 06:28)

08:52:58

06:45:14

03:45:14

15

Briz-M firing 5 ends

08:59:12

06:51:28

03:51:28

16

Spacecraft separation

09:13:00

07:05:16

04:05:16
---
Flight scenario and ground track of the AsiaSat-9 mission. Credit: ILS
Next Proton mission: Blagovest-12L
Read (and see) much more on the history of the Russian space program in a richly illustrated, large-format glossy edition: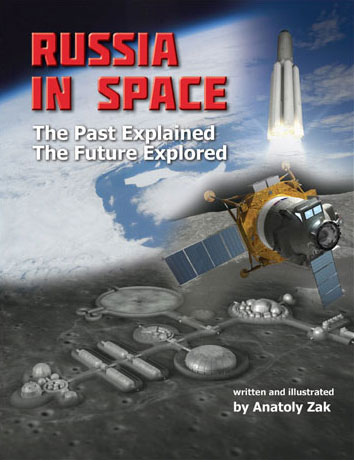 ---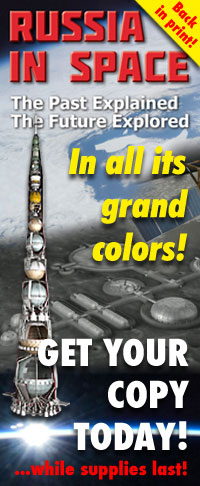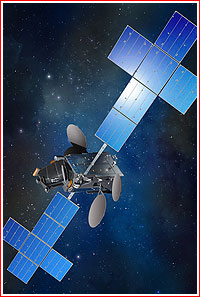 Artist rendering of the AsiaSat-9 satellite deployed in orbit. Credit: Space Systems Loral
---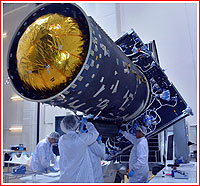 Core structure of the AsiaSat-9 satellite under assembly around August 2016. Click to enlarge. Credit: Space Systems Loral
---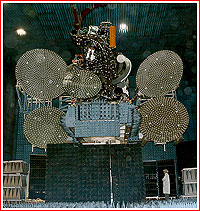 AsiaSat-9 undergoes testing of its radio systems in echoless chamber. Click to enlarge. Credit: Space Systems Loral
---
In August 2017, two Proton's payloads -- Amazonas-5 (right) and AsiaSat-9 satellites -- "met" at Hall 103A in Baikonur, where they were undergoing electric testing. Click to enlarge. Credit: Space Systems Loral
---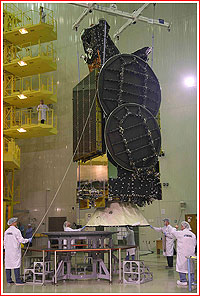 AsiaSat-9 is being prepared for integration with a Briz-M upper stage. Click to enlarge. Credit: Space Systems Loral
---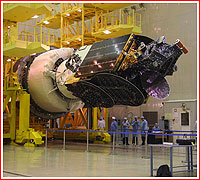 The AsiaSat-9/Briz-M stack is being prepared for encapsulation into their payload fairing. Click to enlarge. Credit: AsiaSat
---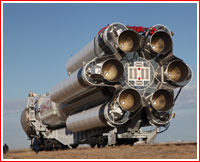 Proton with AsiaSat-9 rolls out to launch pad on Sept. 25, 2017. Click to enlarge. Credit: AsiaSat
---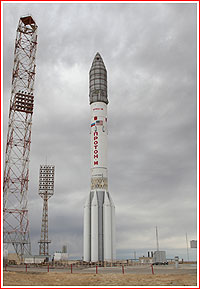 The AsiaSat-9/Briz-M stack is being prepared for encapsulation into their payload fairing. Click to enlarge. Credit: Roskosmos
---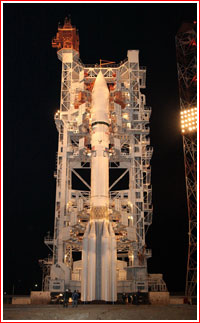 Proton with AsiaSat-9 shortly before liftoff on Sept. 28, 2017. Click to enlarge. Credit: Roskosmos
---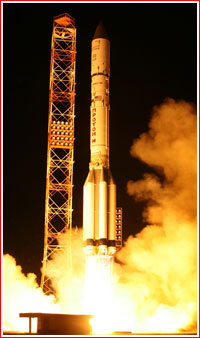 Proton lifts off with AsiaSat-9 on Sept. 28, 2017. Click to enlarge. Credit: Roskosmos