---
---
---
Searching for details:
The author of this page will appreciate comments, corrections and imagery related to the subject. Please contact Anatoly Zak.
---
Related pages:

---

---
Second Angara-5 rocket to fly in 2016
Tentatively expected in 2016, the second test launch of the Angara-A5 rocket will carry the rocket's first operational payload -- most likely the Russian-built Angosat communications satellite for the government of Angola.
Angara-A5 rocket with Briz-M upper stage.
From the publisher: Please help to keep this site open and current! The pace of our development depends primarily on the level of support from our readers.
Preparing for flight
Even before the first Angara-5 rocket embarked on its maiden test mission in December 2014, the PO Polyot company in the Siberian town of Omsk was busy working on the second and third vehicles. During 2014, PO Polyot manufactured the propellant tanks and other structural components of Vehicle No. 71752 intended for the second launch and also started outfitting key sections of the rocket.
In parallel, the company's Division No. 67 was welding the bulkheads of propellant tanks for the third rocket (Vehicle No. 71753), while Division No. 14 was manufacturing flanges. Similar work on Vehicle No. 71754 was planned for 2015.
Due to delays with the production of some parts at PO Polyot itself and others to be delivered from subcontractors, in particular from KB Armatura, the overall progress was under great pressure. (726) As of the beginning of 2015, the second rocket was expected to leave the assembly line by November. (725)
However, by mid 2016, the rocket was yet to be completed with its launch slipping to the middle of 2017.
Mission plan
In mid-2014, the first deputy to Roskosmos head Aleksandr Ivanov told the Ekho Moskvy radio station that Angara-5 vehicles had already been ordered for launches of operational satellites scheduled in 2016 or 2017. In an interview with the ITAR-TASS news agency in August 2014, the head of GKNPTs Khrunichev Vladimir Nesterov said that during its second mission, Angara-5 would be carrying an operational payload, even though the launch vehicle would officially remain in flight testing status until 2020.
As was the case with the first launch, GKNPTs Khrunichev's marketing arm, International Launch Services, ILS, would attempt to "sell" available payload onboard the rocket to a customer outside Russia at a discounted rate, given the risk involved.
By 2015, plans were made for the new rocket's second mission to launch the Angara-5/Block DM-03 variant carrying the Angosat communications satellite, which was previously slated for delivery by a Zenit rocket from the Sea Launch platform. Both, Block DM-03 and Angosat, were being developed at RKK Energia in Korolev near Moscow.
(To be continued)
Read (and see) much more about Angara rockets and many other space projects in Russia
in a richly illustrated, large-format glossy edition:
Known components of the Angara-5 rocket during its second launch:
| | |
| --- | --- |
| Component | Manufacturing designations, series |
| Angara-A5 (a.k.a. Angara-A5.2L or 2LM) vehicle | 14A127, Series No. 71752 |
| Briz-M upper stage | 14S43 |
| Four strap-on boosters | BB1, BB2, BB3, BB4 |
---
---
IMAGE ARCHIVE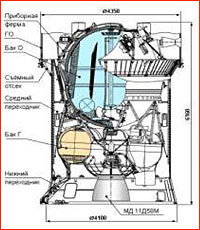 General layout of the 14S48 upper stage which was expected to be used during the second launch of the Angara-5 rocket. Credit: RKK Energia
---