The Meteor-M series
During the 2000s, Moscow-based VNIIEM Corporation devloped a new version of its Soviet-era Meteor satellites designed for a variety of remote-sensing tasks, from weather-watching to imaging of the Earth's surface. The series recieved a designation Meteor-M.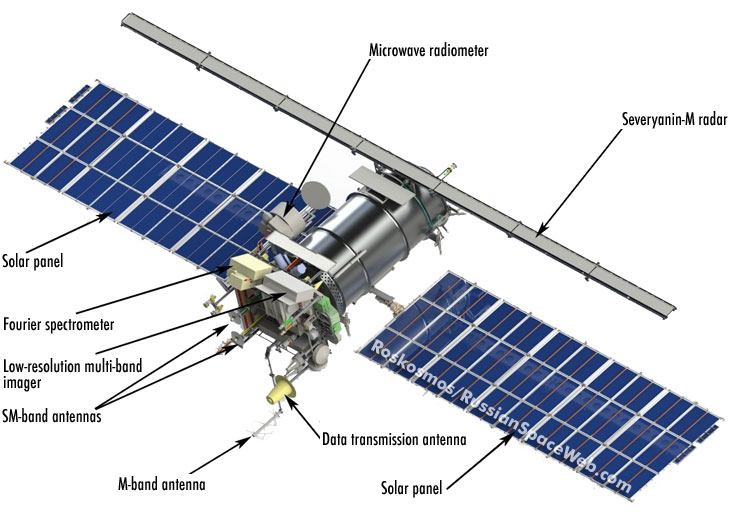 Meteor-M satellite. Credit: Roskosmos
From the publisher: Please help to keep this site open and current! The pace of our development depends primarily on the level of support from our readers.
Original plans envisioning four launches of Meteor-3M satellites during 1998-2000, however they had never materialized. (359) Instead, VNIIEM embarked on the development of the Meteor-M series, which by the end of the first decade of the 21st century were expected to include three satellites of two different designs. The main goal of the first two satellites was to provide weather forecasting, along with monitoring of the ozone layer, radiation levels in space, observation of sea and ocean ice cover. Meteor-M No. 3 would also be equipped with a new-generation phased antenna radar for ocean monitoring. (361)
As of 2012, Russian officials promised to orbit as many as four Meteor-M satellites by 2015, but these plans had to be delayed by years.
In addition to Meteor-M No. 2-1 satellite, the Russian space program also funded the development of the Meteor-M No. 2-2 satellite, which was primised to carry an experimental phased-array radar for all-weather, day and night observations, as well as the Meteor-M No. 3 satellite, which was custom-designed to observe oceans swith a high-resolution phased-array radar.
In October 2017, Roskosmos said that Meteor-M No. 2-2 satellite was scheduled for launch in 2018, then Meteor-M No. 2-3 would follow in 2020 and Meteor-M No. 2-4 would complete the constellation in 2021. However, the launch of the sea-monitoring Meteor-M No. 3 spacecraft was pushed beyond 2020 due to lack of funding. (821)
In July 2019, Roskosmos said that the work on the Meteor M2-3 and Meteor M2-4 had been ongoing without providing planned launch dates. By the beginning of 2020, the launch of Meteor M2-3 was postponed until August 2021.
Even with all the Meteor satellites in place, the low-orbital constellation had a restricted view of the arctic region, which necessitated the development of the Arktika system, which would enable a more focused coverage of this vitally important region for Russia.
According to RIA Novosti in 2017, the launch and flight testing of the Meteor-M series was insured for 2.6 billion rubles with AO Sogaz and three other Russian insurance companies, including VSK and Ingosstrakh, which covered 35 percent of the risk.
Meteor-MP
Also in 2012, Russian space officials promised launching a new-generation Meteor-MP satellites beginning in 2016, however in the following three years, the program was pushed beyond 2020.
A complete list of Meteor-M missions:
1

2009 Sept. 17

19:55:07 Moscow Time

2

2014 July 8

19:58:28 Moscow Time

3

2017 Nov. 28

4

2019 July 5
---