Soyuz launches a military satellite
A Soyuz-2-1a rocket launched a classified payload, believed to be the fourth Bars-M cartography satellite. The vehicle lifted off from the Plesetsk, north of Moscow, on March 23, 2023.
Previous chapter: Bars-M3 mission
---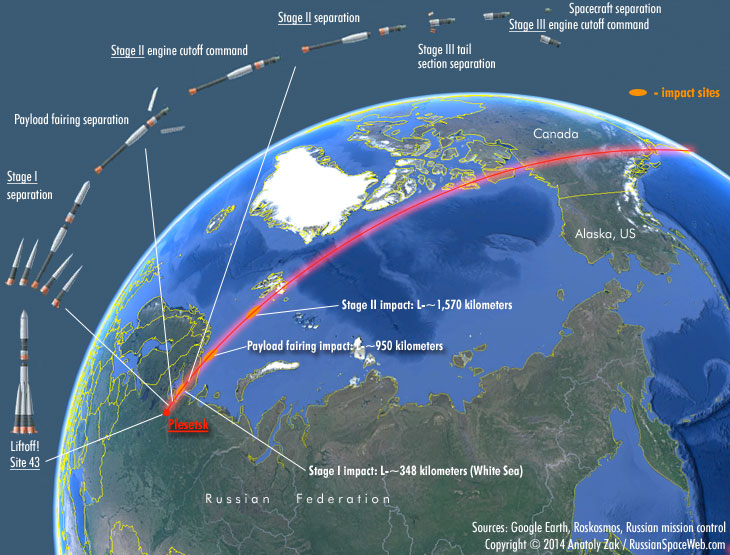 The expected ground track of the ascent trajectory for Soyuz rockets delivering Bars-M satellites from Plesetsk into an orbit with an inclination 93 degrees to the Equator. After around nine minutes of the powered flight, the satellite is expected to reach orbit over the Arctic Ocean and cross Canadian territory at the beginning of its first revolution around the planet.
---
The 4th Bars-M mission at a glance:
Launch date and time

2023

March 23, 09:40 Moscow Time (actual)

Launch vehicle
Launch site
Payload
From the publisher: Pace of our development depends primarily on the level of support from our readers!
Fourth Bars-M lifts off
According to the Roskosmos State Corporation, a Soyuz-2-1a rocket lifted off on March 23, 2023, at 09:40 Moscow Time (2:40 a.m. EDT, 06:03 UTC) from Plesetsk and successfully delivered a spacecraft for the Ministry of Defense.
The standard statement said that the spacecraft had reached its planned orbit and was tracked by ground assets of the Titov Chief Testing Center of the Russian Air and Space Forces, VKS. The spacecraft maintained stable communications with ground control and its systems functioned nominally, the statement said.
The newly launched satellite was officially identified as Kosmos-2567.
Within hours after the launch the US Space Force catalogued two objects associated with the launch representing the spacecraft and the third stage of the Soyuz launch vehicle:
2023-040A

55978

92.95 minutes

97.64 degrees

338 kilometers

499 kilometers

2023-040B

55979

92.92 minutes

97.64 degrees

337 kilometers

498 kilometers
The official announcement about the launch from RKTs Progress said that the both the launch vehicle and the spacecraft had been developed by the company, however that sentence was quickly redacted to drop the mention of the spacecraft developer.
By March 26, 2023, Bars-M4 boosted its perigee as predicted, while the orbit of the upper stage, which delivered it into space, was slowly decaying:
2023-040A (Cosmos-2567)

55978

93.65 minutes

97.64 degrees

408 kilometers

499 kilometers

2023-040B (Stage III)

55979

92.92 minutes

97.64 degrees

339 kilometers

494 kilometers