---
---
RT-20P (8K99) missile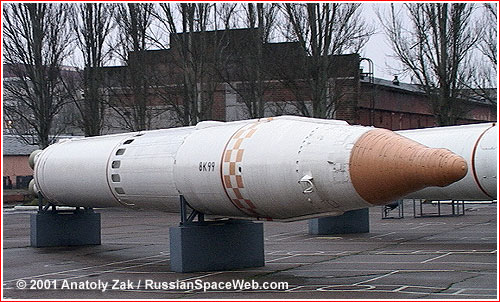 The RT-20P (8K99) missile
---
Known specifications of the RT-20P missile:
Number of stages

2

Length of the vehicle

17.48 - 17.8 meters

Diameter

1.6 meters

Weight (fueled)

30.0 - 30.2 tons (30.9 tons)

Weight with container

38.8 tons (with light warhead)

Fuel

Oxidizer
Nitrogen tetroxide
First launch
1967 October
Launch sites
Plesetsk

7,000 - 8,000 km with a heavy warhead

11,000 km with a light warhead

Warhead mass:

545 - 1,410 kg
With the RT-20 project, KB Yuzhnoe in Dnepropetrovsk made one of the first attempts in the USSR to develop a mobile ICBM. KB Yuzhnoe conducted preliminary study, NIR, within the project designated RT-20P from 1961 to 1962. In 1963, the project entered development stage, OKR. The main requirement of the program was the development of the mobile system not exceeding 30 tons in weight. In the proposed configuration, the first stage of the rocket burned solid fuel, the second liquid-fuel. It would be deployed on a crawler based on the T-10M tank.
The preliminary design of the RT-20P system was completed in December 1964 and the project was approved by the government in 1965.
Test firings of the solid-fuel 15D15 engines started in April 1965 at the test bench of NII-58 research institute in the town of Krasnoarmeisk, Moscow Region.
Test launches started in October 1967 in Plesetsk. Large percentage of launches was apprently unsuccesful and, in addition, Soviet Strategic Rocket Forces, RVSN, refused using mobile complex employing liquid fuel. As a result, on October 6, 1969, the government officially shut down the program.
---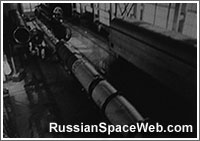 ---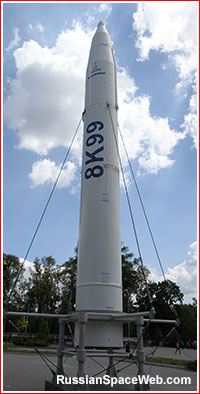 ---