Soyuz completes its ninth Galileo mission
On May 24, 2016, a Soyuz rocket lifted off from its launch pad in Kourou, French Guiana, carrying the fifth pair of fully operational Galileo satellites, known as FOC-M5. Being the 15th launch of the Russian-built rocket from its South-American launch pad, the mission had a designation VS15.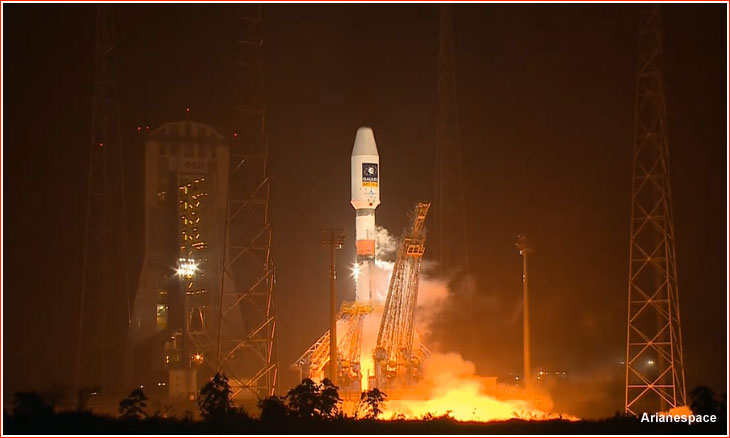 A Soyuz rocket lifts off from its launch pad near Kourou, French Guiana, with a pair of Galileo satellites on May 24, 2016.
From the publisher: Pace of our development depends primarily on the level of support from our readers!
Ninth Galileo mission (VS15) in May 2016
The VS15 Soyuz launch with FOC-M5 satellites became a "last-minute" add-on mission to the Galileo deployment campaign announced by Arianespace on Feb. 25, 2016, just three months before the scheduled liftoff. According to the company, the European Commission, managing the Galileo Program, has decided to speed up the deployment of the Galileo space segment by adding a Soyuz launch in May 2016, based on the confirmed availability of the satellites built by the OHB prime contractor in Germany. (Previously, these satellites were expected to go into orbit in 2017). The Soyuz flight was to precede an already scheduled launch of four Galileo satellites on an Ariane-5 ES rocket planned for the fourth quarter of 2016, Arianespace said at the time.
The liftoff of the Soyuz-ST-B/Fregat-MT rocket from the ELS pad near Kourou, French Guiana, took place as scheduled on May 24, 2016, at 05:48:43 local time in French Guiana (04:48 a.m. EDT). (It was 08:48 GMT). The 15th Soyuz launch from Guiana (under designation VS15) carried a total payload of 1,599 kilograms, including a pair of Galileo FOC-M5 satellites and a dispenser built by RUAG Space. The same company also supplied the ST fairing covering the payload during the initial phase of the flight.
The pair of satellites delivered during VS15 mission became the ninth and tenth FOC (Full Operational Capability) spacecraft in Europe's Galileo navigation program. However counting four In-orbit Validation, IOV, satellites, which were also pressed into operational service, they also became the 13th and 14th spacecraft in the operational Galileo constellation. The satellites also received nicknames Danielè and Alizée – after children who won a painting competition organized by the European Commission in 2011.
Following this Soyuz launch, the deployment of the Galileo constellation will shift to the heavier Ariane-5 ES rocket, carrying four satellites at a time. As of December 2015, the first Ariane-5 mission with a Galileo quartet was expected in the second half of 2016. As of May 2016, the first Ariane-5 launch with Galileo satellites was scheduled for Nov. 17, 2016.
Soyuz is still expected to fly one Galileo mission in 2017 and four more launches are considered for 2019 and 2020. The same rocket could also be used to launch 2nd-generation satellites beginning in 2025.
The VS15 mission will be the fourth orbital launch attempt in 2016 for Arianespace, counting two Ariane-5 rockets, which this European company also operates from ELA-3 pad in Kourou, French Guiana.
Soyuz VS15 mission with Galileo satellites at a glance:
Payloads
Galileo FOC M5, Sat 13, FM10 Danielè
Galileo FOC M5, Sat 14, FM11 Alizée
Spacecraft liftoff mass
714.7 kilograms and 714.9 kilograms
Total payload liftoff mass
1,599 kilograms
Orbital plane in the Galileo constellation
Plane A
Target orbital altitude
23,522 kilometers
Orbital inclination toward the Equator
57.394 degrees
Launch vehicle
Soyuz-ST-B/Fregat-MT
Launch site
French Guiana, ELS
Launch date and time
2016 May 24, 05:48:43 French Guiana time
Duration of orbital insertion
3 hours 47 minutes 57 seconds
---
Flight profile
Initial launch profile of the Soyuz-ST rocket (mission VS15) with Galileo FOC-M5 satellites in May 2016. Credit: Arianespace
Mission profile of the Soyuz-ST rocket (mission VS15) with Galileo FOC-M5 satellites in May 2016. Credit: Arianespace
---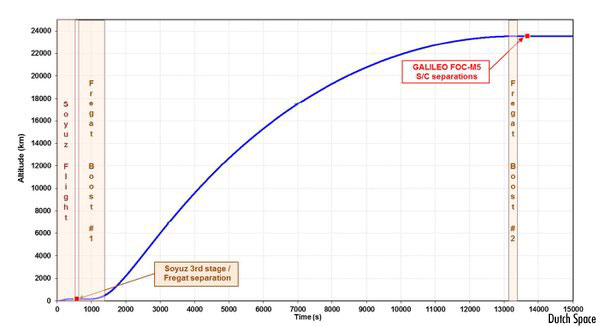 Altitude profile for a Soyuz VS15 mission with Galileo FOC-M5 satellites.
---
According to Arianespace, which manages this mission for the European Space Agency, ESA, the powered phase of the first, second and third stages on Soyuz lasted nearly nine minutes. The third stage of the launcher then separated from the upper composite, comprising the Fregat upper stage and the two satellites. The three lower stages and the fairing fell back into the sea.
After a first burn, the upper composite spun up during a ballistic phase lasting about three hours and 15 minutes. Then, Fregat ignited its own engine to bring the upper composite to a transfer orbit over the Earth. At a pre-determined point of this orbit, Fregat ignited for a second burn lasting four minutes to reach the circular orbit of separation. At the end of the mission, the Fregat upper stage was to be emptied of any remnants of its pressurized contents and deactivated.
The entire orbital insertion process was concluded three hours, 47 minutes and 57 seconds after the liftoff with the release of the satellites into a 23,522-kilometer orbit with an inclination 54.946 degrees toward the Equator.
The satellites will later use their own propulsion system to lower their altitude in order to enter their operational orbit in the Orbital Plane A of the Galileo constellation to be ready for operation in around three months.
Preparations for launch
Galileo satellites No. 13 and No. 14 arrived to French Guiana on April 5, 2016. On April 29, the pair was transferred from the S1 facility to S3B facility in Kourou. The satellite No. 14 was fueled on May 3, and satellite No 13 a day later. On May 14, the payload composite including a pair of satellites was attached to its Fregat upper stage.
The Soyuz-ST rocket was rolled out from its integration building to the launch pad on May 20, 2016, and on the same day, the upper composite including the satellites, the Fregat and the payload fairing were also brought to the pad, hoisted to the top of the rocket and integrated with the rest of the launch vehicle.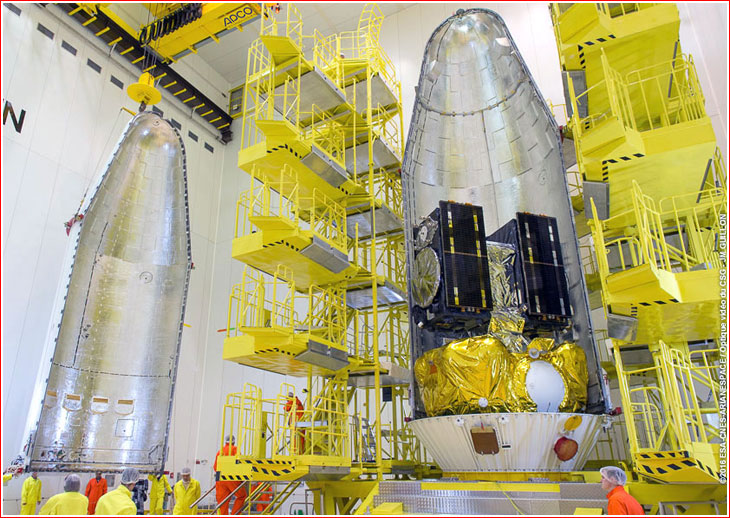 Installed atop Soyuz' Fregat upper stage, the two Galileo FOC satellites and their dispenser system are shown partially encapsulated by the two-piece protective payload fairing. Credit: Arianespace
---
Galileo FOC-M5 launch sequence on May 24, 2016:
| | |
| --- | --- |
| PRE-LAUNCH EVENTS | Time (h:min:sec) |
| Beginning of the State Commission meeting for launcher fueling authorization | -05:00:00 |
| Beginning of Launch Vehicle fueling with propellant components | -04:30:00 |
| Launch Vehicle is fueled with all propellant components | -01:35:00 |
| Mobile gantry withdrawal | -01:10:00 |
| Key on start (beginning of Soyuz synchronized sequence) | -00:05:10 |
| Fregat transfer to onboard power supply | -00:05:00 |
| Upper Composite umbilical drop off command | -00:02:25 |
| Ground-board power transfer | -00:00:40 |
| Lower stage mast retraction | -00:00:28 |
| Ignition | -00:00:16 |
| Preliminary thrust level | -00:00:14 |
| Full thrust level | -00:00:01 |
| LAUNCH EVENTS | - |
| Lift-off | 00:00:00 |
| Jettisoning of 1st stage boosters at an altitude of 45 kilometers | 00:01:58 |
| Jettisoning of fairing | 00:03:39 |
| Separation of the core (2nd) stage at an altitude of 150 kilometers | 00:04:48 |
| Separation of the 3rd stage | 00:09:24 |
| Fregat 1st burn starts | 00:10:24 |
| Fregat 1st burn ends | 00:23:32 |
| Fregat 2nd burn starts | 03:38:35 |
| Fregat 2nd burn ends | 03:42:57 |
| Spacecraft separation | 03:47:57 |
Galileo FOC satellites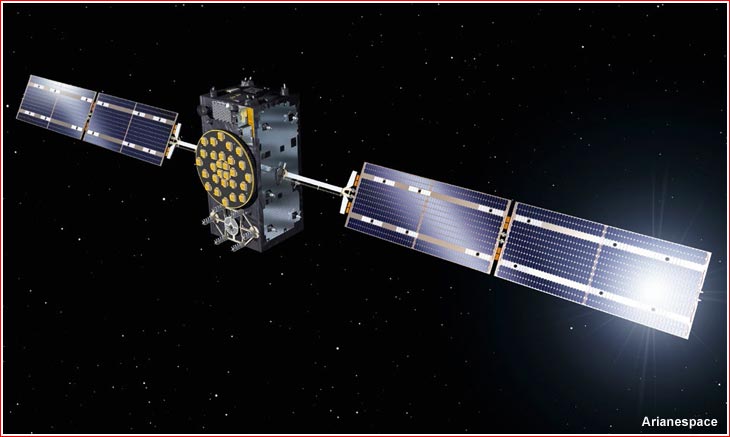 The current Galileo satellites are built by Bremen-based OHB System as prime contractor, with their navigation payloads provided by Surrey Satellite Technology Ltd. UK, a subsidiary of Airbus Defense and Space.
Known specifications of Galileo FOC-M5 satellites:

| | |
| --- | --- |
| Customer | ESA (European Space Agency) |
| Contractors | OHB-System (satellite bus and a prime contractor) SSTL (payload) |
| Total mass at lift-off | 714.7 kilograms and 714.9 kilograms |
| Dimensions | 2.7 by 1.2 by 1.1 meters and 14,67 meters solar panels span when deployed in orbit |
| Life span | More than 12 years |
| On-board power | 1,900 watts |
| Navigation signal | 3 bands (E5, E6 and E1) |
| Additional payload | COSPAS-SARSAT search and rescue transponder |
Next Soyuz launch with Galileo satellites: VS26 FOC-M9
---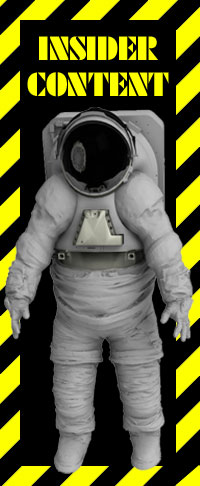 Payload section of the Soyuz-ST rocket with Galileo satellites. Credit: Arianespace
---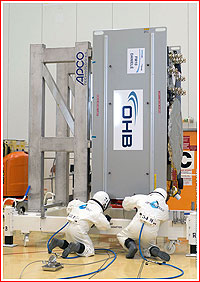 ---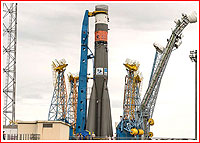 Soyuz is raised to a vertical position over its launch pad on May 20, 2016. Click to enlarge. Credit: Arianespace
---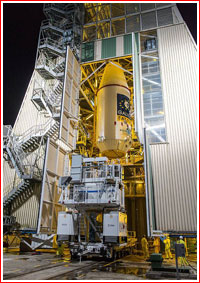 A payload section with Galileo satellite is lifted to the top of the Soyuz rocket for final integration on the launch pad on May 20, 2016. Click to enlarge. Credit: Arianespace
---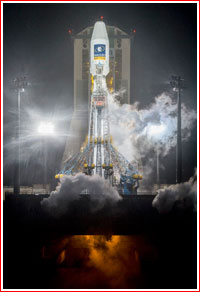 A Soyuz moments before liftoff with Galileo FOC-M5 satellites on April 24, 2016. Click to enlarge. Credit: Arianespace