Soyuz rockets in the shadow of war
By the start of 2022, Russian tanks massing on the border with Ukraine appeared to score one major target – the last prospects for future foreign orders of Soyuz rockets. In the meantime, the Soyuz' remaining international customer had to prepare back-up plans.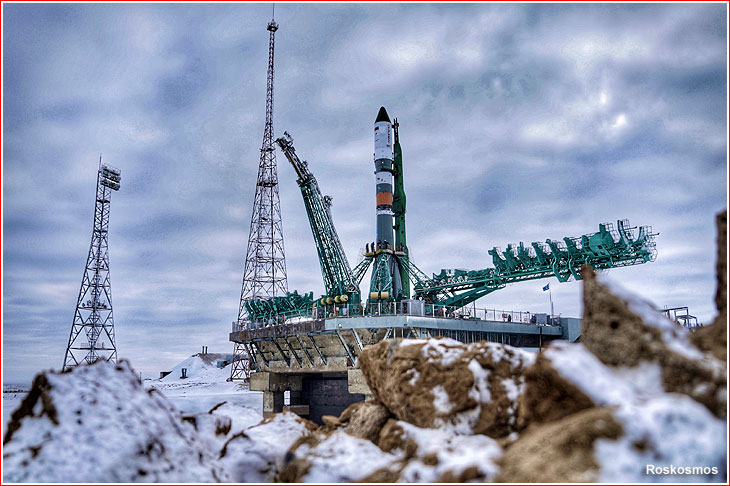 At the time of the Kremlin's massive escalation of the war in Ukraine in February 2022, Soyuz remained the only Russian rocket family still flying commercial missions for international customers. By far main and practically only major foreign client fully dependent on Soyuz at the time was the London-based OneWeb company that had already completed 13 launches deploying its Internet satellite network. In the aftermath of the all-out war in Ukraine, the fate of the future OneWeb launches depended on the status of economic ties between Russia and the West and potential new sanctions.
According to industry sources, OneWeb had already paid for all the Soyuz rockets assigned for the delivery of first-generation satellites for the constellation, therefore a potential ban on transfer of funds to Russia was not expected to impact the active contract between Paris-based Arianespace and the Russian space industry. To derail the operation, the yet-to-be-imposed sanctions would have to ban the actual launches, but the European Union had indicated that it would not prohibit "space services," an industry source told RussianSpaceWeb.com on February 23, (or hours before Russia had launched its latest assault on Ukraine).
Early on, OneWeb also ruled out any of its Soyuz launches from Russia's severely underutilized Vostochny spaceport, which Roskosmos desperately wanted to engage into the project and which had been used by the company in 2021. Starting in 2022, all planned OneWeb missions were scheduled from Baikonur Cosmodrome, in Kazakhstan.
Finally, OneWeb made some back-up plans for the use of non-Russian rockets going forward. According to one industry source, the company had "a few options" among available launch providers, but considered them as a last resort. Presumably, OneWeb would fall back on that plan for the launches of next-generation satellites starting in 2025 or 2026 or in case of a major breakdown of economic cooperation between Russia and the West, which did take place after Moscow's invasion of Ukraine on February 24. Almost immediately, OneWeb suspended all its launches on Soyuz and Roskosmos ended Soyuz launches from the European spaceport in French Guiana.
OneWeb reportedly paid 90 percent of the cost for each unused vehicle, because remaining money were to be delivered upon the completion of launches.
The ESA ruling council meeting in Paris on March 16 and 17, officially put on hold all its missions previously planned for launch on Soyuz. According to the agency, these involved "four institutional missions for which ESA is the launch service procurement entity (Galileo M10, Galileo M11, Euclid and EarthCare) and one additional institutional launch. Consequently, the ESA Director General has initiated an assessment on potential alternative launch services for these missions, which will include a review of the Ariane 6 first exploitation flights. A robust launch manifest for ESA missions' launch needs, including for spacecraft originally planned for launch by Soyuz from Kourou, will be submitted to Member States."
At the March 17 press-conference following the Paris meeting, ESA said that it was looking at placing one of former Soyuz payloads on the inaugural launch of the Ariane-6 rocket, but such a scenario was not very likely at the time. At the same time, a subsequent Ariane-6 was considered for a launch of stuck Galileo satellites as early as 2023, according to head of Arianespace. On March 29, ESA announced that it was focusing on Ariane-6 and Vega-C as replacements to Soyuz and would propose a primary and a backup launch plan for each of its stranded missions by June. The agency also said that at a ministerial council meeting in November, it would propose its member states to support one of the competitive micro-launcher projects then under development in Europe, aiming to launch one of its missions as early as 2024.
By October, ESA struck a deal to launch the Euclid telescope on the Falcon-9 rocket in the middle or at the end of 2023. The Hera asteroid mission, slated for launch in 2024, was also re-assigned to Falcon-9, while the EarthCare remote-sensing satellite would fly on Vega-C in the same year.
In the meantime, Roskosmos stuck with storage and maintenance costs associated with the unused rockets, if the state corporation ever planned to launch the vehicles with federal payloads.
Soyuz rocket missions in 2022:
February 3: Soyuz launches a classified payload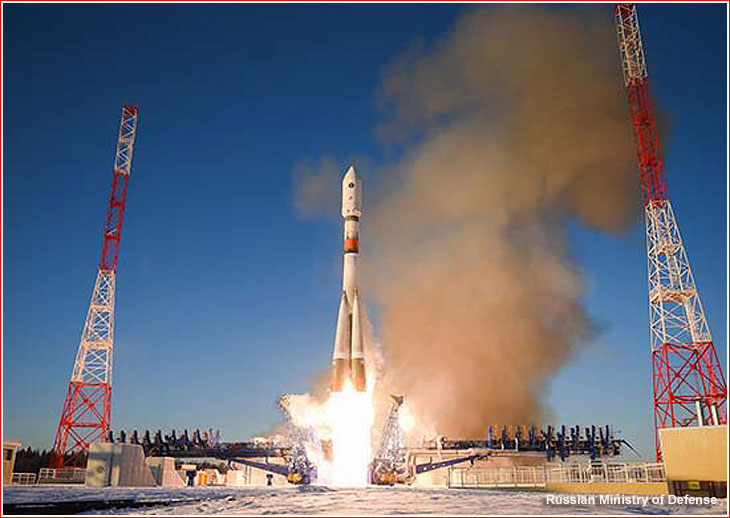 Opening Russia's orbital launch attempts in 2022, a Soyuz-2-1a rocket delivered a classified satellite into orbit, following a liftoff from a military spaceport in Plesetsk, north of Moscow on February 5.
---
February 10: Soyuz launches the 13th OneWeb cluster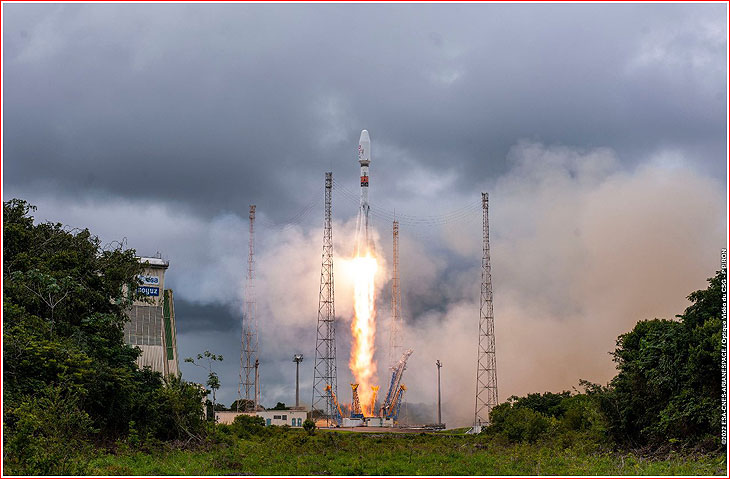 A Soyuz rocket continued the deployment of the OneWeb constellation with the first mission in 2022 lifting off on February 10 at 21:09 Moscow Time (1:09 p.m. EST). Launching from the near-equatorial launch site in French Guiana, it was the 13th OneWeb mission, boosting the overall number of spacecraft in the network from 394 to 428.
---
February 15: Progress MS-19 arrives at ISS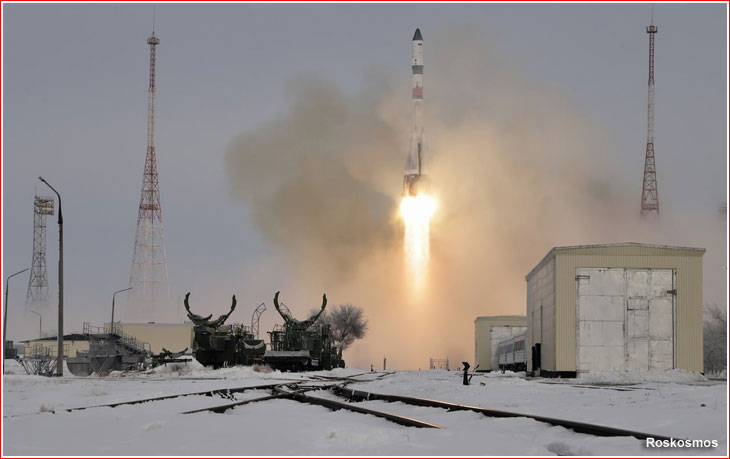 The first Russian cargo mission to the International Space Station in 2022 departed Baikonur Cosmodrome on February 15. The Progress MS-19 spacecraft followed a two-day rendezvous profile with the outpost, docking at the Poisk module on February 17.
---
March 18: Soyuz MS-21 lifts off amid Russian invasion of Ukraine
The first Russian crew backdropped by the Kremlin's war against Ukraine launched Friday to the International Space Station, ISS. Coincidently, for the first time in many years, there were no foreign crew members aboard the fresh Soyuz transport, which is expected to dock at the Prichal Node Module, UM, another first for the Russian ISS Segment.
---
March 22: Soyuz launches 10th Meridian satellite
Russian military personnel at the Plesetsk launch site fired a Soyuz-2-1a/Fregat rocket with a fresh copy of the Meridian satellite. Entering an elliptical orbit around the Earth during a continuing war against Ukraine, the satellite will likely play a role in bolstering military communications, possibly replacing a failed spacecraft within the Meridian series.
---
April 7: Soyuz launches spy satellite
Russian military personnel in Plesetsk launched a second satellite in two weeks. A Soyuz-2-1b rocket carried a semi-classified payload known as Lotos-S1 or 14F145. It was the sixth addition to the Liana constellation performing electronic intelligence from space for the Russian armed forces.
---
June 3: Progress MS-20
The second Russian cargo mission to the International Space Station in 2022 departed Baikonur Cosmodrome on June 3. The Progress MS-20 spacecraft followed a two-orbit rendezvous profile with the outpost and successfully docked at the station 3.5 hours after liftoff.
---
Launch break
Due to lack of missions from Baikonur in June and July, RKTs Progress placed its employees at its Kazakhstan branch on a temporary furlough during that period.
---
July 7: Fourth GLONASS-K satellite lifts off
Russia launched a fresh satellite to replenish its dual-use navigation constellation. The GLONASS-K No. 16 satellite lifted off on a Soyuz rocket from Plesetsk launch site on July 7, 2022.
---
August 1: Soyuz-2-1v launches military satellite
Russia's light-weight rocket lifted off from Plesetsk on Aug. 1, 2022, delivering a classified payload designated Kosmos-2558. This was the eighth mission for the Soyuz-2-1v launch vehicle since its introduction in 2013.
---
August 9: Soyuz launches Russian-built satellite for Iran
A Soyuz rocket orbited an imaging satellite for the Iranian government on August 9, 2022, marking the departure of the Russia'ds workhorse space delivery system from the Western launch market after Moscow's invasion of Ukraine.
---
September 21: Soyuz MS-22 launches crew exchange mission with NASA
Lifting off on a Soyuz-2-1a rocket variant, the Soyuz MS-22 spacecraft re-started regular missions of American astronauts aboard Russian crew vehicles to the ISS. However, this time, Russia provided seats for NASA aboard Soyuz in exchange for the US space agency's flying Russian cosmonauts aboard newly introduced American transport ships.
---
October 10: Fifth GLONASS-K satellite lifts off
Russia launched a second satellite in 2022 to replenish its GLONASS navigation network. The GLONASS-K No. 17 satellite, which the fifth in the K seriers, lifted off on a Soyuz rocket from Plesetsk launch site in the early hours of October 10.
---
October 21: Soyuz-2-1v launches a pair of classified payloads
Russia's light-weight rocket lifted off from Plesetsk on Oct. 21, 2022, carrying two classified payloads publicly designated Kosmos-2561 and -2562. This was the ninth mission for the Soyuz-2-1v launch vehicle since its introduction in 2013.
---
October 22: Soyuz launches Gonets trio, Skif-D proto-satellite
A Soyuz-2 rocket carries three fresh satellites for the Gonets-M communications network, along with an experimental version of the new-generation Skif-D satellite on October 22. It is the first mission of 2022 originating from Vostochny Cosmodrome. Speaking to the personnel in Vostochny after the successful launch, the director of RKTs Progress Dmitry Baranov said that another Soyuz rocket was scheduled to arrive to the spaceport on October 25 and two more rockets were ready for the rollout at the factory in Samara.
---
October 26: Progress MS-21 to re-supply the ISS
A Soyuz-2-1a rocket carrying the third and final Russian cargo mission to the International Space Station, ISS, in 2022 lifted off in the early hours of October 26 and successfully delivered Progress MS-21 cargo ship into initial orbit.
---
November 2: Soyuz launches a missile-detection satellite
Military personnel at Plesetsk Cosmodrome in Northern Russia fired a Soyuz-2-1b rocket on the morning of November 2, carrying a classified payload which is believed to be the sixth Kupol satellite for the constellation designed to provide the Russian leadership with early warning about missile launches around the world.
Summary of Soyuz rocket launches in 2022:
---