Soyuz rockets keep center stage
in the Russian space program
With almost every aspect of the Roskosmos' activities in crisis, the Soyuz remained the last pillar of the Russian rocket fleet still standing strong in 2019. More than sixty years after its introduction, the Soyuz family is closing another decade with far more missions in its manifest than any other Russian vehicle developed ever since. Most importantly, the Soyuz emerged as the last bastion of Roskosmos on the commercial launch market.
Previous page: Soyuz rocket family in 2018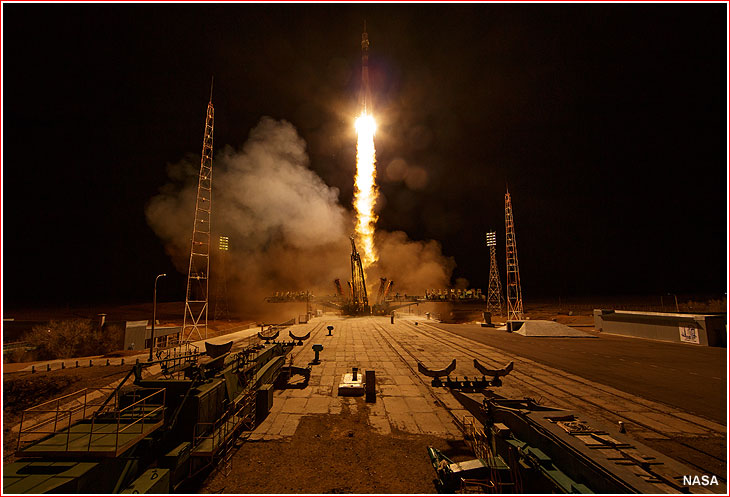 A Soyuz-FG rocket lifts off from Baikonur with Soyuz MS-12 spacecraft on March 14, 2019. It was the 1897th launch in the Soyuz rocket family.
From the publisher: Pace of our development depends primarily on the level of support from our readers!
Status and prospects
At the beginning of 2019, the European consortium Arianespace, which operated commercial missions of Soyuz rockets, announced that it had held orders for a total of 26 missions of the Soyuz series. Around the same time, Russian media promised four launches of Soyuz rockets from the European facility in Kourou before the end of the year and three more in 2020. They were to deliver a total of 115 payloads.
At the beginning of April, RKTs Progress announced that around seven Soyuz rockets for the OneWeb missions had been nearly completed and three more would be built before the end of the year, RIA Novosti reported quoting Director General of the company Dmitry Baranov.
Speaking at a conference marking the 20th-anniversary of the International Space Station, ISS, in November 2018, Director General of the European Space Agency, ESA, Johann-Dietrich Wörner said that the agency so far had no plans to discontinue Soyuz flights from French Guiana, but he did hint that the future Ariane-6.4, Ariane-6.2 and Vega-C launchers could eventually replace Soyuz. Well informed sources inside the European space industry told RussianSpaceWeb.com that mission planners on the European continent had already faced problems getting political approvals for future projects relying on the Russian Soyuz rockets, particularly based in Guiana, due to the worsening political relations between Russia and the European Union.
The Soyuz family also continued suffering from the quality control problems afflicting the wider Russian rocket industry. The near-catastrophic failure of the Soyuz-FG rocket with a crew onboard on Oct. 11, 2018, was followed by a close call on Feb. 21, 2019, during the launch of the EgyptSat-A spacecraft. Both accidents appeared to be linked to human errors.
At the start of 2019, RKTs Progress, which builds the veteran rocket family, promised between 20 and 22 missions during that year. Despite this intensive launch rate, the local press in Samara, where RKTs Progress is based, reported that the company had planned to reduce its workforce by more than 800 people, apparently reflecting a wider trend across the industry. Some employees at RKTs Progress had already reported getting pink slips and were quoted as saying that waves of layoffs were now taken place twice a year at the company. (857)
RKTs Progress also continued to be rattled by a corruption scandal at the top.
A complete overview of Soyuz rocket missions in 2019
February 21: EgyptSat-A enters orbit after a close-call Soyuz launch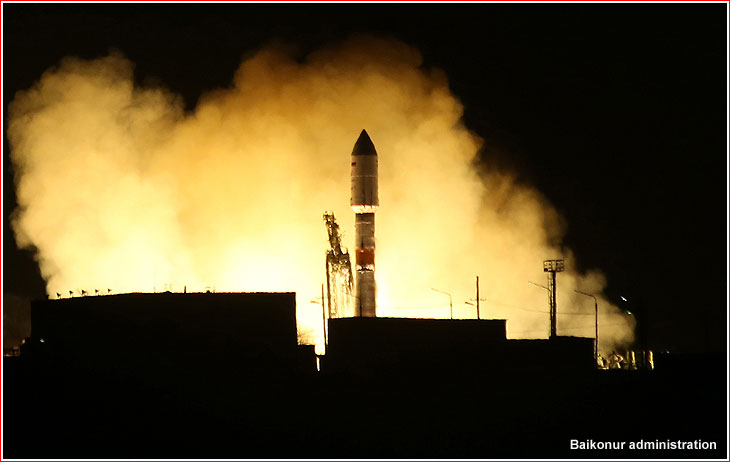 Almost five years after the original short-lived mission of a compact observation satellite built in Russia for the government of Egypt, a Soyuz-2-1b/Fregat-M rocket lifted off on Feb. 21, 2019, carrying a replacement bird dubbed EgyptSat-A. However, the launch vehicle's third stage experienced an anomaly, leaving its payload some 60 kilometers lower than planned. Fortunately, once again, the Fregat space tug saved the day by automatically extending its own maneuvers and delivered the satellite into its planned orbit.
---
February 27: Soyuz ST-B launches first OneWeb cluster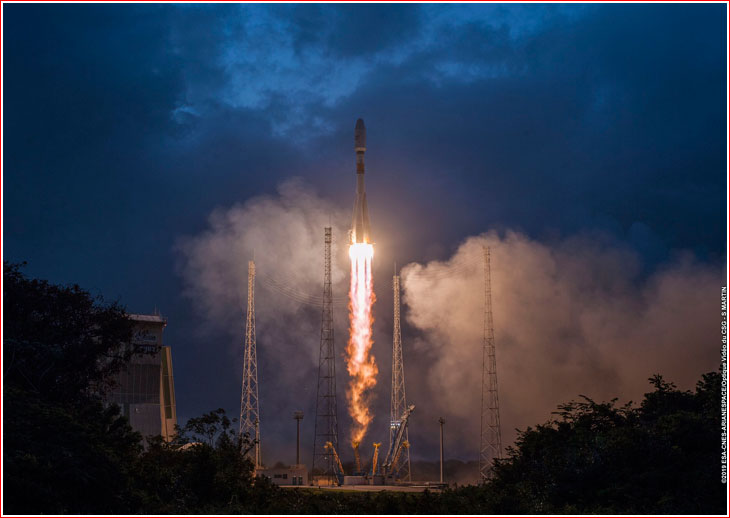 A Russian-built Soyuz rocket, procured by European consortium Arianespace, successfully delivered first six OneWeb satellites on Feb. 27, 2019, for a London-based company, kicking off the deployment of a nearly 650-bird-strong global Internet constellation in low orbit. The launch took place as scheduled at 6:37 p.m. local time (4:37 p.m. EST/21:37 GMT).
---
March 14: Soyuz MS-12 enters orbit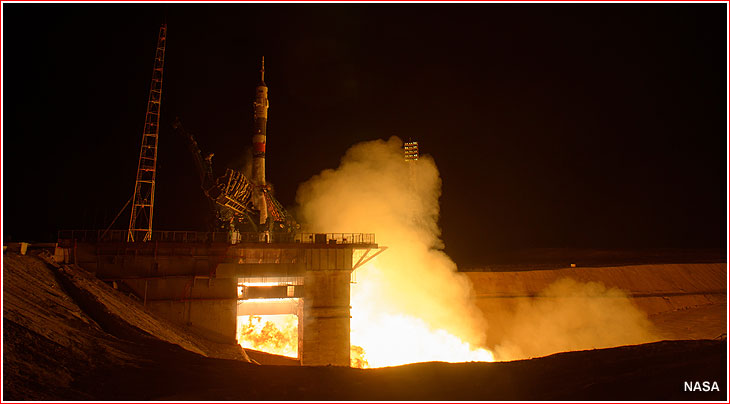 The three new members of Expeditions 59 and 60 aboard the International Space Station blasted off from Baikonur in Kazakhstan, including a cosmonaut and an astronaut who five months earlier made a dangerous suborbital flight and an emergency landing after an accident with their rocket. Aleksei Ovchinin and Nick Hague from the ill-fated Soyuz MS-10 mission, this time accompanied by NASA astronaut Christina Koch, lifted off aboard Soyuz MS-12 on March 14, 2019, at 22:14 Moscow Time (3:14 p.m. EDT, 19:14 GMT) and successfully entered orbit around nine minutes later.
---
April 4: Progress MS-11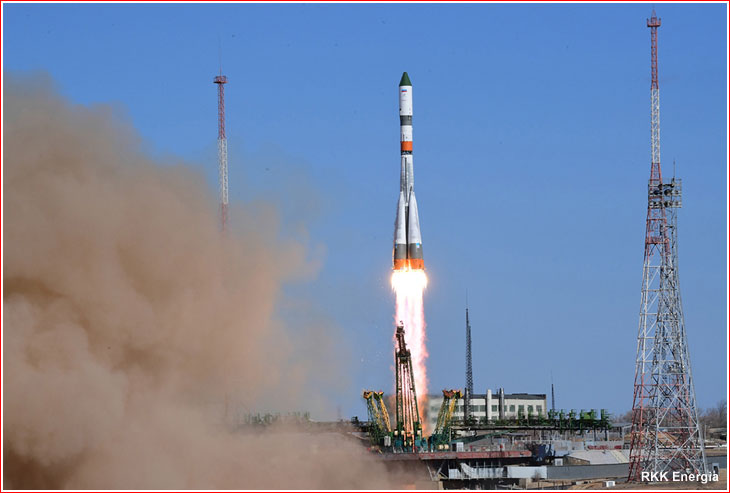 A Soyuz-2-1a rocket lifted off from Baikonur Cosmodrome in Kazakhstan, successfully sending the Progress MS-11 cargo ship on its way to the International Space Station, ISS. The liftoff took place as scheduled at 14:01 Moscow Time, 7:01 a.m. EDT.
---
April 4: Fifth O3b quartet
Within hours after the launch of a Soyuz-2-1a rocket from Baikonur, Kazakhstan, on April 4, on the opposite side of the Earth, an identical vehicle lifted off from the Atlantic coast of South America with four O3b satellites heading into a 800-kilometer orbit to provide low-cost Internet access around the world. The European Arianespace consortium, which operates commercial Soyuz launches from the South-American facility, designated the mission as VS22, which denoted the 22nd launch of the Russian-built rocket from French Guiana.
---
May 27: GLONASS-M No. 58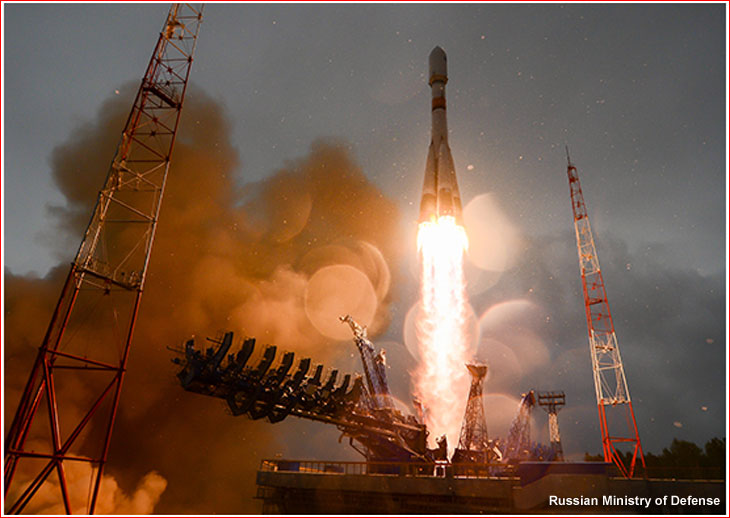 The 58th mission to deploy and maintain the GLONASS constellation lifted off from Plesetsk on a Soyuz-2-1b/Fregat rocket on May 27, 2019, at 09:23 Moscow Time. Slightly more than three and a half hours later, the GLONASS M-58 satellite was released into its circular orbit about 19,000 kilometers above the Earth's surface.
---
July 5: Meteor M2-2 and 32 small satellites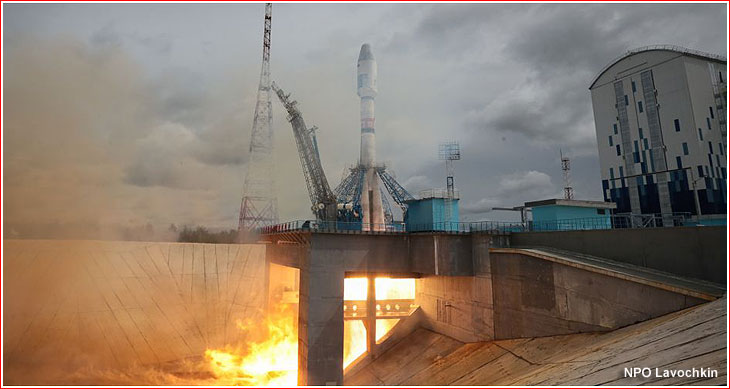 Russia launched a Soyuz-2-1b rocket from the Vostochny spaceport on July 5, 2019, carrying the Meteor M2-2 weather and climate-monitoring satellite, along with a cluster of 32 secondary payloads, which were all deployed to their planned orbits, according to Roskosmos. The fresh Meteor replaced its sibling destroyed in a launch mishap on November 28, 2017. It was the fifth launch from Russia's far-eastern space center since its inauguration in April 2016 and the fourth mission for the Meteor-M series.
---
July 10: Soyuz-2-1v launches four classified payloads
Russian military launched a Soyuz-2-1v/Volga rocket from Site 43 in Plesetsk, successfully delivering four military satellites into orbit on July 10, 2019.
---
July 20: Soyuz MS-13 lifts off
The three new crew members of Expeditions 60 and 61 to the International Space Station, ISS, blasted off from Baikonur Cosmodrome in Kazakhstan on July 20, 2019 aboard the Soyuz MS-13 spacecraft. In less than nine minutes after liftoff, the Soyuz-FG launch vehicle successfully released the crew vehicle into orbit.
---
July 30: Soyuz delivers new Meridian satellite
After a nearly five-year hiatus, the Russian military launched an eighth Meridian communications satellite on July 30, 2019, to replenish its latest-generation Integrated Satellite Communications System, ISSS. A Soyuz-2-1a rocket with a Fregat upper stage was reported to perform as planned.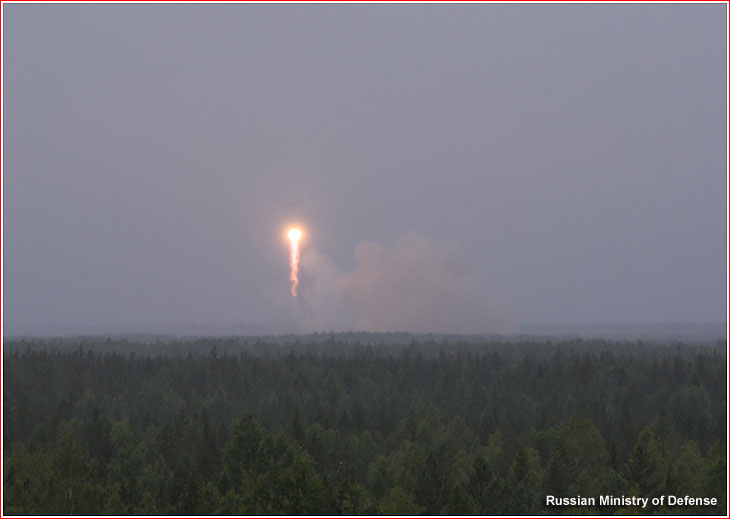 ---
July 31: Progress MS-12 arrives at ISS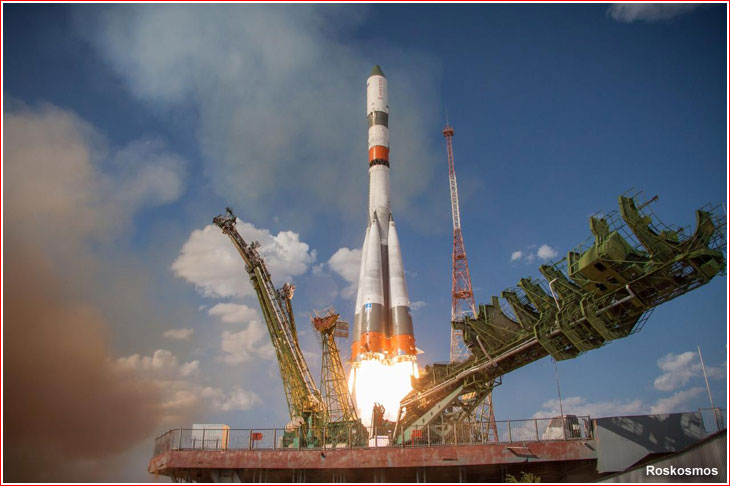 Russian specialists at Baikonur Cosmodrome launched a Soyuz-2-1a rocket on July 31, 2019, carrying the Progress MS-12 cargo ship on its way to the International Space Station, ISS. Upon reaching orbit in less than 10 minutes, the spacecraft began a two-orbit rendezvous process with the station, which resulted in docking with the Russian Segment in a record-breaking time for the ISS program of 3 hours and 19 minutes.
---
August 22: The 2-1a variant launches its first Soyuz spacecraft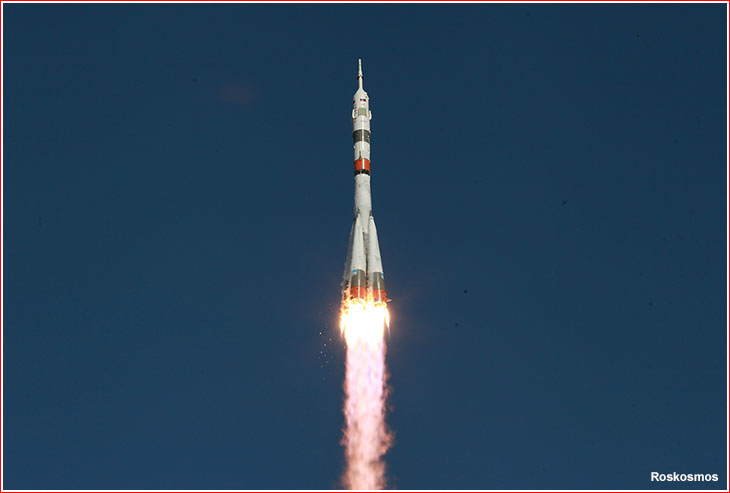 On August 22, 2019, the Soyuz MS-14 spacecraft began a flight to the International Space Station. It was the first mission of the Soyuz transport vehicle without a crew in 33 years and the first ever pilotless mission in the Soyuz series heading to the ISS. The Soyuz MS-14 mission flew without a crew in order to finally certify the Soyuz-2-1a rocket for piloted missions, after a launch failure in 2015.
---
Previous mission: Progress MS-11
Summary of launches in the Soyuz rocket family in 2019 (as of August 22, 2019 ):
1

Feb. 21

19:47 Moscow Time

6

Success

1895
2

Feb. 27

6:37 p.m. French Guiana time

-

Success

1896

3

March 14

5

Success

1897
4

April 4

6

Success

1898
5

April 4

Application / communications

-

Success

1899
6

May 27

09:23 Moscow Time

4

Success

1900
7

July 5

Meteor-M No. 2-2

, Momentus X1, NSLSat-1, Lemur-2 (100), Lemur-2 (101) Lemur-2 (102), Lemur-2 (103), Lemur-2 (104), Lemur-2 (105), Lemur-2 (106), Lemur-2 (107), Lemur-2 (108), JAISAT-1, EXOCONNECT, D-Star One (Lightsat), Lucky-7, SEAM-2.0, MTCube, SONATE, Beesat-9, Beesat-10, Beesat-11, Beesat-12, Beesat-13, MOVE-2b, TTU-100, Ecuador-UTE, ICEYE-X4, ICEYE-X5, DoT-1, MKA Sokrat, VDNKhA-80, AmurSat (AmGU-1)

Success

1901
8

July 10

20:14 Moscow Time

Success

1902
9

July 20

5

Success

1903
10

July 30

08:56 Moscow Time

4

Success
1904

11

July 31

6

Success
1905
12
August 22

06:38:31 Moscow Time

Soyuz MS-14

6

Success
1906
---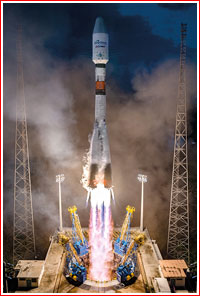 Soyuz ST-B lifts off with a sextuplet of OneWeb satellites on Feb. 27, 2019. Click to enlarge. Credit: Arianespace
---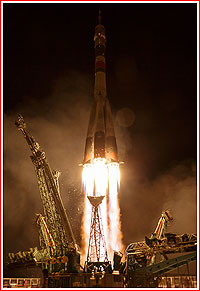 Soyuz MS-12 lifts off on March 14. Click to enlarge. Credit: NASA
---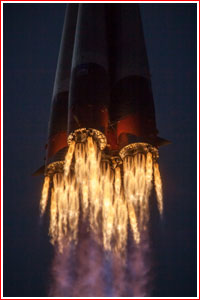 Progress MS-12 lifts off on July 31, 2019. Click to enlarge. Credit: Roskosmos
---